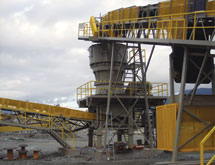 Waycon Manufacturing Ltd.
Waycon Manufacturing Ltd. is confident that its strength boils down to diversity, a strong management team and a highly skilled staff. A steel manufacturing company with a long history of designing and manufacturing steel products such as excavator conversions, attachments and conveying systems, Waycon Manufacturing is celebrating its 25th anniversary in 2012. The company employs roughly 55 people and serves an array of industries.
"We are looking at adding on to our staff by another 10 percent to increase our production capacity," General Manager David Konowalchuk says. "We manufacture many different product types in our facility. Our products are extremely high quality, and includes large-scale specialty products for the mining and oil and gas industries."
President John O'Connell founded Waycon Manufacturing in 1987. It serves the forestry, mining, oil and gas, bulk materials, storage and handling, construction and environmental industries, and its fabrication shop is capable of producing everything from steel columns, trusses and catwalks to tanks, skids, chutes, conveyors and augers.
Waycon Manufacturing also has a sister company – Waycon Innovation – that specializes in the design, manufacture and installation of stainless steel fruit-processing machinery for North America's fruit and vegetable industry.
Looking for Innovation
Since its earliest days, Waycon Manufacturing has been committed to the research and development of new and innovative products. Today, the company specializes in custom steel fabrication and assembly within its 30,000-square-foot facility. The facility includes an in-house CNC plasma table, water jet table, three CNC brakes and a sandblast/wet paint finishing booth. It also has an extensive machine shop, which houses seven CNC machining centers, two manual milling machines and three manual lathes with up to 56-inch swing capacity. Waycon manufactures its own proprietary line of forestry products, including excavator conversions and attachments.
"A lot of the opportunities that we've received have come from existing customers who see us as a vital resource," Konowalchuk says. "We are ramping up our sales force now so we can research our markets – more than we have in the past. We think we will benefit by combining the knowledge and experience of our management group and staff with more extensive market research."
Waycon Manufacturing's range of services extends from design, engineering and manufacturing to turnkey finished machinery operation.
"We have expertise in many mining and oil and gas industry projects such as pipe handlers for derricks, skids, stainless steel hydraulic tanks, silos, cyclones and towers, to name a few," he says. "We also specialize in structural steel. We manufacture for the industry in mild steel, stainless steel and aluminum."
The Right Direction
Right now, Konowalchuk says all of the industries that Waycon serves are trending up. This is a positive for the company's fortunes, but he recognizes the challenge to create the necessary extra capacity to keep up with demand. This is why the company has expanded its facility and is looking to expand its staffing.
"Ultimately, Waycon Manufacturing's goal is to provide solutions to clients that meet their needs, and the needs of the end-user," O'Connell says. "The company has put a lot of work into ensuring high-quality products and on-time service, and we are capable of creating the designs required and utilizing client drawings. As the company continues to evolve, we plan to look for new and better methods of devising solutions that meet customer needs, which will help us remain competitive well into the future."
"A big part of our success will come down to ensuring that we continue to have a solid foundation and management group so we efficiently distribute the workload," Konowalchuk adds. "We expect opportunities to increase over time, so research and development will be very important as we design and develop new and different product types." EMI