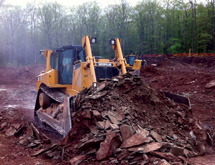 W&D Smith and Sons Construction Inc.
For years, the Smith family made its money by installing public site work projects for commercial and educational projects throughout upstate New York and Pennsylvania.
In 2008, however, the natural gas boom began to form in New York, and W&D Smith and Sons Construction Inc. earned its big break by building pads for wells throughout the shale region. After landing its first contract with a major New York state energy company, Smith Site Development began to land similar work in Pennsylvania.
Today, W&D Smith's primary source of revenue stems from the natural gas industry throughout Pennsylvania and New York. However, through parent Smith Companies, the Smith family is ready to deal with those ebbs and flows as they occur.
"The gas industry changes daily," says Brock Smith, co-owner and construction manager of his family's company. "It could go high and we will do a ton more wells, but then it is going to go down and die."
Family History
In May 1973, Wally Smith Poured Foundations was founded with a bulldozer, backhoe, dump truck and a trailer. Smith and his brother David primarily delivered residential site work, utilities and concrete foundations throughout the 1970s and into the '80s.
In 1988, the Smith brothers launched W&D Smith and Sons, which supplemented the residential work with commercial projects as the housing market declined. This company experienced steady growth throughout the '90s and was awarded its first bond in 1999.
Smith Site Development was launched in January 2005 to supplement the growth of the family business, and today Smith Site Development and W&D Smith and Sons make up the Smith Companies.
Competitiveness Abounds
Today's natural gas market is rife with operators like W&D Smith, so companies are scrambling to stay on top of the latest trends in the ever-volatile energy sector. "We really brainstorm about the gas industry almost every week," Smith says. "I stay in contact with all my contacts at the energy companies to find out what's coming, what's up, what's new."
One benefit of the gas industry, however, is that it is a year-round industry. About 60 percent of the company's revenues originate from the natural gas industry for most of the year. However, after the summer, natural gas accounts for about 80 percent of revenues.
The areas of energy investment also changes throughout the natural gas industry. Sojda says capital investments on the energy side can range from infrastructure build-outs to resource gathering as well as pipeline installations.
"We're looking at all kinds of opportunities to try to beat the bushes with who is doing what," Sojda says. "This way, we establish new contracts and service agreements with energy companies."
When the natural gas side of the business slows down, W&D Smith relies on its commercial and education projects to make up for the lost revenues.
"We do a lot of training in house and some of the energy training they have out there is very versatile," Smith adds. "We can switch from the commercial side and go to the energy side, and these guys can work back and forth since it's a smaller geographic area we're concentrating [on]."
Soon enough, Smith hopes W&D Smith will be fully entrenched in the natural gas industry and ready when New York allows more drilling in its shale plays.
"We can move up north and more into New York, and we're already in the middle of it," Smith says. "It may slow down and peter out a bit, but we just have to stay on top of it and venture out into something a little different like pipeline jobs, so we'll adjust."