The right rope
WDI Ropes is part of the Westfälische Drahtindustrie (WDI) Group that traces its company history back to a wire production plant founded in 1856, which was being run as a jointstock company as early as 1872 and has been operating under the present name Westfälische Drahtindustrie GmbH since October 1987.
WDI Group has holdings in several companies and achieved a turnover of over 700 million euros in its financial year in 2007. The WDI Group has divisions that produce wire, bright steel, structural steel and steel wire ropes. Dating back to 1911, when it operated under the name 'Dortmunder Drahtseilwerk', the rope making tradition and expertise within WDI will have its 100th anniversary next year. Producing mainly ropes for the mining industry, the factory has grown over the years and by acquisitions will soon become a group of four productions sites with locations in Dortmund (two), Syke and Zwickau.
Wire rope is a very complex product, and although there are several standards to which rope manufacturers must adhere, a growing demand for greater breaking strength, more flexibility, increased rotation resistance and extended rope life, has required manufacturers to extend the boundaries of their research and development.
As early as the seventies, WDI developed a portfolio of high performance wire ropes under the tradename PYTHON. Sven Balbiani, head of sales, explains: "Many applications have their own demands. We address these demands by designing tailored ropes with adapted rope geometries. Such ropes outperform standard ropes either in strength or service life and help clients to reduce costs."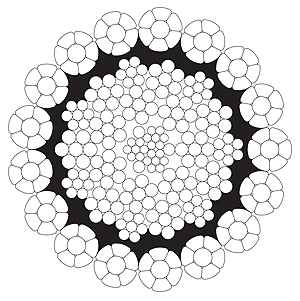 PYTHON ropes have been very well received by the market and today the company creates special wire ropes for:
Harbour business; bulk unloaders, container cranes, RTG
Heavy lift cranes, ship and deck cranes
Tower, construction and mobile cranes
Cranes for steel mills and nuclear power plants
Open pit excavators and cranes
Surface mining and deep mining ropes
Logging wire ropes for forestry
Drill lines and winch lines in general
Wire ropes can have a diameter ranging from one to 120mm and single piece weights in excess of 60 tonnes can be manufactured.
As a Germany based manufacturer, WDI is active in the centres of the European oil and gas industry such as Aberdeen, Stavanger and Rotterdam, but also operates globally in areas such as Houston, Singapore or Shanghai. With its many certifications and high production standards, WDI is a reliable partner for the offshore industry. Sven says: "The offshore industry is one of our key markets and several renowned companies, be it crane manufacturers or offshore operators, have decided to use us as their dedicated rope key supplier."
In fact, WDI works closely with many respected names including the Dutch offshore specialist Seaway Heavy Lifting with its heavy-lift vessel 'Stanislav Yudin'. Being capable of lifting 2500 tonnes, the main hoist lines for this crane have been repeatedly produced by WDI.
Also, Norwegian crane producers rely on special rope constructions such as PYTHON Compac 35 or PYTHON Hoist C with their superior non-rotating properties. These cranes are often used on offshore supply vessels for typical maintenance tasks such as well intervention. The high compaction grade of Compac 35 combines high strength and excellent pressure stability, which provides very smooth spooling behaviour on multilayer drums, even with as much as 13 layers.
In order to choose the correct rope for a particular challenge, customers can draw on the experience of WDI through its German head office or through one of its many global distributors. The company is able to offer advice and assistance in specification, as the importance of choosing the correct rope cannot be underestimated. One such supplier is Vermeulen Europoort. The company is an official dealer for PYTHON high performance wire ropes in the Netherlands, and it considers its association with WDI as a major strength. The two companies work closely together on new developments and applications and the relationship brings rewards to both sides. Sven emphasises: "The co-operation with Vermeulen brings substantial growth and important presence in the Dutch market."
A key value of the WDI ropes group is the integration into a company structure that sources raw materials from the beginning of the supply chain. WDI produces and tempers its own steel, makes the wire rods as basis for the wire drawing, from which finally the wire ropes are made. A fully integrated manufacturing process gives total control over quality – from the selection of the ore to the rope. This allows sustainability over the entire supply chain, which is quite unique in this industry.
WDI offers a considerable amount of advice regarding this product's safe use – as in all cases, the company wishes its clients to select a product that is fit for purpose and can be used safely. It is this dedication to customer service that has made the PYTHON name synonymous with quality and reliability in the market.
WDI Python
Products: Wire ropes