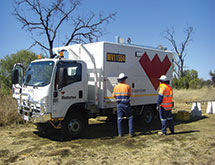 Weatherford International
Weatherford International is a leading global provider of products and services and has a presence in every major oil and gas region of the world. Its offerings stretch throughout the drilling, evaluation, completion, production and intervention cycles of oil and natural gas wells. The company's growth is due to its extensive product and service offerings, efficient operations, R&D capabilities and geographic diversity.
"We have a global footprint," Global Operations Manager – Slimline Jim Wordsworth says. "Our equipment can go anywhere in the world."
Internal growth and innovation along with more than 250 strategic acquisitions over the past 13 years have propelled Weatherford into a leadership position. The company has proven its ability to deliver results for clients and to leverage its global infrastructure. It can help clients reduce costs and increase productivity.
Walk the Line
Among the company's offerings are slimline logging services and wireline equipment. "Weatherford wireline and slimline equipment and services are an important part of the company's offerings," Wordsworth says.
"A lot of our wireline oil and gas service technology has been developed for slim holes, and a lot of our knowledge has come about by logging slim holes for the mining sector," he adds. "We can log holes from several inches to standard oilfield large-diameter holes. The technology we've developed for oilfields or minerals flows back to the other area, as similar types of drilling happens in both."
The company's slimline logging services offer advanced measurement capabilities that include onsite processing, analysis and presentation. The slimline services provide reliable, sophisticated measurement for a wide array of mineral and mining applications.
Weatherford slimline services include density, neutron and gamma ray logs, allowing clients to gain a complete set of measurements to support conventional and unconventional resource applications. These applications include minerals, coal and coalbed methane, oil shales, tight gas and gas hydrates.
As for its wireline equipment, the comprehensive and advanced Weatherford fleet includes everything from an extensive range of standard equipment to a new generation of fully containerized offshore units. Its products and offerings include perforating and mechanical services, pipe-recovery services, logging services and formation evaluation services.
The containerized combination units can provide clients with everything from reduced operating costs and maximization of well uptake to zone capability, reduced manning levels and enhanced safety. Containerized units are outfitted with state-of-the-art technology in digital depth control, weight and tension monitoring technology.
The company's electric line services can be provided in concert with its modern multifunctional fleet of wireline units. Weatherford can offer interchangeable logging capability on a number of its modern wireline units. The company continues to look for ways to increase its multifunctional capabilities so it can offer progressive, cost-effective service to clients.
Managing Change
Weatherford is constantly looking to take advantage of opportunities around the world. From a global perspective, there is a lot of activity taking place in mineral exploration. The focus is shifting from energy minerals such as coal to minerals such as copper and gold. The mining industry is investing in this change of focus, looking for where the opportunities are and searching for ways to control cost.
"In some places, like Australia, productivity is a big factor in controlling costs," Wordsworth says. "In other, less-developed places, greenfield operations are taking place where the industry has more freedom to develop. Brazil and Latin America in general are seeing a lot of new projects, as are parts of Africa and Asia. Mining companies are looking to go where they are going to see a good return on investment."
In response to changes in the industry, Weatherford looks to leverage the relationships it has created. With many of its clients, the company has long-term ties and strong personal relationships.
"The world of mining geology is relatively small, so we want to maintain and develop relationships with our clients," Wordsworth says. "We have people who have been here 15 or 20 years, which helps to keep our focus on service quality and looking for ways we can improve on our measurements. We engage in constant contact with clients, and our regional people and client-facing account managers spend time maintaining those ties with clients."
Making the right investments will play a large part in the continued success of Weatherford. In the slimline world, the focus is on improving productivity. The company is investing in downhole equipment that can improve efficiency.
"Clients like our products and services and they trust our data, but they want improved productivity," Wordsworth says. "We've tried to combine more measurements in a single run as it saves time for the clients."
On the software and delivery side, Weatherford investments include development of a data delivery online platform called PreView Data. The system allows remote delivery of data to clients. "They can see us logging holes and they don't have to be at the well site to make decisions," Wordsworth says.
Another slimline investment area has been the development of the company's gyroscopic verticality tool, which Weatherford says is a more cost-effective option for the mining community.
"We've developed other downhole tools, such as blast hole-specific tools that were designed to log blast holes on mine sites," Wordsworth says. "In general, our investments are designed to ensure accuracy and reliability while providing it in a more productive fashion."
In the years to come, Weatherford will strive to continue providing clients with the solutions they need while controlling its own costs.
"Fortunately, we can draw on all of the resources at Weatherford in our division which helps us to be cost effective," Wordsworth says. "That is the advantage of a diversified model."