Weatherford Laboratories Norway
Measured growth
Ever striving for higher standards, Weatherford sits at the cutting edge of technological analyses for oil and gas reservoirs across the world.
The group has several highly respected scientists who have authored hundreds of technical papers, as well as geologists, engineers and technicians who are some of the best in the industry. Weatherford Laboratories Norway was created under the laboratory division of the Weatherford group following the takeover of RESLAB in June 2007 and is a limited liability company operating as a separate entity from the overall group structure. The organisation has two main offices based in Stavanger, which holds 50 employees, and Trondheim, which utilises 40 staff. Weatherford Laboratories Norway is a laboratory business focused on providing services and analyses, such as petrophysical parameters, capillary pressure measurements, irreducible water saturation and electrical measurements to oil and gas companies.
The company's highly skilled engineers are able to analyse reservoirs to predict the change in permeability and pore volume as the reservoir is depleted. They are also able to find ways to increase production rate under different conditions, as well as providing a measurement of how much oil can be produced and how much will remain in a reservoir after it has been depleted. As a lab, the company is the second largest in the world and, as well as carrying out operations, manufactures nearly all of its own equipment.
Oeivind Eliassen, managing director for Weatherford Laboratories Norway and regional director for Europe, outlines the organisation's main strengths and operational areas: "We primarily function across Norway with offices in Stavanger and Trondheim, with additional activities in Bergen and Oslo, though we also supply services to customers across the globe. Our key clients in Norway include Statoil, Exxon, BP, Shell, ENI, ConocoPhillips,Total and Det norske oljeselskap, as well as a number of smaller lesser-known companies. We stand out from competition through the high technology and progressive expertise we employ – some of the laboratory analysis procedures and equipment we use are quite unique in the industry. We maintain strong relationships with customers and suppliers to ensure we are at the forefront of the industry."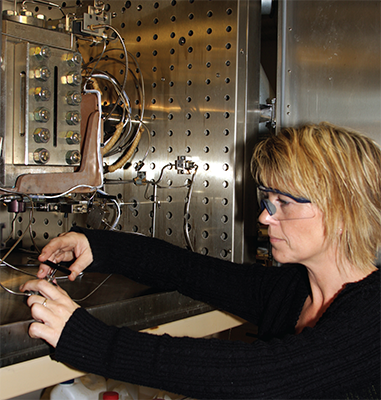 Currently the company is working together with Statoil and the local research council on a new research programme focused on measuring water saturation versus capillary pressure using live oil at full reservoir conditions. At this stage the equipment and technology has been installed and measurements have started to take place. As Weatherford Laboratories Norway provides a tailor-made service dependent on the individual needs of the customer and the reservoir being worked on, it is an ideal partner for innovative research.
Weatherford Laboratories Norway has also made recent changes to its core storage facilities, which used to be run via static shelves and a forklift system. Last year the company utilised its long-term relationship with a supplier called Constructors to invest in a mobile racking system. So far the installation has created a vast improvement in the core store, improving efficiency in both time and space. Indeed, thanks to this technology the organisation has been able to condense its store into one building, cutting the number of leases, and therefore costs, it has for storage. Constantly striving for improvement is a key element of the Weatherford philosophy and as such, the company is constructing a new state-of-the-art fluid and PVT laboratory that will entail superior fluid analysis capabilities and will be operational by November 2009.
Oeivind highlights the advantages of being part of an international group such as Weatherford: "We benefit from being able to get easy access to emerging markets due to the fact that Weatherford is a large organisation with over 45,000 employees and wherever oil exists it tends to have operations. Instead of going through local agents, we can now make use of local Weatherford offices and get pre-qualification and access to the industry almost immediately. As a result of being part of the group, we now have contacts and cooperation with advancements in Australia, Thailand, India, South America, North America and the Middle East. I think our business is also buoyed up by the relationships we maintain with suppliers and co-operation partners, such as: Phoenix Trading, Pera and Sintef Petroleum that provide our laboratory chamber tools, and Constructors that have saved us leasing costs; condensing our storage facilities, while long-term associations with the major IOC's ensure a lucrative future."
Despite the global impact of the economic crisis, Weatherford Laboratories Norway has remained relatively unscathed. Though a number of oil and gas projects across the world have faced cancellation, Norway seems to have escaped this trend with the majority of projects continuing as normal. However, the company has faced challenges in regards to renegotiating prices with customers, which has meant its quality and efficiency strategies have had to operate at optimum levels. All operations function under ISO standards, supported by the company's own quality system and QA (quality assurance) management team. All quality certifications are followed up by reports from clients regarding satisfaction and the management meet on a quarterly basis in line with the international Weatherford structure.
Whilst business is set to stabilise for the coming year, Oeivind is confident that a stronger move into the African market will take place at some point in the future: "We are number two in the world for our facilities at the moment and, of course, our long-term goal is to be number one. We are naturally divided by the operational sectors of the Weatherford group but we have many contracts in Africa and feel we could increase our influence in this region over the coming years. We will achieve this by continuing to be technological leaders and by persistently improving our quality. We will continue to invest in our facilities, as we have done with our core storage and PVT analysis laboratory, which will provide superior efficiency in the long run. We are highly optimistic about our future."
Weatherford Laboratories Norway
Services: Reservoir Information