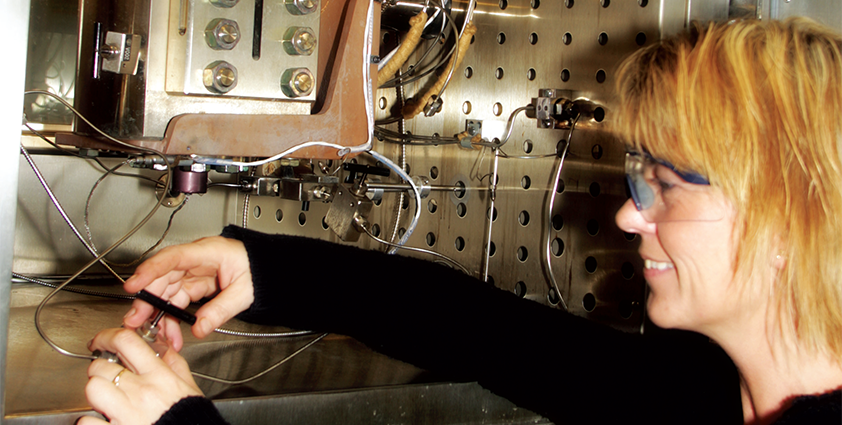 Unlimited possibilities
Weatherford Laboratories is engaged in all facets of rock and fluid analysis for the purpose of evaluating hydrocarbon resources around the world.
Its services include core retrieval, analysis and management; geochemical assessments; unconventional reservoir evaluation, reservoir fluid (PVT) analysis; and consulting and engineering services. Additionally, it has developed a wealth of proprietary instrumentation and software in the constant pursuit of more accurate data.
With locations on six continents, Weatherford Laboratories provides laboratory services to every major oil and gas producer and is experienced in all play types, on and offshore. Indeed, as oil and gas play types have evolved with changing economics and technologies, so too has the expertise of Weatherford Laboratories. Today, it offers comprehensive rock and fluid phase behaviour testing and analyses in every major play type, on and offshore, around the globe. Whether dealing with unconventional gas reservoirs, risky deepwater ventures, challenging tar sands or methods for enhanced oil recovery (EOR), the professionals at Weatherford Labs are at the forefront of emerging oil and gas plays. Members of its team have authored seminal papers and studies in these disciplines, and it continues to push the envelope for more knowledge and greater insight.
Weatherford Laboratories is part of Weatherford; one of the largest oilfield services companies in the world. It operates in more than 100 countries and employs more than 50,000 people worldwide. With a product and service portfolio that spans the life cycle of a well – drilling, evaluation, completion, production and intervention – and a robust research and development effort, Weatherford is well positioned to meet the ever-evolving needs of the oil and gas industry. The group has $8.5 billion in annual revenues, and is committed to pursuing the highest standards of quality, health, safety and environmental performance in all of its operations.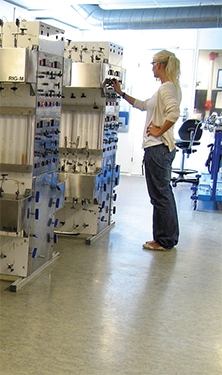 In a previous issue of European Oil and Gas, Oeivind Eliassen, the managing director for Weatherford Laboratories Norway and regional director for Europe, highlighted the advantages of being part of an international group such as Weatherford: "We benefit from being able to get easy access to emerging markets due to the fact that Weatherford is a big organisation with over 45,000 employees and wherever oil exists it tends to have operations. Instead of going through local agents, we can now make use of local Weatherford offices and get pre-qualification and access to the industry almost immediately. As a result of being part of the group, we now have contacts and co-operation with advancements in Australia, Thailand, India, South America, North America and the Middle East. I think our business is also buoyed up by the relationships we maintain with suppliers, while long-term associations with customers such as Statoil and BP ensure a lucrative future."
In an industry where insight and experience are paramount, Weatherford Laboratories stands at the top of the market. Among its ranks are several luminaries of the industry whose cutting-edge work has transformed conventional thinking about oil and gas reservoirs. The team includes several highly respected scientists who have authored hundreds of technical papers. Taken together, these geologists, engineers and technicians offer thousands of years of experience in virtually every hydrocarbon-related science, with multiple advanced degrees and scientific awards to support analytical judgments.
Weatherford Laboratories offers laboratory services at 16 locations in North America, three locations in Latin America, eight locations in Asia/Pacific Rim, five locations in the Middle East/North Africa, and six locations in Europe. These strategic sites provide our customers with fast, accurate turnaround of time-sensitive projects around the world.
The field laboratories are in fact 'integrated technical centres', which house sophisticated core analysis, special core analysis, reservoir petrology and digital imaging services focused on the needs of the local market.
Additionally, Weatherford Lab's regional facilities in Houston, Calgary, Rio de Janeiro, Abu Dhabi, London, Stavanger, Trondheim and Brisbane provide turnkey core management, reservoir fluid/PVT, geochemical and engineering services. These facilities feature specialised teams for core retrieval, thousands of cubic feet of ambient and refrigerated storage space to preserve cores, high-volume laboratories for faster turnaround, multiple CT scanners for continuous imaging, core viewing galleries equipped with natural and ultraviolet light, plus comprehensive core analysis, geological and geochemical laboratories. Weatherford Labs has also introduced self-contained mobile laboratories for testing at the wellsite, both on and offshore. These units are invaluable for providing critical geological data to make time-sensitive decisions.
Thanks to its policy of continuous improvement, Weatherford Laboratories has a history of impressive accomplishments including 50 new technologies, 45 original products, 35 industry awards, and 13 registered patents. But those statistics are simply the outward reflection of an internal attitude. Inside Weatherford Laboratories, the company nurtures an entrepreneurial spirit because it leads to fresh thinking and innovation. It seeks out the best minds in the industry for its team and it implements the best tools and technologies to deliver superior science. It encourages proactive problem solving and superior customer service. Above all, it fosters a culture where excellence is the only option.
Weatherford Laboratories
Services: Laboratory services