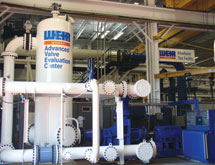 Weir Minerals North America
Weir Minerals North America may have plenty of competition among makers of slurry equipment, but it says it strength lies in providing customers with world class products and materials for improved wear life and lowest cost of operation. In fact, the company has one of the most expansive product lines in the industry, which makes it an ideal supplier not just for the mining industry, but also for many other sectors throughout the world.
The Weir Minerals Division of The Weir Group PLC delivers products and services that are designed to meet the technical and commercial challenges of the global mining and minerals processing industry. Its products can be applied to all mining and minerals processing, dewatering, and general industrial applications. Its pumps, mill liners, hydrocyclones, slurry valves, screens and rubber products support customers' mineral processing operations.
"We target a substantial variety of applications which requires us to work within numerous industries," says Gary Leander, the vice president of engineering for Weir Minerals North America. "We use all the latest tools in design, such as finite element analysis and computational fluid dynamics to streamline the flow inside of our pumps. At the same time, this helps us with reducing wear."
A Strong History
In 1871, George and James Weir founded engineering firm G & J Weir to cater to the booming industrial market in western Scotland. The company made a name for itself through its groundbreaking inventions in pumping equipment created for the famous Clyde shipyards and the steam ships built in Scotland during the Victorian era.
By 1947, The Weir Group was listed for the first time on the London Stock Exchange, and in 1947 it acquired Peacock Brothers (Canada) to enter the North American market.
A major shift in the company's direction came when the Weir Group acquired Sydney, Australia based Warman International in 1999 to form part of the Weir Minerals Division. The largest acquisition in the company's history at that time, Warman International gave the Weir Minerals a critical mass in the worldwide mining slurry pump industry.
More than a 140 years later, The Weir Group PLC continues to grow and offer a variety of brand names through its Weir Minerals Division, all of which have reputations for quality throughout the mining and mineral sector.
Today, Weir Minerals North America is headquartered in Madison, Wis., where it manufactures slurry pumps and valves. Slurry pumps account for the largest percent of revenues, but service and other equipment make a strong contribution.
North American Operations
Weir Minerals North America manufactures the Warman® line of centrifugal slurry pumps at its facility in Madison. These pumps are used in thousands of mining, power, sand and aggregate and general industrial applications. The company says its horizontal and vertical slurry pumps are designed for heavy-duty work including mill discharge, process plants and tailings, pipelines and specialty applications.
According to Mike Schoen, president of Weir Minerals North America, business is thriving in the mining industry, and Weir Minerals' Madison operations are ramping up to keep up with demand. The company is adding capacity at its Madison facility as well as throughout its supply chain.
"We're adding people to our manufacturing facility as well as at the executive and senior management level to strengthen our capabilities," Schoen says. "These coincide with the plan to increase general manufacturing capacities."
For instance, Weir Minerals North America recently hired Balaji Swaminathan as the vice president of product marketing as part of its ramp-up.
Swaminathan is part of the team that will help Weir Minerals add related products to its market offering. "We're adding more resources to gear up for future growth at this point, and there is significant growth potential in industries like oil sands," he says.
Pumping Up Efficiency
Schoen says Weir Minerals North America employs a philosophy of continuous improvement that it applies to all phases of its operations from facility to customer touch points.
Through efforts such as continuous improvement, Leander says Weir Minerals North America builds efficiency into its products. Whether bigger products or items more resilient to wear and corrosion, the company is always on the lookout for the latest advances in material and technology to improve customers' operational efficiencies and help enhance their safety.
Most recently, Weir Minerals has worked to increase the hydraulic performance and wear life of its pumps. Leander takes pride in the fact that the company has doubled and tripled the lifespan of some of its client's products in recent years. "The goal is to get the operational performance of the pump more predictable," Leander says. "We're trying to meet customers' needs for size of equipment and extend the time between their maintenance cycles."
Standard and Customized
Weir Minerals offers customized products along with standard items for its customers. Clients order standard products either directly from a Weir Minerals sales representative or through its network of distributors.
Custom orders are slotted into production schedules where possible. Components have a variety of lead times, and the company tries to balances its inventory accordingly.
Future Pumping
As the business prepares for its appearance at MINExpo 2012, Weir Minerals North America remains focused on their customers' needs and on efficient and profitable growth. Schoen says the future looks promising for the company.
"We will have some growth opportunities within our supply chain within the next three years," Schoen says. "We expect to grow our capacity in-line with the market growth." EMI