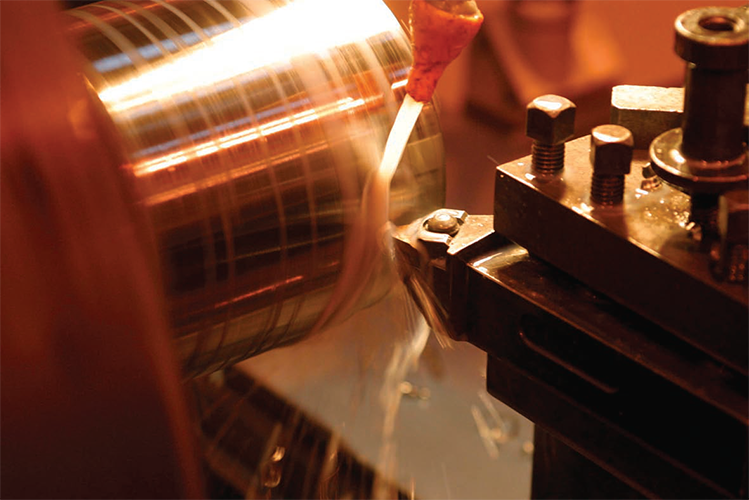 Modifying machine
Weir Engineering Services is a constituent company of the Weir Oil and Gas Division part of The Weir Group PLC, which employs ~15,000 people worldwide across three divisions.
The oil and gas division delivers end-to-end solutions for customers around the globe, from capital projects to long-term asset management contracts for continuing operations, both on and offshore. Its comprehensive portfolio of high performance pumps and superior safety critical equipment is designed and manufactured to meet the highest specifications, for robust and reliable operation in some of the world's most challenging environments.
The heart of the oil and gas division lies in Aberdeen, where the local service centre is recognised as the 'Centre of Excellence' facility with near to 150 years of heritage. As a business which both manufactures and sells the units, the oil and gas division has a particular engineering specialism that allows it to service pumps and valves, undertaking upgrades and re-rating to suit clients specific needs. "From chartered to site engineers, our team of specialists have the skill and experience that enables them to assess the operating conditions of any pump and re-design the internal workings to suit the requirements of the customer," says Ian Spiller, General Manager.
"It is not necessarily the case that there is anything wrong with the pumps that are already installed, but as a well operation matures, the conditions change. We are able to look after those units and adapt them to suit the changing environment in which they operate," explains Ian, continuing: "The manufacturer makes a standard range of pumps, and the customer selects the best fit he can at that time and installs it. Throughout production, wells reduce in terms of pressure, and the amount of oil decreases over time, with a greater amount of water or hydrogen sulphide coming through. It is at this point that we would adapt the design, creating a custom bespoke unit."
Working in this innovative style, the business recognises the importance of securing the correct workforce, and as such operates a standard apprenticeship scheme, where talented individuals are given the opportunity to learn vital trade skills, and continue to develop throughout their career. "We also have a graduate scheme, and each year we put individuals through a rotating scheme across all departments as they work towards career goals," adds Ian. The innovative approach within the business plays a very important role, forming part of the core mission statement on values and behaviours, in what is referred to in the company as the Weir way, as Ian explains: "We are completely committed to exploring ideas and possibilities that will actually deliver innovative solutions. It is not just more of the same. We stand back and ask the question; what does the customer actually need here, and it might be that the traditional approach just needs a minor adjustment, or it may be a completely new concept.
"We have recently done some work with Conoco Philips in Alaska, where the traditional method did not work so we came up with a completely different approach, which has been so successful that they are going to upgrade their entire fleet of one type of pump to our new design." With a reputation of delivering excellence, consistently, the business has built up a healthy client base with ongoing renewal of contracts. "We wouldn't claim to be the cheapest or the fastest, but when we do deliver something, it works and does what we say it is going to do. Integrity is of key value within our company."
In January 2014, the Weir Group PLC announced that it had signed a contract with LUKOIL Oil Company to provide general maintenance services for the West Qurna-2 oilfield in Southern Iraq. The agreement, which is for two years and is estimated to be worth a total of $98m, will see Weir engineers deliver mechanical, electrical, maintenance and pipeline services for the related production facilities, including the Mishrif Central Processing Plant. "This is one of the biggest milestones in recent years for the business and signifies the global standing that we hold," says Ian.
Weir has invested over $8m in establishing its service centre in Basra, Iraq and it is the first in-country location to offer fully comprehensive maintenance services for all kinds of rotating equipment, valves and wellheads. The facility is also the first in Iraq to obtain API and ISO licences. Furthermore, in spring 2014 the UK Aberdeen business was awarded a fire pump contract from Talisman Sinopec Energy, with two additional contracts closely following. With an initial agreement of five years, and options to extend, the future for the business on the continental shelf looks set to continue.
Having recently introduced facilities into Aberdeen to offer solutions to the Weir OEM valve units, the market benefits for the first time with a manufacturer carrying out a service, normally conducted by a third party. As he looks towards the future, Ian concludes: "Opportunities ahead are significant. Despite the year on year decline in North Sea oil production, our market share has actually increased significantly with 20 per cent growth. We are an acquisition hungry company and our strategic growth plan works towards doubling the size of the division over the next five years."
Weir Oil and Gas
Services: Products and service solutions for upstream, production and refining