Well supported
A dedicated subsea well intervention service, providing fast, flexible and high-quality well management solutions, allows oil companies to focus their rig assets solely on drilling, ensuring maximum productivity and efficiency at a field.
Well Ops UK, part of Helix Energy Solutions, is a leader in this sector, using purpose-built vessels to provide offshore customers with a dedicated well operation support service.
"Well Ops UK is a leading contracting entity specialising in subsea well intervention," says Bill Morrice, Vice President of the Global Well Ops Business Unit. "We provide offshore companies with a single, comprehensive resource to support well operations using our multi-purpose, multiservice well intervention and diving support vessel, the Seawell."
Bill explains the advantages that Well Ops' services offer: "When a drilling rig is contracted to an operator it is contracted to drill and complete the well, not necessarily for well servicing, which
tends only to be done when a customer has a gap in the drilling schedule. Essentially, our services fill a niche market, offering a low cost, efficient service capability that provides a fast, flexible solution for all well servicing needs. Rather than take a drilling rig offline, we have the flexibility to complete the well intervention services in parallel with inspection, repair and maintenance (IRM) work with diving capabilities.
"We are primarily focused on fit-for-purpose well intervention, with the assets to perform any operations required," he continues. "Our service is also fully integrated, providing a turnkey capability to the client. For example, if they have a problem in the well, we engineer it, procure the equipment and materials, staff the vessels with the relevant resources and manage the entire project."
Due to the recognised advantages of well intervention contracting, it has become increasingly common in the industry in recent years: "Since the early 1990s there has been a higher demand for subsea well intervention services, particularly in the North Sea," Bill explains. "The market is now maturing, meaning that there are requirements for additional tonnage and services. Consequently, many of our customers have implemented long-term contracts to ensure they have access to Seawell – the vessel now has a full order book through to the last quarter of 2010."
To meet the increasing demand in the market, and to maintain its leading position, Well Ops has recently invested in a new vessel: "The new ship is planned to enter service at the end of 2008," says Bill. "We are using the same philosophies and design basis as the Seawell to make sure that the ship matches, and exceeds the multi-role capabilities. It will be equipped with a new seven inch lubricator system, which will allow access to large bore horizontal subsea christmas trees, and will be the first single-lift well lubricator system of its size on the market."
The business has also recently been awarded a major contract: "Shell EP Europe, one of our key customers based in Aberdeen, have awarded us a five year contract worth in excess of $250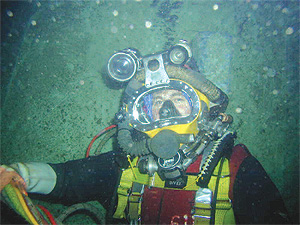 million," Bill comments. "It is on the back of a long-term relationship between Shell and ourselves since 1994. They have projected the work they have ahead and planned their long-term needs for well servicing accordingly. The contract guarantees the commitment of Seawell for a total of 770 working days in the five-year period.
"We will be working at all of Shell's UK North Sea subsea sites, and possibly Norway in the future," he says. "Shell has also assigned the contract to Exxon Mobil, one of their partners, so that the vessel can be used in their operations at their Nevis field for some urgent work that needed to be completed. In addition to well operations, the contract has a diving service capability built into it to allow us to undertake complete subsea IRM and diving."
In addition to investment in new vessels, Well Ops aims to continuously improve its equipment and invest in new technology: "For many years we have worked closely with Schlumberger for the provision of our subsea lubricator system, which is a well control device," Bill explains. "However, we realised that we needed to move the equipment to another level, and to develop the technology further. Consequently, we acquired the Subsea Intervention Lubrication (SIL) business unit from Schlumberger.
"Over the last two years we have invested around $4.5 million in designing and developing a new five inch lubricator system," he continues. "We now have a more reliable, capable and technologically advanced system, which allows greater scope in our operations. We like to ensure that as many services that we offer as possible are solutions that are developed inhouse, as it gives us greater control and quality." The current levels of activity in the sector mean that Bill is confident for the future: "The industry as a whole is enjoying a very high demand, and witnessing significant growth. Due to our focus on subsea operations the UK sector offers more potential than almost anywhere else in the world at the moment, meaning that we are in our most exciting, dynamic period.
"With our order books full up to around 2010, we have an excellent opportunity to continue to provide the quality and service that our customers expect, whilst diversifying our portfolio and investing in our future," Bill concludes.
Well Ops UK
www.helixgas.com/wellops