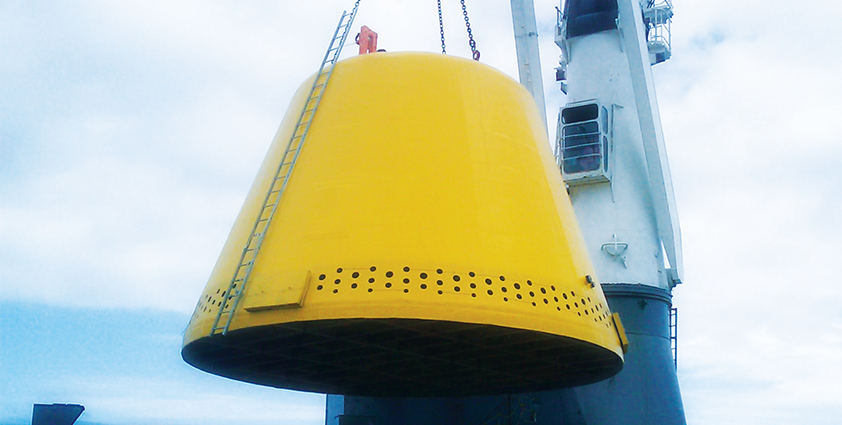 Increased oil yeilds
Established to investigate and develop water treatment technologies, Well Processing has recently launched its Subsea Water Injection Treatment (SWIT) system as its first major product.
Designed to increase potential oil recovery from offshore and near shore oil fields, it was developed in co-operation with major companies ConocoPhillips, Total, Shell, Gas de France and the Research Council of Norway.
The role of water injection and treatment in the oil industry is very important, allowing companies to extract greater amounts of oil from a field and sustaining its production lifetime. By injecting water into a reservoir, oil companies look to replace the pressure lost in the extraction of oil and/or drive oil toward the producing wells. The restrictions with water injection systems based at the surface include extensive equipment to treat the water and a limited number of available injection wells with which to establish a field drainage strategy. Well Processing's new technology enables the subsea treatment of water close to a pumping station with minimal machinery and only one power cable per unit.
David Pinchin, chief technology officer for Well Processing, explains the workings of SWIT: "There are three different stages within what we call the 'Still Room'. First is the bottom chamber, designed to create a still environment that allows any solids heavier than water to settle in a still environment. The second chamber, at the centre of the steel room, contains a set of electrochemical grids that generate chlorine. Water comes vertically up through the electro-chlorinator and heads into a residence chamber where it remains for ca. two hours, giving the chlorine ample time to kill bacteria."
He continues: "The third stage is the top exit chamber where we have a new technology called Hydroxyl Radical Generator. Anything that manages to survive two hours in a chlorinated environment will be hit with electrically generated hydroxyl radicals. The objective is to avoid reservoir souring by ensuring as effective disinfection of the seawater as possible prior to it being injected. We've taken this technology and applied it for the first time in the oil industry in a continuous subsea operation."
With a development cycle that has taken over five years, Well Processing's approach to SWIT is to guarantee every component of the product is reliable and capable of fulfilling its function. By auditing each of SWIT's 40 parts and undertaking a one-year pilot programme, the company has ensured that the final unit not only has a 99.8 per cent uptime but also is capable of doubling the amount of recoverable oil in place. (IOR). The capital expenditure and operating expenditure benefits of running SWIT over a traditional land-based treatment facility equates to between 30 per cent and 50 per cent reduction in cost, a result of 20 per cent lower power requirement, less operator involvement and a much smaller volume of chemicals being used.
As David illustrates there are a number of problems with existing water injection regimes. "Not only can the number of available well slots be a problem but also a reservoir engineer has limited information available to him in the initial phases of field drainage. SWIT technology enables the flexibility of placing the treatment and injection equipment where and where required. So, combined with technologies such as 4D seismic, reservoir engineers can adjust initial plans and put as much water into the reservoir at the points that will yield the best returns. Onshore reservoirs achieve high recovery rates using five-spot and line drive patterns, but offshore there is not enough well spots to do this. Furthermore, there are weight and space constrictions."
Another application of the unit would be in providing treated water for satellite reservoirs. Where traditional facilities require extra piping and machinery in order to provide enough treatment, SWIT is a self-contained unit that requires only a power cable to function and can be placed where the end user needs it. The flexibility of the unit means it has a wide berth of potential customers operating in both onshore and offshore sectors.
A majority contribution of the funding for SWIT's development came from members of the Industry Technology Facilitator (ITF). This organisation, which includes many of the world's leading oil and gas companies, supplied a large portion of the £1.4 million cost with further contributions coming from the Norwegian Research Council and Well Processing itself.
The future for SWIT looks to be a bright one. Predictions for the future of the oil industry forecast significant increases in the importance of IOR techniques: to maintain current levels of oil extraction, injection-recovered oil needs to increase from 2010's three times primary oil extraction to seven times in 2020. Well Processing's new product is situated at the head of this rapidly emerging trend, and has already begun generating interest from firms in the Middle East where it not only has offshore applications, but has been considered for use in the large inland reservoirs of the Persian Gulf.
Launched at ONS 2010, Well Processing expects the first contract for field delivery of SWIT to be signed in 2011. The company is excited with the potential for this innovative product and CEO Per Hatlem expects ongoing success for Well Processing: "We have looked at the market for this technology and it is huge. The number of injection water barrels will double by 2020 and if we can take just a small portion of that, the company will be able to operate independently or even become listed within three to four years. This is technology with worldwide potential and Well Processing will be a valuable company."
Well Processing AS
Products: Water injection technology