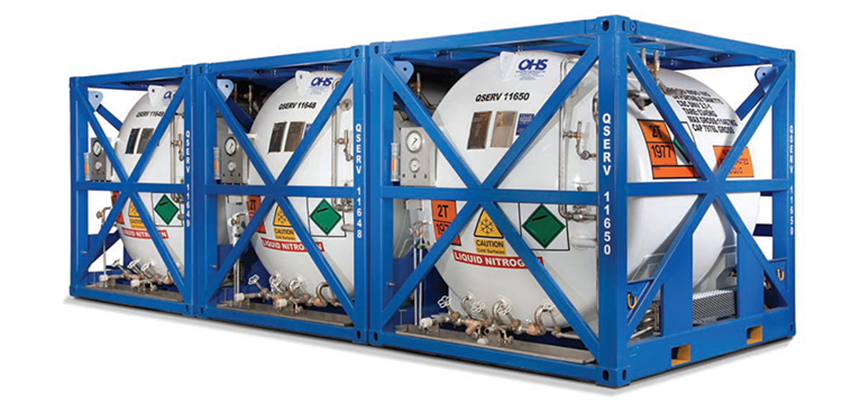 A record year
It has been a productive and successful 12 months for family company Wessington Cryogenics since it was last in European Oil and Gas Magazine in July 2012.
The 29-year-old manufacturer of cryogenic vessels has enhanced its service offering by adding a range of cuttingedge products to its expansive portfolio, as Darren Nutter, business development manager of Wessington Cryogenics highlights: "We are developing two new product lines; acid tanks and a new range of chemical tanks for the offshore industry. These products complement our current portfolio, owing to these similaritieswe are able to cultivate and exploit our corecompetencies and capabilities. Working alongside our customers, combined with our strong values in safety, quality and development, we are bringing new and innovative products to the market."
Both the acid tanks and chemical tanks are out in the field and have been well received on the market. The Acid Pack 2000, a fully lined IMDG T14 acid transport and storage tank, is designed to DNV 2.7-1 standards and is fully certified for offshore use.
Always looking for opportunities to enhance its portfolio in new market areas, WessingtonCryogenics, has a customer base that includes major companies such as NASA and Halliburton, has seen steady demand during the economic crisis, which has resulted in the company expanding into a new 15,000 square foot factory. "The new factory, based in Castletown, is separate to our 70,000 square foot manufacturing facility in Sunderland and is a natural extension due to us taking on a wide variety of projects in the last 12-18 months. Its opening followed two contract wins, one of which was for a 60,000-litre large bulk storage tank and the other was for a number of 40-foot ISO containers for LNG. The 40-foot tank is a product we have wanted to add to our portfolio for a while and it is being well received by our customers," says managing director Paul Rowe.
Believing LNG and helium tanks will be key areas of growth for the firm, Wessington Cryogenics' new addition has been designed as a standard 40-foot ISO frame with Blair corner castings and a lockable valve protecting cabinet, which contains valves, gauges, vacuum check gauge connection and a separate document holder. The ISO VAC 40 LNG offers maximum versatility, allowing it to be configured to accept cryogenic transfer pumps as well as various pipe work and valve options for the end user and operator. Furthermore, the tank can be produced with working pressures that range from 100psi to ten Bar, can be used for the safe storage and transport of LNG and has approvals for road, rail and sea transportation.
Keen to diversify its product offering through continued research, design and development of new products, Wessington Cryogenics continues to look out for new market areas, which Paul believes is the reason the company wins major contracts: "We are big enough to have a strong portfolio and small enough to be adaptable and say yes to new projects, so our flexibility is respected in the industry. Even while we are working on big standard projects we aim to continue innovating and enhancing our product range, whether that is an extra valve or new feature on a custom made item that we then realise is useful for other clients. That feature will then be put into the whole range. We have certain product ranges where every single one will be completely bespoke, this is particularly true for the laboratory side of our company, where we get the most basic concept outline and we then slowly design a product from the ground up."
Aware that constant product evolution also requires consistent training and development of staff, Wessington Cryogenics has a strong focus on enhancing the skills of all personnel through in-house training, as Paul explains: "Cryogenics is a diverse, but insular and small community, which is why we take on people from related industries and train them into fully qualified and highly skilled staff." On top of this, the company offers cryogenic training courses to third parties, in association with Gas Safe Consultants, in response to market requirements for specialised safety training in the safe use, handling, storage and transport of industrial, cryogenic, laboratory, medical and special gases.
Following a year of record turnover in 2012, Wessington Cryogenics is keen to see this trend continue into the future, as Paul concludes: "We want to expand and explore new markets, be as dynamic as possible and continue to develop our products. With our superb reputation and ability to go where the markets tell us to go, I don't see why we can't keep on growing."
Wessington Cryogenics
Products: Cryogenic vessels