Branching out
Based in the Norwegian town of Geithus, Westad Industri AS is a key supplier of high tech butterfly valves and ball valves for the marine and offshore industries. The company was established in 1895, with its roots as a manufacturer of valves for the local pulp and paper industry.
As the industry gradually changed, so too did Westad's activities, and by the 1950s, it began to serve its first marine customers. This eventually expanded further with the introduction of oil and gas production to Norway in the 1970s, which led to Westad branching out into providing valves for LNG tankers, oil rigs and mining installations.
As material requirements in the industry increased, Westad adapted its product lines, by adding a range of titanium, duplex, superduplex and 6MO valves to its portfolio. This strategy of expanding alongside the industry it operates in has allowed the company to build a strong reputation, and today it serves a range of customers at both national and international levels.
Sales director of Westad, Per Gunnar Roennigen, elaborates upon the company's operations today: "Historically, the bulk of our activities in oil and gas have been with customers working in the North Sea. With regards to the maritime sector, we focus on valves for cargo systems on tankers, and we also work with FPSOs on a frequent basis.
"In addition to our European customers, we have also expanded to work with many companies in the Far East. In the marine sector in particular, we have a lot of contracts with customers in South Korea, China and Japan – including many of the big players such as Hyundai, Daewoo, Samsung, Mitsubishi and Kawasaki."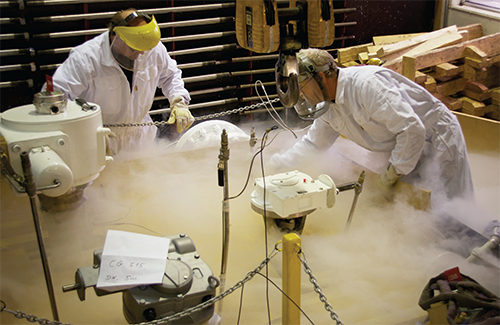 Included within Westad's portfolio are double and triple offset high performance butterfly valves, such as the Scorpio series, which are available in different types of stainless steel, cast steel, titanium and Ni-Al-Bronze compositions, and in size ranges from DN 800 to 1200. Available in wafer, flanged and lug types, these products are suited for operating in temperatures from between -110°C to 450°C, and at pressure ratings of 150, 300 or 600 ANSI. The Scorpio series, along with the Cryoseal product line for LNG, forms the backbone of Westad's product spectrum.
The company is also currently fulfilling a major order that it received at the end of last year. Per elaborates: "We are working with a Swedish LNG terminal that is under construction at the moment. Our role in this project is the supply of 80 butterfly valves in various sizes and pressure ratings. This is a really exciting market for us and we hope that our involvement within it will continue to increase in the coming months."
When manufacturing such products, Westad often works with its customers in order to develop the ideal solution: "Whilst the valves are not designed from scratch on every occasion, we do offer customers the opportunity to be present during the testing phases, to ensure that the product meets all of their needs. There is certainly scope in this area and are always looking to improve our products where we can."
Westad also supports its product portfolio with various after sales services, including spare parts and maintenance. The company ensures valid classification type approval and gives customers the opportunity to organise the best time to have these parts replaced. With all service provided through trained Westad Service Engineers situated around the world, Westad also offers inspection services for critical valves and the replacement of high performance seals.
Westad is also renowned for the emphasis it places upon quality, and the company is accredited for ISO 9001 and 14001. With a continuing reputation for the high standards of products it supplies, Per believes his company is well equipped to handle competition in the market: "We have an extremely lengthy history and we have been present in the marine field for 60 years now. Our brand is one of the most well known in the maritime sector for cargo valves. The fact that we manufacture all of our products here in Europe is also very important to our philosophy, as it means we are able to closely monitor the process and ensure high levels of quality at all times. In addition to this in-house manufacture, we also choose not to outsource own machining and assembly testing. Again, this means that we have complete responsibility for every aspect of the business."
Another key aspect of Westad's philosophy is its environmental policy, where it makes conscious efforts to prevent pollution that might result from its production activities. In order to ensure this is upheld, the company is continually monitoring and meeting both environmental regulations and statutory requirements from customers. It also actively works to reduce the use of chemicals where possible, and sets environmental goals that target ongoing improvement. Audits and management reviews are also carried out at regular intervals to ensure the system remains effective.
Westad's ability to build on these strengths and secure new contracts even during the financial crisis is a feat that Per is highly proud of. He reveals: "The maritime sector has been extremely weak as of late, yet we have been managed to secure some key orders in Korea which have been very important to our progression. In spite of the downturn and the tough competition we face in the market today, I feel that we have proven ourselves as a strong brand by withstanding the storm of recession.
"Many companies have been affected and there has been a massive reduction in contracting activity over the past two years. Our response has been to focus on other sectors and diversifying our operations, by expanding further into the oil and gas market. We have also looked to further improve our after sales services where possible, and I think that we will continue to gain momentum as we move into 2011."
Westad Industri AS
Products: Valves