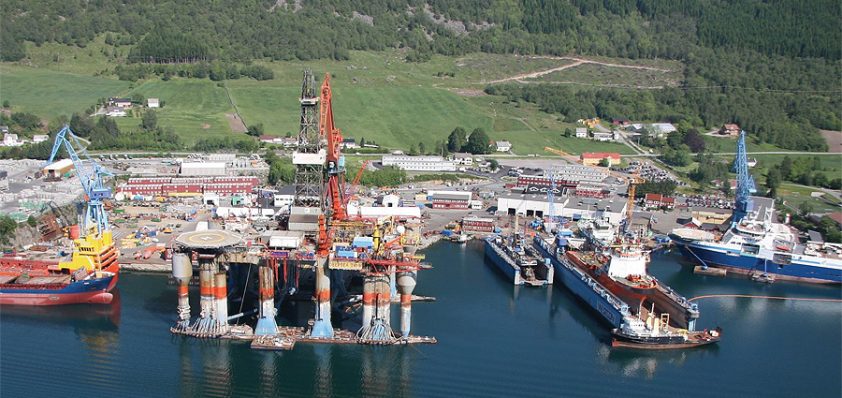 Yards ahead
With over a quarter of a century of experience and a management dedicated to the improvement of customer services, West Contractors, known as Westcon, is at the cutting edge of services to the maritime industry both in Norway and Europe.
The company's shipyard is located in a sheltered fjord on the West Coast of Norway and is easily accessible from the North Sea.
The family owned yard combines a wealth of experience with state-of-the-art equipment to provide its customers with the best possible service. One of its key strengths is that although there are four main operational areas within the business – shipbuilding, ship repair, rig repair and offshore services – they perfectly compliment one another, and the individual expertise in each sector is easily transferable where necessary.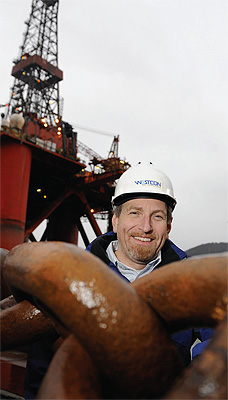 Øystein Matre, managing director of Westcon elaborates: "The yard is family owned and as such has a long term commitment to the development of the business and the prosperity of the local community. We have an internal culture that is based on good traditional business values and a united staff working towards the same goal.
"Our main aim is to be the best shipyard in Norway," he continues. "To achieve this we are dedicated to giving our customers a high level of service and flexibility that ensures that they always want to bring their shipbuilding, ship repairs and rig repairs to our yard rather than our competitors. We listen to our clients carefully, and have implemented many of their improvement suggestions to maintain our high standards."
Øystein explains that Westcon's employees are vitally important to the success of the business: "Experienced personnel are one of our main assets. We have well qualified employees and we pay particular attention to their further development and training. The Westcon culture means that our employees are flexible and enjoy a challenge, which is reflected in the range of projects undertaken by the yard. But it is a combination of all of these factors that make us the business that we are today, and will ensure that we can continue to survive in an extremely competitive market."
Since the spring of 1994 the company's rig department has been extremely busy, tackling over 70 major rig projects. Malvin Eide, manager of the rig department, expects this trend to continue into the summer: "When everyone is soaking up the summer sun our employees will be hot from the hard work. In the coming months we already have bookings from two drilling rigs, and a storage tank project for a third rig.
"The first rig to arrive will be the Scarabeo 5, which will receive its 20-year classification programme and other modifications," he continues. "Additionally, the West Epsilon will return in August after the completion of drilling operations, to have the larger footings that give the rig enough stability to work on the Huldra field removed. The other summer project for the department is the Yme storage tank, which is to be filled with approximately 22,000 tonnes of cement ballast for Single Buoy Mooring of Monaco – this is a completely different type of project that we are carrying out in conjunction with our neighbours Ølen Betong."
Malvin looks at other operations that Westcon will undertake in the coming months: "In addition there are a number of offshore projects, which are taken care of by our new offshore department. Initially we continued to serve our rig customers after they had left the yard, but to ensure that both the rig project within the yard and those offshore are given the desired level of service we now have dedicated personnel for offshore operations. At present the amount of enquiries we have received, tenders we have submitted, and bookings we have indicate that 2009 will be a very busy
year."
Beyond the busy summer period, Westcon will begin work on the fitting out of the hull of Eidesvik Offshore's vessel Viking Lady. The ship is a pioneer project that will use fuel cell technology in a supply vessel, and is Westcon's second gas operated vessel project. Eidesvik Offshore currently has two gas operated vessels in operation as part of its commitment to the development of environmentally friendly ships.
Endre Matre, manager of the shibuilding department at Westcon, elaborates: "By replacing diesel motors with fuel cells, the CO2 emissions will be reduced by 50 percent, whilst NOX- and SOX-emissions will almost be eliminated. Primarily, one cell will be installed on Viking Lady, with a view to eventually replace two of the four diesel motors with fuel cells. This is an exciting project using advanced technology and new solutions.
"We have concentrated on obtaining expertise in the building of gas operated vessels based on the firm belief that the choice of gas will be a considerable benefit to the environment in the future," Endre continues. "The advantages are so extensive that we believe that conditions in the future will make it economical to choose gas as opposed to less environmentally friendly solutions. This is a development we certainly want to be part of."
Westcon has two floating docks that are in great demand for repair, maintenance and conversion work, so much so that there is a considerable waiting list. The types of vessel using the docks range from offshore supply and fishing vessels, through to cargo ships and coastal liners.
Georg Matre, manager of the ship repair department, says: "During a recent extensive project we converted the Bourbon Pearl from a supply vessel to a construction vessel. This was a project that involved the installation of a 110 tonne capacity crane, an accommodation module for 26 people, the construction and installation of a helicopter deck, and the installation of a mini ROV."
Looking to the future, Øystein is confident in further success for the company: "Westcon can be better and will continue to focus on solutions that enable us to provide our customers with an efficient service. We want our clients to not only be satisfied with the service and products we supply, but to want to continue to work with us for many years. The future of offshore activities is bright, but we must continue to focus on improving our infrastructure and the expertise of our staff so we can prosper in the next decade and beyond," he concludes.
Westcon
Services Maritime services