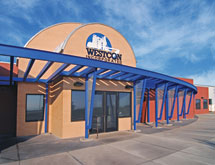 Westcon Inc. is adept at performing work for clients across a variety of industries, but the company's business is booming thanks to its capabilities with industrial plants and the demand from the oil and gas companies operating in North Dakota's Bakken Shale. However, no matter what the industry, Westcon makes sure it performs its work with unparalleled quality and integrity, a tenet instilled from the top down when Mark Peterson became sole owner of the company in the mid-1990s.
"Our motto is, 'Pride through Performance,'" Marketing Director Sue Gustafson says. "[Peterson] has instilled that quality into his employees through his leadership and management style.
"When our equipment comes in from the field upon completion of the project, when it comes into the shop any type of damage to the equipment is repaired and the equipment gets repainted," Gustafson says. "Because of this, Westcon's equipment is meticulous."
Gustafson says Peterson's theory is if he sends nice, clean, well-maintained equipment to the projects, employees take pride in it. This also keeps the job moving forward because Westcon Inc. generally doesn't experience work stoppages because of equipment failure, which helps overall performance.
Peterson and his partners formed Westcon Inc. in Bismarck, N.D., in 1981 as a regional open-shop industrial construction contractor. In 1985, the company started performing mechanical projects in multiple oil and gas and refining facilities. By 1987, it had penetrated the coal market, working in coal-fired plants while earning a reputation for managing turnarounds and capital projects in the power industry.
Throughout the late 1980s and into the '90s, Westcon began opening regional offices. By this time, the company had evolved into a general contractor adept at constructing projects in the oil and gas, refining, agricultural/food processing, bulk pharmaceuticals, power and other manufacturing processes.
Today, Westcon is the leading oil and gas constructor in the region with recent success building more than eight grass-root gas plants and multiple compressor stations along with several loading facilities. Westcon Inc. recently became part of Bilfinger Berger, a global organization with annual revenue exceeding $1.4 billion.
For the oil and gas industry, specifically, the company's can perform work for:
Cryogenic gas plants;
Liquid natural gas liquefaction facilities;
Fractionation plants;
Gas-compressor stations;
Flare gas collection projects;
Oil and gas separation facilities;
Crude oil upgrade facilities;
Oil pumping stations;
Compressor additions; and
Replacement and modifications to gas plants.
Westcon Inc. also provides construction services for plants that process hydrogen, nitrogen, ammonia, oxygen, acetylene and methane.
As a vertically integrated company, Westcon Inc. self-performs the bulk of the work it delivers, including site preparation, pipe fabrication and installation, shop fabrication, ASME code work, equipment installation and plant maintenance. Along with headquarters in Bismarck, the company also has offices in western Utah, Ohio and Iowa, and it has the ability to perform work throughout the United States.
Bakken Boom
Westcon Inc. has taken advantage of the abundance of work in the Bakken shale. Gustafson says within the last two years, the company has delivered two cryogenic gas plants in Williston, one in Watford City, N.D., another in Belfield, N.D., and a large expansion of an existing plant in Stanley, N.D. Westcon currently is building another grass-root gas plant near Watford City with expectations of several more new plants within the next year.
However, performing in this region among many competitors is hardly easy. One issue Westcon, Inc. encounters regularly is a shortage of housing options for its employees.
"For every job we did, we had to have a housing plan," Gustafson says. "We probably have 700 guys working in the oil patch right now, and we had to provide housing for every one of them."
Gustafson says Westcon Inc. has used a number of methods to house employees in these remote areas. It has utilized a number of different strategies such as setting up man-camps, placing employees in campers, setting up cottages, busing its employees from one town to another in order to stay ahead of the housing challenges.
Help is on the way for companies like Westcon Inc., according to Gustafson. She says North Dakota's government is beginning to fund construction of infrastructure to help towns straining under the shale boom.
"Now that the state is investing some money in the Bakken infrastructure, it will help our man-camp situation by offering other options for housing," she adds.
On the Horizon
Despite the opportunity for the company to grow considerably, Gustafson says Westcon Inc. wants to grow better and smarter, not just bigger. That's because the company operates on long-term relationships with clients, we need to perform and meet the expectations of our customers.
"We maintain relationships with our existing customers while building relationships with new customers," Gustafson says. "Even though we work within most of the industrial field, we need to keep breaking into new industries. New customers, new challenges – that is what drives us." EMI