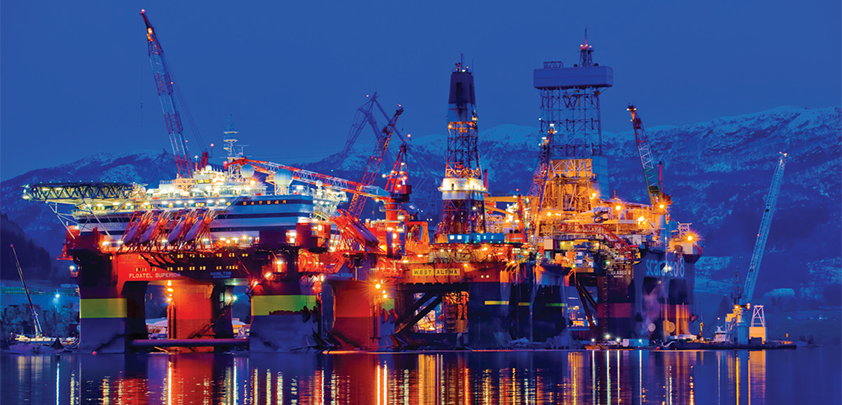 Conquering the complicated
Taking on its present day form in 1981, known at the time as West Contractors AS, and with a history that dates back to 1963, Westcon Yard has spent the last decade developing into one of the most modern and successful offshore and maritime service facilities in the industry.
Situated by the North Sea on the West coast of Norway, Westcon began life as a family business and it remains as such today, with a total of 450 employees based at its yard.
During the 1960s and 70s, the yard focused its efforts mainly on the conversion of coastal fishing and cargo vessels, including section building for other yards. Towards the end of the 1970s the company also experienced a modest period of activity in the shipbuilding sector. One of the major milestones for the business occurred in 1983 when it acquired its first dock. The addition of the dock opened up the yard, allowing it to conduct maintenance on vessels up to 80 metres in length and this was further increased in 1997, when a second, larger dock with capacity for vessels up to 150 metres in length came into operation.
It was in 1994 that Westcon Yard entered the rig services market and in the near two decades since it has welcomed more than 90 semi-submersible rigs into its dock yard for various services: "With its different areas of expertise, the company today occupies a prominent national and international position within the North Sea, delivering quality maritime and industrial services," explains Georg Matre, manager of ship repairs for Westcon Yard. "As the level of business within the region has grown steadily over the years, the company has remained in high demand.
"What it is finding in 2012 is a trend that is seeing oil rigs and other units increasingly arriving from Asia as companies in developing nations look to take advantage of what is a rich, mature oil and gas region. As these rigs look to enter the market they first need to be commissioned to ensure they meet the necessary requirements for safe North Sea operations. Thus their operators and owners, the individuals who make up a significant proportion of Westcon Yard's customer portfolio, turn to the company to make the necessary configurations and modifications."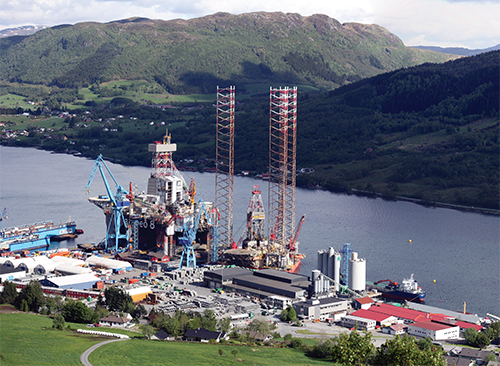 In close co-operation with such customers, Westcon Yard focuses on its core qualities of flexibility and precision in order to ensure that its yard is always as efficient as possible. Furthermore its skilled workforce is well versed in developing solutions to complex problems, providing customers with the leading edge their own business operations demand. With its extensive understanding of its customers' operating needs and environment, Westcon Yard has evolved into what is essentially a one-stop, turnkey supplier and a natural choice of working partner.
What also enables the business to meet almost any challenge are its state-of-the-art technical facilities, including its floating docks, deepwater quays for three drilling rigs, high payload cranes and modern machinery. Equipped to ensure modern and efficient working procedures, the company's workshops boast a staff of highly specialised maintenance and repair personnel. Westcon Yard's site is in a unique, sheltered location, with its access to the North Sea allowing rigs and ships to make a rapid return to full operations.
"One of the company's biggest undertakings over the last year was the completion of its work on the Scarabeo 8 oil rig," Georg continues. "Westcon Yard had to fight off competition from various other yards in order to win this particular contract to repair fire damage and perform commissioning tasks on what is a semi-submersible rig built to operate in harsh environments and ultra-deep water. This has been a large, complex and demanding project that has relied upon the work of Westcon Yard's experienced personnel and expert commissioning teams."
Upon completion of Westcon Yard's work, Saipem took delivery of the rig in January 2012 and in the time since it has successfully completed marine sea trails and is now preparing for its final departure, where it will drill three wells in the Southern section of the Norwegian continental shelf. Thanks in no small part to the work of Westcon Yard the Scarabeo 8 can now be expected to be an ever-present figure in the North Sea for years to come.
The rise in activity at Westcon Yard today sees it working on three rigs at its Ølen bases, following the arrival of the semi-submersible rig, COSLInnovator in March 2012. In addition to the presence of this rig, the work it has recently carried out on the Scarabeo 8 and its work on the world's largest jack-up rig, the West Elara, further rig yard stays are anticipated in the latter stages of the year. This is evidence that the company's yard remains an attractive destination for rigs of all shapes and sizes.
"As projects and rigs get bigger, it understandably becomes all the more challenging for companies to source the necessary human resources and technical expertise," Georg highlights. "What Westcon Yard has been able to do to counteract such challenges is leverage its vast know-how and experience to become an expert in identifying the very best subcontractors and companies to work alongside. Further to this the company, through Westcon's establishment of an engineering office in Stavanger and the formation of its own survey business, Westcon Surveyors, is able to bring together numerous different skills that will ultimately help all parties grow and expand.
"Westcon Yard has come a long, long way from being a simple steel services provider, and as its focus turns increasingly to other competencies like engineering the company can continue to move closer to become a truly high-tech supplier, renowned for providing its customers with the right solutions to their needs."
Westcon Yard AS
Services: Rig and vessel repairs and maintenance