A sound solution
Permanent Reservoir Monitoring (PRM)
During recent years WGP's particular focus has been predominantly aimed at the provision of containerised seismic source solutions, which have evolved in parallel with the developing Permanent Reservoir Monitoring (PRM), also known as Life of Field Seismic (LoFS), market.
WGP is now celebrating its tenth year as a provider of services to the PRM sector, during which time the company has been involved in a number of pioneering projects. European Oil and Gas Magazine looks back on the development and future of WGP.
Founded originally in 1991 by John Duncan, WGP is now a wholly owned subsidiary of Thalassa Holdings Ltd (Thal:Lon). Recent ventures within the group have seen the share price increase significantly from £0.23 in February 2012 to £2.85 in December 2013.
Statoil: Snorre and Grane
The PRM sector has been slow in gaining momentum, however there at last seems to be some growing traction; Statoil has now embarked on its PRM projects for the Snorre and Grane fields, both located in the Norwegian sector of the North Sea. The reservoir surveillance strategy for these fields is to increase output from a nominal 35 per cent to 60 per cent. With the fields estimated to hold 1400M Bbls and 34,000M Bbls respectively, the potential returns are attractive.
WGP has been awarded a contract to build and operate for Statoil a 'Dual Portable Modular Source System' (D-PMSS™), which will enable increased productivity within the limitations of the operational weather window of the North Sea. The system is currently in operation (December 2013) on the Statoil provided vessel 'Siem Sailor'.
Portable Modular Source System (PMSS™)
The acquisition of WGP by Thalassa in November 2011 provided the company with access to funds to increase resources in an industry where a strong financial position can be essential for growth. With a historical working relationship, in 2006/7, in the anticipation of a developing PRM sector, both companies teamed-up to build its own third generation containerised source system, which was launched in 2008 and branded the PMSS. Unpredictably, the timing coincided with the challenges of a collapse in the oil price and the financial markets.
In order to achieve a return on capital for the PMSS, alternative opportunities were pursued. WGP modified the units to include a streamer and recording system so they could be installed on a vessel to undertake 2D data acquisition in the high Arctic. WGP worked for two summer seasons (2011/2012) on a survey programme for the Russian State to delineate the country's continental shelf, during which WGP formed a strong working relationship with Sevmoregeo (SMG) which led to further work using components of the PMSS on an extensive OBN (Ocean Bottom Node) survey programme offshore Ecuador.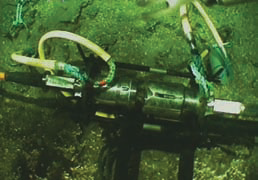 Valhall
WGP has had an extended working relationship with BP in the North Sea, as Mark Burnett, CEO of WGP stated: "WGP is still on a path of strategic development and this includes the ongoing contract to shoot over the trenched seabed seismic array at Valhall, providing 4C/3D Time Lapse Data Sets to augment BP's drilling and injection programme."
The original drivers, objectives and outcomes for Valhall were for the 4D response of the reservoir to be mapped to support the well injection programme. As a business case, it was projected that through the use of LoFS BP would recover an additional 60 million barrels of oil. To date (December 2013), a total of 15 surveys have been acquired over Valhall since the initial programme in 2003.
Chirag Azeri Reservoir Seismic Project (CARSP)
WGP's operations for CARSP were completed in 2012. The Azeri-Chirag-Gunashli reservoirs situated offshore Azerbaijan in the Caspian Sea necessitated a LoFS strategy. The drivers for this requirement were essentially due to a very complex geology, which precluded the use of towed streamer data for reservoir management. It was decided to use a re-deployable cable (Geospace's armoured 4C GeoRes OBC) and WGP was tasked to design, procure, build and operate a new containerised source system for the operation.
Phase II of the programme ran from 2010 through 2012 and utilised a larger field service vessel "Citadel". The initial outcomes of the CARSP programme have been published in various technical journals and the operational learning will filter into Phase III of the programme.
Hi-Res 3D services
In 2012 WGP formed a joint venture, WGP Survey Ltd, with Fjorgyn AS to provide high-resolution 3D survey services. The venture brought together the operational experience and capability of WGP with the technology and knowledge of Fjorgyn with its P-Cable 3D system. This JV suits WGP's growth plan; to continue to seek out new 'disruptive technologies' that will be a necessary part of the solution for the next generation of data acquisition requirements. The ultra-high resolution 3D data is aimed at providing imaging of near surface for both hazard identification and potential exploitation of hydrocarbon reserves.
Future vision
WGP's recent seismic projects have been driven on the basis of modern technology supporting new methods, keeping the business at the forefront of the industry. WGP will continue on its strategy of 'Exploration and Beyond', focusing on providing bespoke operational solutions for projects that will become increasingly important as exploration continues to move into ever more challenging locations and frontiers. Coupled with this, the need to both increase output from known reserves and achieve this more cost effectively, WGP intends to remain at the forefront of the PRM sector.
WGP Group
Services: Provider of marine geophysical services