Technology for informed decisions
The new year brought a new owner for WGP Group – a leading Wiltshire-based marine geophysical services company. The business' acquisition by FairfieldNodal was finalised in early January for a reported amount of $20 million. For WGP's Chief Technical Officer, Terry Hibben, the move will bring positives for his company, as he is confident in FairfieldNodal's intention to support WGP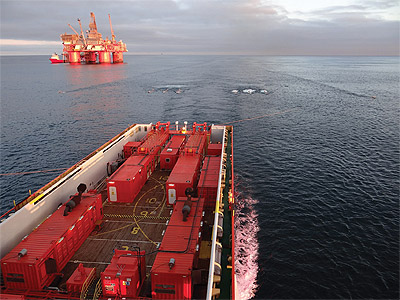 and help it develop new technologies and expand its operational locations. "The two companies share the same core values, which means there were no cultural obstacles to overcome. FairfieldNodal is very much a 'people-focused' company and so is WGP. It is our deepest belief that it is not the equipment, but the people who share your vision and that makes for a good business. Our staff are extremely influential to WGP's recent success, because they are a team that wants to get the job done safely and efficiently, and the clients see and appreciate that," Terry expounds.
He reviews the tweaks in the company's internal operations: "We have an integrated management system, registered as compliant with the ISO9001:2015, ISO14001:2015, and OHSAS18001:2007 standards, which, I think, is quite unique for any seismic operator in the industry? We changed our registration company to BSI Group, as they are independently audited by UKAS (United Kingdom Accreditation Service). This means a more rigorous and thorough audit process for WGP, more credible certification, and therefore, receiving better recognition from clients. We are currently implementing the transition from OHSAS18001:2007 to the new ISO45001:2018 occupational health and safety standard. The adoption of a companywide ERP system has led to better integration of finance, PSCM, and HR functions. We are developing the system further to support the business' asset management and planned maintenance."
Open collaboration
Having already worked for five years on Statoil's Grane and Snorre PRM projects, WGP had its contract for the two ventures extended for another two years in 2017. Terry points out at the example the collaboration sets: "It is worth looking at these projects as a model of how contractors can work with clients, as opposed to just for them. Statoil wanted to have its own source system to support the PRM, so in 2013, we designed and delivered a dual portable source system, which we have operated and maintained for it since then. The system gives Statoil instant access to PRM data, using the exact same source every time. This delivers processed data to the asset about one week after the last shot of any survey, which should be considered relatively 'realtime', compared to standard seismic survey deliverables. We have established a very close working relationship with Statoil that has allowed a continuous generation of ideas and developments, which has led to an open and efficient model of collaboration that benefits both parties."
Another recent project highlight for WGP was winning a contract from ConocoPhillips for the development of a PRM system for the latter's Ekofisk project. "It started in September 2016 for us and will run for five years. As part of our commitment, we designed and built another PMSS (Portable Modular Source System), and we now run from a base in Stavanger, which serves the ConocoPhillips and Statoil projects," Terry reveals. "Last year, we were also involved in the development and testing of autonomous sources for an oil major, which we found both challenging and intriguing, because it is a displacement technology, this fits perfectly with the company ethos of finding and supplying solutions to client's questions or problems. The testing went very well, and the next phase will involve taking the system into deep water application and further trials," he explains.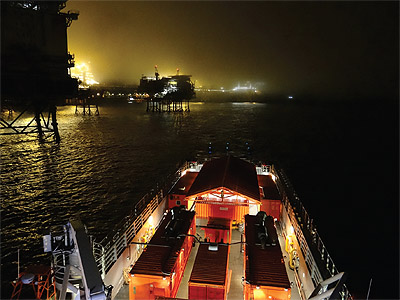 Big data
"We find the use of real-time quality control systems and products a very interesting prospect, which we are developing further. It offers the client up-to-date information on which operational decisions can be based, with regards to potential budget stretches or priorities of shooting," Terry maintains, discussing the areas of development the company would be keen to dip its toe in. "Augmented reality also seems relevant to us, starting with its application initially to equipment monitoring and maintenance – potential HSE & efficiency uplift. We are in the initial stages of the development of a new solution, and are currently in discussion with a UK university, known for being a world leader in the field.
"The digitalisation of systems, which involves capturing, analysis, and use of 'big data', is another exciting segment in our business. We are working both with Statoil and internally on databases, data transfer, and analytics, and some of the emerging results lead to questions over the relevance of the existing quality control methods applied to sources. We feel that things that are lost in the background noise of towed streamer acquisition, are far more relevant to PRM or OBS operations. It is perfectly possible to predict quality and make acquisition planning decisions based on a reliable information derived from the captured data," Terry claims.
He turns his attention to the year ahead: "We are treating 2018 as a year of consolidation. For the past two years, we have kept our heads low, remaining at a level to safely meet the needs of our existing contracts. Now we need to grow our infrastructure, expand our client base, and look at new areas of operation. Basically, we want to continue doing what we do, but in more locations. We believe in our core capability of giving clients multiple options on how they can achieve their goals. Being a small company, we can be agile in our approach to projects, as we are not tied to one supplier or a system. In looking at problems, WGP selects the combination of systems that will deliver in the most efficient way, and designs such a structure that will hold it together as a wholesome product. Above all, we need to stay honest with what we are able to deliver, because this gains the trust of our clients, and we value this highly."
WGP Group
Services: Project management and geophysical services for the oil and gas industry