A clear picture
With over 20 years of operational and management experience WGP Group is a market leading provider of unique, state-of-the-art seismic acquisition services.
The company prides itself in its innovative attitude, striving in frontier locations, pushing technology and innovation to the limit to meet the most demanding requirements of the industry, with a dedicated focus on developing solutions for the future.
Founded in 1991, WGP has built its reputation around its highly regarded marine geophysical services, which are offered from inception to completion, and its dedication to working closely with clients to deliver operational proficiency to the oil and gas industry from exploration through to production, enabling its customers to greatly increase the value and output of their existing assets. To this day the business stays true to its mission statement: "Exploration and Beyond," which gives an insight into the type of service customers can expect.
As highlighted the business provides a very wide range of services, including pioneering 4D life of field and specialised seismic services, ocean bottom seismic, portable seismic source, 3D Hi-Res/P Cable, project management, lake seismic acquisition, marine 2D data acquisition, and magnetic and gravity.
The newest and most exciting technology is the versatile P-Cable™ 3D Seismic System, which benefits operations in mature as well as frontier regions, providing proven Hi-Res 3D data for exploration and field development.
Through their partners they also provide post-processing services with de-multiple removal for selected targets. The benefits of P-Cable's new technology includes the ability to produce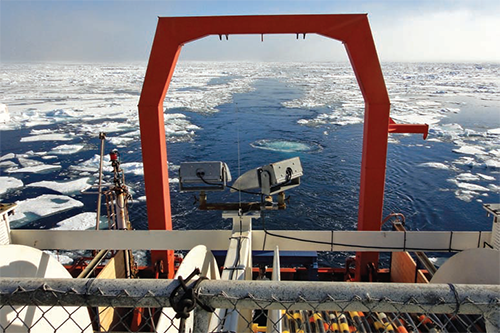 low cost high-resolution 3D seismic data with rapid deployment and retrieval from small vessels, as well as high production rates and the ability to acquire data in shallow waters. WGP is currently acquiring a set of multi client data in the Barents sea in conjunction with TGS.
In the area of 4D life of field services WGP is providing long-term seismic acquisition for a number of key clients for permanent reservoir monitoring, or PRM. This has been a key focus of the business in more recent years, whereby the company has been working to develop and offer containerised seismic source solutions to offer true life of field seismic (LoFS) capabilities.
WGP has been working on a number of pioneering projects in this field, including with Statoil, providing PRM services for its Snorre and Grane fields in the Norwegian North Sea. This contract, which was finalised in April 2013 related to the provision of long-term seismic acquisition services for permanent monitoring of both fields, as well as the supply of a bespoke dual portable modular source system (D-PMSS). As of June 2014 the company has completed mobilisation for the first PRM survey over the Snorre field, with the first good shot point having been achieved and production underway. Furthermore, the D-PMSS has been mobilised on the M/V Siem Sailor PSV and the first survey over the Grane Field is due to commence before 1st September 2014.
In a similar vein WGP has had an extended working relationship with BP in the North Sea, providing ongoing services at Valhall. The company was initially contracted to develop a self containerised source system to be used above the world's first at-scale permanent ocean bottom cable installation at Valhall. Since 2003 the business has carried out a total of 15 LoFS surveys, enabling BP to acquire survey data of the highest technical standards with the repeatability required to maintain and extend upon the quality of the Valhall LoFS 4D database.
For the Valhall project WGP is using its Portable Modular Source System (PMSS), which offers both adaptability as well as portability. WGP Group currently operates two PMSS', which are designed to be transportable on land and sea in order to provide rapid mobilisation worldwide and can be quickly and efficiently installed temporarily on a 'vessel of opportunity', such as a PSV or other. Through the deployment of PMSS WGP can provide a range of services, including reservoir monitoring/4D survey, wide/azimuth survey, undershoot operations, 3D VSPs, and pilot studies. Important for clients, PMSS demonstrates that data acquisition for the next generation of energy supplies can be both cost-effective and easily adaptable to the most demanding of needs.
While its solutions offer customers the latest technology and state-of-the-art seismic capabilities, WGP recognises the importance of sharing its vast knowledge and expertise in the field. Accordingly the company offers geophysical project management services, through which its team of experts works closely with clients to deliver unique solutions and turn their ideas into a safe and effective operation, as Mark Burnett, WGP CEO explains on the company's website: "Our personnel have the technical and commercial expertise to handle every phase of a project from inception through to the final handover of the working system to the client". The team has completed a broad range of successful projects, from design, procurement, installation and commissioning of survey vessel refurbishment and upgrade, and design and testing of seismic airguns to reduce high frequency noise output, through to being engaged by an oceanographic institute to develop a source handling system to reduce manual handling of airguns.
The range of WGP's expertise makes it an indispensible attribute to the marine and oil and gas industries. For more than 20 years the business has built an excellent reputation through the deployment of state-of-the-art technology that is strongly backed by vast experience and technical know-how in the industry. In line with its dedication to continuous development, and with a strong order book for the foreseeable future, there is little doubt that the business will continue to be a leading player for many years to come.
WGP Group
Services: Provider of marine geophysical services