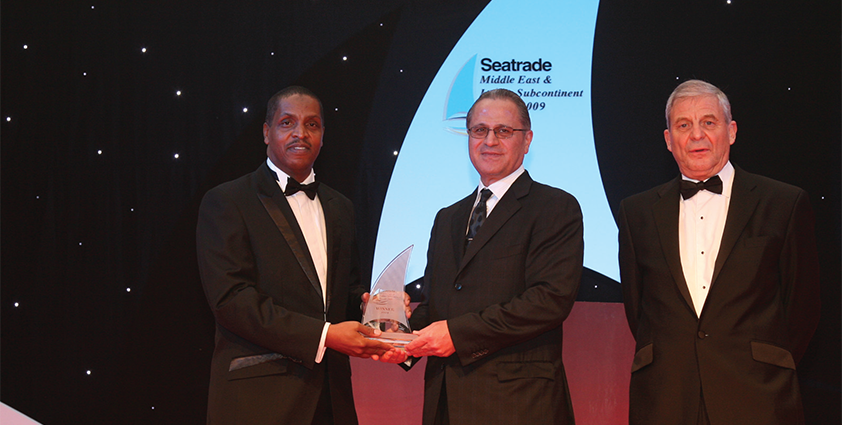 Whitesea Shipping and Supply
Smooth sailing
Winner of the Seatrade 2009 Middle East and Indian Subcontinent award for 'Best Marine and Offshore Services' Whitesea Shipping and Supply (WSS) was established in 1981 in Sharjah, in the United Arab Emirates.
In its 28 years in the marine industry, Whitesea has owned and operated various vessels, including cargo ships, bulk carriers, multipurpose andoffshore vessels. With a vast shipping experience, the last 15 years have seen the company concentrate its activities in the offshore segment of the marine industry.
Delivering its services predominantly in the Middle East, WSS operates one of the largest independently owned fleets of IACS classed offshore support vessels in the region. The fleet serves a number of longstanding customers including Shell, Total, NIOC, Pedco, Maersk, Aramco, IOOC, POGC, Hyundai, Petrobras, Halliburton, and McDermott. Its position in the offshore sector, recently consolidated by the delivery of new highly specified 'S Class' DP1 AHTS vessels, affords the company a vast experience in the marine sector. The new vessels combine a high quality build with a consideration for crew comfort and are equipped with the most technically advanced systems for propulsion, navigation and positioning, cargo and deck equipment.
"Whitesea shipping is owned by the Alali family with longstanding managing director Seraj Alali. Certainly, the success of the company is down to the family dynamism and dedication. The long history of operating in this sector has led to a very in-depth understanding of the business, market and operations, so we're able to offer a highly professional service to our clients as a result," explains WSS' general manager, Captain Simon Cook. "Maintaining a comprehensive fleet, enabling us to react to our clients' needs by offering the best maritime solution, has allowed us to establish longstanding relationships with some of our clients going back over 25 years.
"Another key element in the company's success is the fact that we have moved to new, bigger premises with workshops, enabling us to, more competitively maintain our older vessels which has also resulted in increased reliability. We've also been able to develop an expertise in identifying our customers' changing needs. Having observed that demand for newer vessels is becoming stronger, we made the decision three years ago to go ahead with the construction of a series of five powerful new anchor handling tug supply vessels at the Keppel shipyard. That has represented a significant investment for the company in terms of new build, highly specified anchor handlers and dynamic positioning vessels. Contracts for the vessels were arranged before the vessels were even delivered, and they are all now involved in long-term contracts."
The company's current premises are located alongside the prime sheltered deepwater quayside within Sharjah's Hamriyah Free Zone in the UAE. The facility occupies a total area of 17,000 square metres, which in addition to the office complex, includes a fully equipped workshop, capable of carrying out most repair and maintenance requirements on the company's vessels. Operated by a team of highly experienced and qualified staff, the office's remaining open area offers storage facilities, including 45 tonne and 25 tonne cranes, forklift trucks and other equipment. It also incorporates a 180 metre dedicated deepwater jetty. This site enables WSS' vessels to carry out repairs, routine maintenance works, audits and surveys under the direct supervision of the company's engineers.
Simon elaborates on the company's vision for the future: "Whitesea has now established a vision of becoming the supplier of choice for high-end services and equipment in the offshore sector. With that in mind, a number of other initiatives have been put in place. The first of these is to provide more modern and higher specified tonnage. We are also pursuing an even higher level of competence among all our staff, and we've increased our visibility in defining and strengthening our brand. This is an area that hasn't received a lot of focus in the past. We have identified a continuing requirement for new tonnage and the ability to maintain a diverse range of equipment. Having embarked on a significant new build construction programme for new vessels, we are excited about adding a significant number of DP 2 anchor handling tug supply vessels and maintenance vessels to our fleet."
Despite his positive outlook on the future, Simon acknowledges the challenges in the industry: "The biggest concern for the industry in general at the moment is the ability to attract and retain good people afloat and ashore. The recent global prosperity and high oil price has led to a significant increase in new vessels entering the market, particularly the offshore market. Crewing these vessels with professionally qualified and experienced seafarers is a phenomenal challenge. The recent deliveries and our continuing new build programme for highly sophisticated vessels also requires a high level of technical expertise ashore. We are confident that we have the right strategies in place to meet these challenges "
Finally he outlines the company's geographical development in the coming years: "Whilst focusing on our Middle Eastern customers, we are now also developing our international operation, the initiatives we have put in place and increasing the quality of the tonnage rather than just increasing the number of vessels will ensure we can offer an outstanding service to all our clients."
Whitesea Shipping and Supply
Services: Offshore support vessels