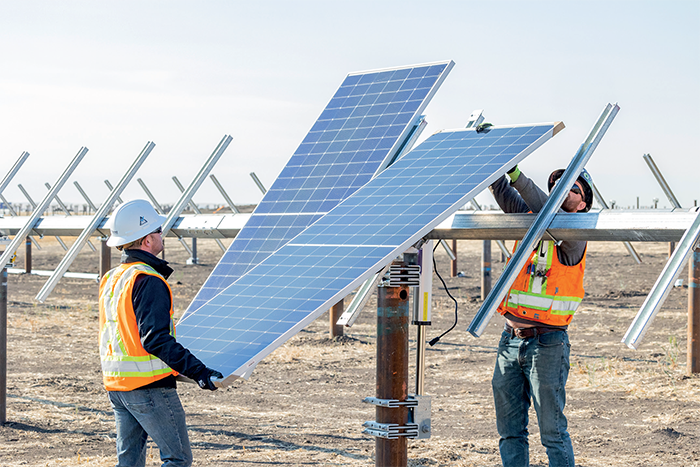 Why the fast-growing Capstone Infrastructure Corporation is looking west to expand its renewable energy portfolio
Uncapped potential
It has been a momentous year for Capstone Infrastructure Corporation (Capstone) since we last spoke with CEO David Eva in 2021. Founded in 2004, the Canadian developer, owner, and operator of clean and renewable energy facilities has made short work of investing in and operating clean power businesses, such as wind, solar, hydro, biomass, and natural gas co-generation power plants. Subsequently, Capstone has become a reputable name in the Canadian energy industry, pioneering the drive for greener energy usage.
During our last discussion, we covered the development of the 132 MWac Claresholm Solar Project – as of 2021, Canada's largest solar facility – which achieved commercial operation and is successfully producing clean power. "Just over half of Claresholm's generation capacity is contracted by TC Energy, but certainly, the plant has been running well in a period of robust merchant pricing in Alberta," David reveals. He highlights how the company has also secured purchase agreements with Keyera Corporation, Pembina Pipeline Corporation, and the City of Edmonton, which is the largest direct procurement of renewables by a Canadian municipality to date. The purchase agreements allowed Capstone to accelerate the development of over 300 MW of new wind and solar projects in Alberta, with the Michichi, Kneehill, and Buffalo Atlee projects already in construction, and the 192 MW Wild Rose 2 wind farm following closely behind.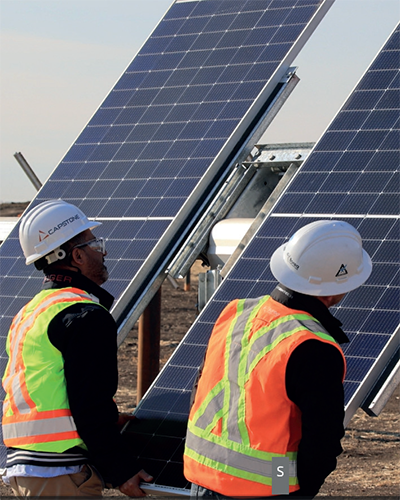 "Alberta is known as the birthplace of wind energy in Canada," David says. "The province supports the only open electricity market in the country, providing opportunity for corporations to reduce their carbon footprints by purchasing emissions-free electricity and carbon offsets directly from renewable power producers. Further, by taking advantage of Alberta's world-class wind and solar resources and capturing those resources with modern wind turbines and solar PV modules, we are able to provide our customers with exceptionally competitive and reliable solutions to achieve their decarbonization goals," he notes, adding that the area continues to be a significant market for the company.
Building from its success in Canada, Capstone is now entering the US market, exploring more opportunities in California, which is looking to be just as promising. "When we began this journey, we saw great potential in Alberta, but we have seen similarities regarding market demand and growth in California, where there is an exceptional amount of support for renewable energy. Another advantage is the stability of the regulatory regime in the state, which will help further encourage a dynamic market." To this end, Capstone recently announced a new joint venture with Eurowind Energy, a Danish renewable energy company, to advance several of the projects in its California development pipeline.
"Several years ago, we also added energy storage projects to our development efforts, which is where we see the next major opportunity in our business. With the extensive growth of wind and solar, and the long-term need to further decarbonize our power grid, as an industry, we must address the need to have power available when customers need it – and do so with non-emitting sources. For example, energy storage allows us to capture excess energy when wind is blowing and the sun is shining, and then re-inject that electricity into the grid when it's required. That is a big part of our strategy in California, and we are starting to take some of the successes we are seeing there and apply them in places like Alberta and Ontario."
With more than 110 MW of construction projects underway, and 192 MW Wild Rose 2 project planned for 2023, Capstone stands in good stead to achieve its goal of a total installed capacity of 1 GW. "We are very pleased with the level of progress we're making, and I am particularly proud of our team for making this possible," David adds.
"Alongside Alberta and California, we are also very active in Ontario with multiple energy storage development projects in the province currently underway," David notes. "What we are seeing is a big push towards capacity projects that are either dispatchable, have generation, or have storage potential. In addition, over the next five years, we expect to expand into several additional markets in North America."
Being able to make impressive ground so quickly has not been an easy journey. However, considering the challenges inflicted by the pandemic, David is proud of the efforts the business has implemented to remain a leader in the energy industry. "We have been in this sector for a long time, and our projects can take years to complete. Fortunately, in some instances, they can move quicker than anticipated, and I am pleased to share that despite the obstacles of the last two years, the demand for renewable energy continues to grow and Capstone continues to deliver in a challenging environment."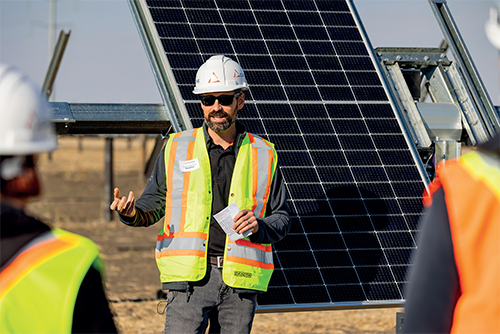 Taking this strategy forward, David highlights that the near future will be focused on the completion of current projects, as well as continuing to drive forward development efforts, with a focus on looking after supplier relationships. "There is an urgency for businesses to establish themselves as leaders in their sectors, and demonstrate they can overcome the challenges within the industry as best as possible. This is why it is crucial for Capstone to maintain strong supplier relationships, and invest time in developing our networks to ensure that our quality is not neglected. This will ultimately be our strategy over the next five years as we strive to become a multi-gigawatt North American player in renewable energy, and energy storage."
Beyond these plans, David is excited about the development of renewable energy and storage in markets that the business deems to be attractive, and is determined to maintain the business' high level of innovation to meet the demands of its customers. "Whether this is through speed of execution, specific products on renewables, or continuing to conduct ourselves to the highest standards, we know that the years ahead will be even more prosperous than the ones before," he concludes. "I am so proud to be part of this journey."
www.capstoneinfrastructure.com