A sustainable vision
As Austria's largest energy service company, Wien Energie safeguards the reliable uninterrupted supply of energy and all associated services to the city of Vienna and the surrounding area around the clock. Wien Energie provides electricity, natural gas and heating to around two million people, 230,000 businesses and industrial facilities, as well 4500 farms within the greater Vienna metropolitan area. The company's associated portfolio of services ranges from the production of energy and recycling waste to providing energy advice, helping to improve energy efficiency and services, as well as facility management and telecommunications.
Wien Energie offers heating, cooling and decentralised services such as citizen investment models directly. Electricity and gas are sold via the subsidiary Wien Energie Vertrieb GmbH & Co KG. EnergieAllianz Austria GmbH is tasked with the management of this business unit, in which Wien Energie holds 45 per cent of the shares and that also operates successfully abroad,primarily in Germany. "With a turnover of around €1794 million in the 2014 financial year, Wien Energie is one of the top 50 companies in Austria in terms of sales revenues and also one of the largest employers in the Greater Vienna metropolitan area, with an average of 2690 employees. Wien Energie is a wholly owned subsidiary of Wiener Stadtwerke," elaborates managing director, Thomas Irschik. "Europe's energy industry is currently undergoing a fundamental transition, which can also be felt in Austria. We are actively and vigorously facing up to the associated challenges. Our most important objective here is to ensure the satisfaction of our customers. Wien Energie sets itself apart by offering competent advice, innovative comprehensive energy solutions and transparent communication."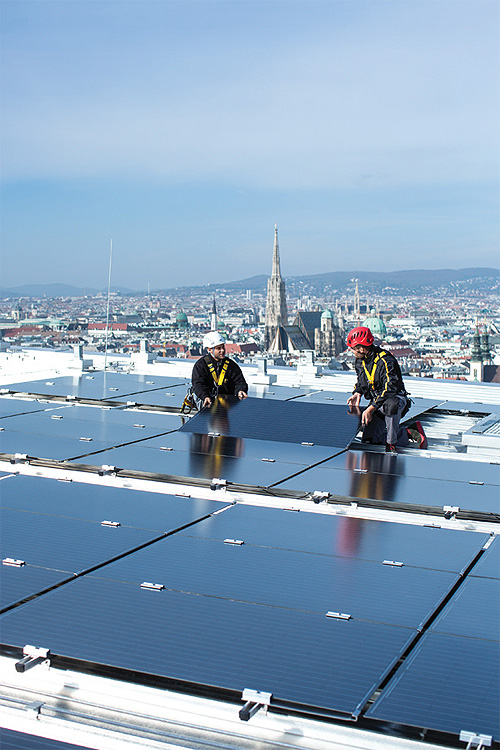 To ensure the reliable supply of electricity, heat and district cooling, Wien Energy maintains a comprehensive portfolio of power plants and other assets. In addition to calorific co-generation power plants in the Vienna districts of Simmering and Donaustadt, hydro power plants, wind farms and photovoltaic installations are also operated.
Besides these facilities, Wien Energie holds power drawing rights to the Freudenau and Greifenstein Danube power plants, as well as international thermal power drawing rights."The power plant portfolio also includes Austria's largest forest biomass power plant, which was opened in Simmering around ten years ago. In addition to these large-scale power plants, Wien Energie has been increasingly turning its attention to decentralised and combined forms of production in recent years," Thomas Irschik reveals. "In particular, new ways to generate energy are being used in highly developed urban areas."
As of the end of 2014, the installed output of electricity produced by condensation operations(without producing heating) amounted to around 2070 megawatts. Some 265 megawatts can be attributed to renewable energy sources such as wind, hydro power and solar power, as well as biomass and a share of waste recycling.
As Europe continues to experience an important transition to the increased use of renewable forms of power generation, WienEnergie has pioneered the development of several citizen solar plants since 2012. "The idea was to sell solar panels to those citizens unable to install them due to their lack of rooftop space, while Wien Energie plans and builds the solar power facilities and customers are able to purchase up to ten panels. In addition the consumers operate as an energy provider as they sell the power to the grid and earn the revenues," Thomas Irschik says. "The business model turned out to be absolutely successful. There are currently 21 citizen solar plants in and around Vienna and panels sell out within minutes of being put on the shelf. The same model has been created with wind parks – there are currently two of them and modules also sell out within minutes of being advertised and today 110,000 households are being supplied with wind power electricity."
By conducting all these investment activities,Wien Energie aims to increase the amount of electricity produced from renewable energy sources to 40 per cent by 2030. The use of renewable energy represents a key focus in the company's commitment to energy security and sustainability. "Wien Energie lives up to its corporate responsibility in a variety of different ways. The Vienna model of Wien Energie represents an innovative and environmentally friendly approach to producing electricity and heating, offering fair prices while safeguarding excellent security of supply in the interests of customers," Thomas Irschik elaborates. "The key aspects of the Vienna model include producing electricity and heating together in a process known as co-generation, harnessing energy from waste incineration, using renewable energy sources and providing comprehensive energy advice on improving efficiency."
Over the coming years Wien Energie will continue to spearhead Austria's expansion of renewable energy sources, through financial investment and technological development. "We have a comprehensive investment programme ahead of us. Over the next five years, Wien Energie will make investments in renewable energies, energy efficiency and decentralised customer solutions of about €700 million. A key area of focus will be on expanding the use of renewable energies as well as enlarging the district heating network as required and developing new commercial fields such as district cooling," Thomas Irschik concludes. "The aim here is to implement this programme efficiently and with commercially minded foresight. It is also important to dedicate ourselves fully to the core questions regarding the future of the energy industry."
Wien Energie GmbH
Services: Energy service company