Wiking Helikopter Service
High flyers
WIKING Helikopter Service was founded in Hamburg, Germany in August 1975. It was originally established by a company called VTG Vereinitge Tanklager und Transportmittel GmbH, which itself was owned by Preussag AG and the Oslo-based Helikopter Service AS. With more than 30 years' experience in offshore operations, Wiking is Germany's specialist for flying in both the North Sea and the Baltic Sea.
As of 2001, the company has operated as part of Linnhoff Schiffahrt GmbH & Co KG. This group also consists of two other companies; RF Forschungsschiffahrt GmbH and URAG Unterweser Reederei GmbH. RF Forschungsschiffahrt offers state-of-the-art technology research vessels, whereas URAG is a professional partner for offshore and inshore towage and salvage.
Today, Wiking offers a wide range of flight operations for customers that include sea-pilot transfer, transportation of personnel to offshore wind parks and offshore platforms, as well as VIP travel to mega yachts. This is further complemented by a portfolio of maintenance services, which includes engine maintenance, avionics assistance, and technical help through a Sikorsky S-76 customer support centre. It can also provide assistance and maintenance for the Bell, Eurocopter and AgustaWestland brands.
Since its formation, the main activity of Wiking has been the sea pilot transfer service, which it performs on behalf of the German Federal Ministry of Transport. The company prides itself on the fact that, at any time, whether it is day or night or under extreme weather conditions, the sea pilot is safely on board before the ship enters the crowded area of the German Bight.
All offshore and onshore passenger and material transport is provided through Wiking's highly qualified and experienced personnel. Each pilot possesses an average of 7,500 flying hours, and some even hold more than 14,000. The company also operates as an approved Type Rating Training Organisation (TRTO) for the Sikorsky S-76 series, and it holds and approval for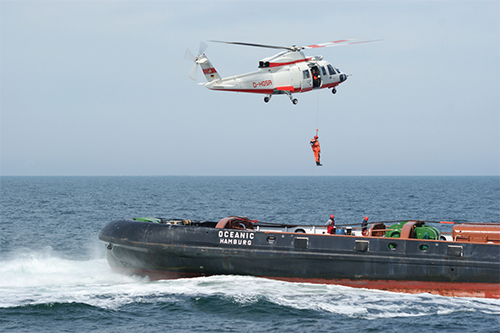 instructor rating courses. Furthermore, it provides instruction, training and examination for pilots from international companies and organisations.
All helicopters within the Wiking fleet are approved and licensed for Instrument Flight Rules (IFR), and all are twin-engined models. All helicopters use the most modern navigation systems available, further complemented by high-standard electronics and avionics.
The fleet is comprised of two different helicopter models – one of which is the Sikorsky S-76. This American type craft is specifically built for the civilian market, and it benefits from a composite construction, low levels of vibration, good noise reduction, high velocity and spacious cabin size. In addition, the S-76 is equipped with a four-blade rotor system, retractable landing gear and room for 12 passengers. The other helicopter-type that is used by Wiking is AgustaWestland A109S Grand, which is one of the most modern helicopters of its class. This too benefits from a four blade main rotor, as well as retractable landing gear and a seven-passenger capacity. Wiking's A109S has been configured and optimised especially for servicing offshore wind parks.
In addition to the fleet it offers, Wiking also performs preventative maintenance through its experienced helicopter technicians to ensure the highest possible safety standards. The company's maintenance division is approved by EASA Part-145 and the Bermuda and Cayman Islands Department of Civil Aviation. In addition to being a certified Sikorsky Aircraft Customer Support Centre, Wiking also acts as an EASA-approved Continuing Airworthiness Management Organisation (CAMO).
Wiking has a large team of service engineers operating worldwide, and through them it has a presence in Norway, Spain, Serbia, Monaco, Turkey and Turkmenistan. Headquartered at the Wilhelmshaven-Mariensiel Airport at the coast of the North Sea, just 30 minutes away from Hamburg, Wiking's maintenance organisation possesses a fully equipped hangar with an overhead crane and shops for electrical, avionics equipment and other components.
Wiking continues to set the standard for both safety and efficiency in the offshore helicopter transportation market, and it continues to expand its fleet on a regular basis. As it plans for the future, Wiking looks set to experience success for many years to come.
Wiking Helikopter Service
Services: Personnel and material transportation