The high life
Originally founded as a provider of building services 80 years ago, WILBERT is today able to look back on a long, distinguished history of working within the construction sector.
At the turn of the 1980s, the company decided to focus its business activities on tower cranes and their connected services, a move that eventually led to the initial development works for the production of WILBERT tower cranes being initiated in the year 2000.
Serving customers that mainly consist of building companies, contractors and those responsible for the construction of power stations, by focusing on projects that specifically exist within the high-rise and power plant sectors, WILBERT was able to enter what was then a niche market at a very prosperous time. By offering what were once considered 'special solutions' as serial products, the company's customers benefit from not only its considerable experience, but also from the skills of its team of engineers and designers, who work hand-in-hand with the sales and rental department. Furthermore, a special projects task force can often be found involved in the construction plans of a contractors jobsite, often from the very first day of operations.
"The WILBERT group of companies offer a complete package based around the tower crane lifeitself," states managing director, Franz-Rudolf Wilbert. "From sales and rentals to assembly,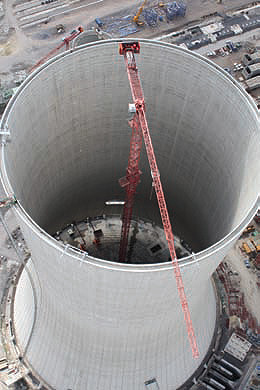 maintenance, disassembly and backhaul, these services are all supplied from one source. This all-inclusive business model can be defined as comprehensive-integrative, and outside of its home market of Germany these services are executed in co-operation with a complex dealer network and with regional partners."
WILBERT's expertise in the field of tower crane manufacturing is directly sourced from its history as a rental company, during which time it has come to be familiar with the requirements of many different types of jobsite. This know-how forms the base of the WILBERT tower crane range as it is integrated into all of the company's types of crane and helps set the business apart from those manufacturers that only produce tower cranes.
"The evolution of WILBERT, going from a rental company and service provider to become a manufacturer, was arguably the key to its success," Franz-Rudolf continues. "In addition to this WILBERT, as a typical medium-sized, family run business, is highly flexible, is able to form close relationships with its customers and is well versed at implementing special requests and individually tailored solutions. Although it has seen an enormous increase in business activities in the last two-years, the medium-term focus remains achieving moderate and stable growth. What the company does is constantly develop what it calls 'geared-to-need' solutions, which are then integrated into its standard products. A core element of WILBERT's management philosophy is to be viewed as an innovative, customer-orientated manufacturer and service provider. From its state-of-the-art, 140,000 square metre production facility, which includes one of Europe's largest powder coating complexes, the company has been able to place itself in the ideal position to serve the future needs of its customers."
An expert in taking on detailed, demanding tasks, there are countless examples of the company's work: "By using a special disassembly concept, WILBERT is able to remove virtually any kind of crane from a high building," explains Michael Weißschädel, managing director of WILBERT's assembly company, WILBERT Montage. "What this means is that the crane in question that requires dismantling is first able to build up a smaller luffing jib crane, which is able to then disassemble the larger structure.
"One such sophisticated scenario involved the WT 2405L e.tronic crane, a unit that remains to this day the strongest luffing jib crane in Europe, capable of lifting up to 128 tonnes. While in operation this crane has shown how the company can build up an adjoining WT 335L e.tronic that was able to disassemble the crane and subsequently assemble a WT 175L e.tronic. Another crane unit that forms a part of the company's portfolio is the WT 35L, which can be disassembled with the simplest of devices, for example from the top of a high-rise building by using the lift of the building as the parts themselves only weigh in the region of 200 kilograms. As an alternative, these parts can be removed via helicopter, a method that has been executed by the company several times in the past."
Gunter Kronewitter, sales and rental manager of WILBERT reports: "While working in power plants, our WT 2405L e.tronic Heavy Lifter cranes have already realised tandem lifts with loads of 210 to 140m height under hook. WILBERT Also has considerable experience in cooling towers. Tower bracings by using rope wires have been used several time, and the extension or reduction of a jib in the air is no problem for us."
WILBERT was the first manufacturer of tower cranes to improve upon its products with a powder coating finish, as apposed to a traditional wet paint finish. This procedure offers a variety of benefits for both the product and the customer. These include being weatherproof, shock proof and acid resistant, impact and scratch resistant and seawater adequate.
On the basis of its growth and development goals, WILBERT's aim going forward is to further establish itself within the field of tower crane manufacturing. Alongside its standard business operations, a core area of this growth will involve the creation of individual solutions for its customers. With its positioning within the market, the company is convinced of its ability to be successful on a global scale in what is, and will remain, a highly competitive market.
WILBERT Turmkrane GmbH
Services: Tower Cranes