Towering above the opposition
Wilbert Turmkrane's roots stretch back to 1932 when brothers Fritz and Ernst Wilbert founded construction company Wilbert Bauunternehmung.
The company since that time has remained in family hands, with direct descendents of the brothers taking important managerial positions within the organisation. Several subsidiaries have been established over the decades, with Wilbert Turmkrane being founded in 2003 by Franz-Rudolf Wilbert as a manufacturer of modern top slewing WT e.tronic tower cranes. In the ten years since, the e.tronic model has diversified into two series (trolley jib and luffing jib cranes) whilst the company's activities have grown to also encompass sales, rental, delivery and site planning.
Wilbert Turmkrane has achieved an impressive reputation across the construction industry, with its cranes used in wide ranging projects including high-rise buildings, bridges, tunnels, cooling towers, wind energy plants, shopping centres, and power stations. Some of the biggest projects it has worked on in recent years include the 185m high Opera Tower in Frankfurt/Main (GER), power plants for example in Voerde (GER), Sostanj (SLO), Eemshaven (NL), Mannheim (GER), Belchatov (PL) as well as JVA prison system, Louisen-Center shopping complex, Rhein-Galerie shopping mall, and Alpha Rotex high rise office block.
For some of the largest construction projects both on- and offshore, the Heavy Lifter range of cranes have become essential tools for swift, reliable project completion. The Heavy Lifter series models include WT 905L, WT 1305L, 1905L, and 2405L, all of which are luffing jib cranes. Two smaller luffing jib cranes are available in WT 175L and WT 205L sizes.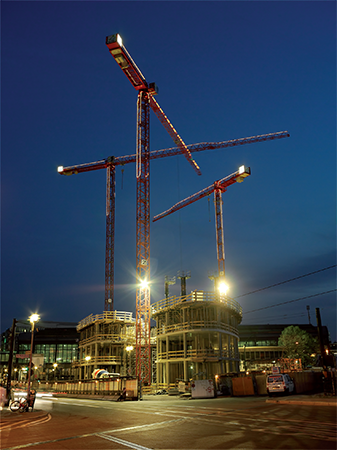 Whilst each of these models represents a step upward in terms of lifting capacity – with the largest, the 2405L, being able to lift up to 128 tonnes – they also share many similar characteristics, such as a unique pendular counter-ballast system that reduces torque on the tower. All the models utilise a modular system that enables a jib to grow or shrink between 36 and 78 metres to meet the requirements of the task at hand as well as modify other sections – such as runnerhead, slewing unit, and base elements – to deliver maximum flexibility. Due to a simple pin locking system, assembly and disassembly of the crane can be executed very swiftly. All cranes also feature a spacious, ergonomically designed operator's cab including an in-house designed programme logic system.
Wilbert Turmkrane's trolley jib cranes are smaller, more dynamic designs with models including WT 150, WT 200, WT 300, WT 320, WT 420, and WT 650. They share characteristics including low headroom and flat top that (apart from WT 650) makes the series ideal for restricted height construction sites such as inside tunnels or buildings, or below power lines. The smaller size also offers more flexible transportation options, with the entire unit being able to be transported on trucks. Like their luffing jib counterparts, they also offer advantages such as a modular construction system, pin-locking, in-house control systems, and spacious operator cab.
Every crane purchased by a client is bespoke, designed in close co-operation with the owner to meet the requirements of their application. Wilbert Turmkrane visits the client's worksite to familiarise itself with the situation, recording important and relevant data that is then used to create a detailed design plan using CAD software. This means a detailed design offer can be presented to the client within a very short time. Once built, they go through a process of powder coating, a method superior to painting for a number of reasons including: durability and high impact-resistance; UV resistant; low seawater corrosion rate; more environmentally friendly because it does not contain any solvents or heavy metal contaminants; and provides an even finish.
Because the company has been tested and approved by the SLV Welding and Training Research Institute to be of the highest quality and safety standards, Wilbert Turmkrane can also offer welding of dynamic crane components. The business then delivers the finished product to a location of the owner's choosing before being assembled in-situ by its engineers.
Apart from purchasing, Wilbert Turmkrane offers a rental service across its entire range of cranes. Its in-house fleet consists of approximately 200 tower cranes, making it one of the largest rental fleets in Germany, and comes not only with Wilbert Turmkrane's high quality products but its knowledge and expertise as well. The reputation its products have gained in the construction industry makes the company a leading choice for any client looking for a high quality, reliable, safe tower crane either to purchase or rent.
Wilbert Turmkrane
Products: Tower cranes