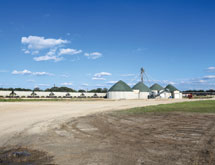 Wildcat Minerals describes itself as an "unconventional company serving unconventional basins." Cindy Hayek and her husband Steve Herron started the company in 2007 when they realized there was a need in the energy sector for integrated logistics solutions for sand distribution. The founders, both geologists with years of experience in the application of sand in industrial minerals, decided to break into this newly expanding market for frac sand, which later grew rapidly into a high-capacity, high-volume transportation network servicing a majority of the unconventional basins.
With continuous capitol improvements, Wildcat experienced rapid growth in the industry, going from two employees, husband and wife, to 150 in just five years. The company increased its presence from one operation in Arkansas to 14 locations spread out in Texas, Oklahoma, North Dakota, Pennsylvania, Kansas and, soon, Wyoming.
The company has also increased the volume of materials it handles. "We started handling about 1,000 rail cars the first year," Herron says. "Today, we handle around 35,000 railcars a year. We are the largest distribution network for oilfield consumables in the country and also the largest storage network in that sector."
Two Divisions
Wildcat Minerals has two divisions: distribution and materials handling. "The Materials Handling Division deals with the transportation of materials that the customers supply," Herron explains. "We have high capacity for high volumes in the yards. We built the first unit-train-capable facility in North Dakota over a year ago."
The distribution division provides materials and supplies customers need for specific well applications, like raw sand. "The nice thing about our distribution network is that, having 14 different locations, we can call on different suppliers based upon the location of the client with respect to rail," Herron says. "Since we usually ship more rail cars than our customers do, we have the ability to negotiate better prices for them, ultimately saving them money and time."
The company has several distribution centers of different capacities. "In large basins like the Bakken, we have about 24,000 tons of storage with unit-train-capable facilities," Herron explains. "We look at each basin independently and determine the need for each."
Wildtrac Efficiency
One of the tools that enabled the company to differentiate itself from others in the industry was the real-time inventory management solution tool the company developed.
This management solution, called Wildtrac, provides a true real-time inventory management solution throughout the supply chain, from start to finish. "[Wildtrac] was developed in concert with our customers," Herron explains. "When we built our company, we were managing our inventory in kind of a best-guess fashion through faxes from transloading terminals." That method was tedious and did not provide up-to-date information of inventory transfer. So the company set out to develop its own online database system utilizing input from its core business partners.
Wildtrac provides a unique service to the company's clients. "You can log on to our secure site and download whatever information you need about the job you're working on," Herron says.
"Wildtrac system provides an unprecedented level of business intelligence, information and availability of products that directly benefits our customers. From a technology perspective, it has been the most important feature the company has developed."
Wildcat customers reap the benefits of the real-time inventory management tool in time and money savings. "We no longer have clients sitting around waiting for information," Herron says. "When they bring up our website they see the transporting occurring at our location, so they can time when the trucks will arrive. When the trucks enter our yard, the time is recorded within Wildtrac, so the customers can manage their trucks more efficiently." Herron notes that customers save time and money with those features.
Another time and money saving feature is the instant generation of bills of lading. "When the bill of lading is signed, it is available within seconds of the trucker signing it, so the customers are able to bill their own customers immediately."
Future Growth
The husband-and-wife team that started Wildcat stepped down from the day-to-day management of the company two years ago, putting a management team in place to handle the daily operations. Today, Hayek holds a board position, challenging the management team to come up with strategies to maintain the competitive edge of the company. Herron took the role of CEO, managing the overall strategy of the company and its customer relationships.
Herron sees tremendous potential for growth in the future. "Logistics is going to continue being an area of growth for our customers because the volume of oilfield consumables is not projected to go down, it's growing" he says. "Railroads are working at capacity, taking out crude and bringing sand in, so the need for supply chain decompression is only going to continue its growth."
Herron and Hayek believe that Wildcat Minerals is a truly unique business proposition for customers.
"You have to understand the products, the logistics, the railroads, and the issues of trucking – all these facets have to come together to do what we do, which is getting the product out to the oil field as quickly and as safely as possible," Herron says. "What sets us apart from others is Wildtrac, great customer service, and a supply chain that never stops. We set out to improve materials handling, and we've been very successful at it." EMI