Expanding focus
"Wilhelm Group started off in the 1980s as a small welding consumables distributor to various organisations in the oil and gas industry," begins the Singapore-based company's Managing Director William Chan. "With only three staff and modest annual turnover, we have grown significantly over the last 35 years." Indeed, now turning over in excess of 15 million USD a year and employing 150 people under four subsidiaries in Singapore, Malaysia, Shanghai and Suzhou, growth has certainly been a defining piece of the company's history.
Following approximately 20 million USD worth of investment into equipment and facilities, Wilhelm Group now offers a complete range of welding solutions to oil and gas end users and
OEMs in the region. "This includes advanced cladding services in hot-wire TIG (tungsten inert gas) and a laser cladding process, plus CNC precision machining with testing capabilities," William outlines. "We offer turnkey solutions for corrosion resistant, wear and tear applications in the exploration, drilling and production of oil and gas. This helps to boost performance and prolong the lifetime of exploration tools, as well as surface and subsea components."
Approximately 90 per cent of the company's revenue stems from the oil and gas sector across Singapore, Malaysia, China and the Philippines. Others include revenue from the general engineering, manufacturing, shipbuilding and offshore service customers.
Illustrating the high level of technical work carried out by Wilhelm Group is a recent development project carried out in collaboration with Emerson Process Management.
"Our most notable achievement recently, was the cladding of flow control valves," William explains. "Through the development of new welding techniques and methods, we successfully achieved 100 per cent fullyautomated internal cladding for Fisher flow control valves with sizes ranging from 8-24 inch. Previously, competitors were only able to achieve less than 40 per cent automated cladding, so this is the first of its kind in the Asia-Pacific region." Other recent developments within the group include the investment into a new batch of CNC systems at its newest subsidiary in Malaysia, set up in end 2014. "This is to complement our cladding capability so that we can offer turnkey solutions. It also enhances our ability to take on machining of more complex components and parts in the future – particularly when the oil price picks up," adds William.
The challenges of the oil and gas market is faced by every company operating in this industry, not only Wilhelm Group. William shared, "people have realised that the oil and gas crisis might last for some time and it will be a game of who is able to wait out this crisis. It is therefore important to restructure and consolidate. Reposition yourself based on what you do best today as well as seek new opportunities going forward. Companies that invest in marketing and development during the tough times can potentially increase market share, putting them in a great position when the economy picks up again," he says.
For Wilhelm Group, the approach is continued investment into new technologies and new solutions that can boost its competencies when the market returns to health. "With the present downturn, we are focusing on consolidating our resources," William continues. "The aim is to look for a new direction, new growth opportunity and a competitive advantage in the welding market. There is no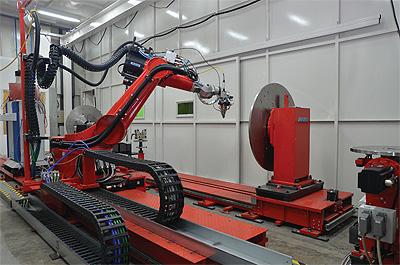 doubt that the industry will certainly look very different in ten years' time and we have to reinvent the way things are done now so that we can remain competitive."
Wilhelm Group has a strong reputation within its core markets. The company's experience in the industry has resulted in an ingrained understanding of the high costs and risks associated with the infrastructure, extraction, transport and maintenance activities facing operators. Therefore, as a subcontractor providing value-added services, it is critical that it can offer high precision and quality services to support this as best as possible.
"Every mistake can have a major impact on profitability, productivity and safety," highlights William. "With this in mind, we strongly believe in upholding the quality of the services we provide and represent. We also believe in adding value to the services we offer. Pre-sales consultation and timely delivery are what we regard as value-added services that customers are actively looking for today. Only by providing these are we able to secure the trust of customers and translate this into long-term partnerships."
This attitude will be critical for Wilhelm Group to continue achieving its steady growth levels. Looking ahead, William is keen to take the company's experience as a specialist welding provider to diversify into new industries and new markets around the world. "We want to diversify into other industries that also require high precision welding besides just oil and gas," he concludes. "We aim to break into the much larger American and South American markets within the next three years. In the longer term we will also be looking at potential mergers and acquisitions to support this vision."
Wilhelm Group
Services: A complete welding solutions provider to the oil and gas industry in South East Asia