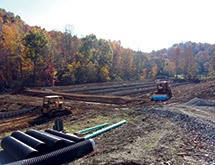 Williams Excavating & Trucking LLC/Williams Water
Diversity has been key to Williams Excavating & Trucking LLC and Williams Water, owner Joe Williams says. "It's really kind of amazing the different things we can do to stay busy and keep making money," he says.
The companies, which are based in Bloomingdale, Ohio, and Belington,W.V., provide installation and operation of water transfer systems; pipeline construction; installation of water/sewer systems, utilities and buried power systems; and trucking services. Williams started his business 10 years ago, after many years in the oil and gas industry.
He initially worked for Triple J Contracting LLC, his father's excavating and trucking business. At the age of 26, "I bought my own truck and my own dozer and started working for the oil and gas companies myself," he recalls.
After building up a base of satisfied customers, "They just worked me up from smaller jobs to bigger and bigger jobs," he says. These clients included EnerVest, Eastern American Energy Corp. and Columbia Natural Resources, which was later acquired by Chesapeake Energy Corp.
Eventually, Chesapeake purchased some of Williams' assets and hired him as an eastern division operations manager to oversee its fracking and water transfer program in the Marcellus Shale. "We fracked every single Marcellus well that Chesapeake drilled in West Virginia and Pennsylvania during the years I managed their program for them," he says.
On His Own
When Williams found his work schedule becoming more difficult, he made the decision to leave Chesapeake. "It just got to be so overwhelming for my family and I that I couldn't do it any longer," he says.
At the time, Williams worked seven days a week, fracking four to five wells each week in Pennsylvania and West Virginia. "Our crews logged well over 100 hours per week," he recalls. "We seldom got any rest. Not getting the job done was never an option."
One time, Williams was given the task of assembling approximately 800 frack tanks in a tank farm, which were to be continuously filled and pumped from in order to frack multiple wells at one time. "Chesapeake gave me 30 days to get it done," he recalls. "And we did. Just hours ahead of schedule and without any issues."
After a 12-month, non-competition period, he formed his current operation, which had immediate success. "My phone was ringing off the hook with people wanting me to pump the water," Williams recalls. "It didn't take two days for word to get out."
Since then, the percentage of the firms' water pipeline work has gotten smaller with the influx of competitors from Oklahoma, Louisiana and Texas, which work more cheaply. But Williams has coped through diversification.
Today, "We also do a lot of sewer and municipal work," he says, noting that the company also takes on environmental projects for nonprofit organizations, such as the Buckhannon River Watershed Association and Friends of the Cheat.
"Every year, we try to do one of those projects at cost or even below costs, because they can't get a lot of funding," he says, noting that these include treating acid-mine damage. "Last year, we probably donated upwards of $50,000 of work to the Friends of the Cheat."
Worthwhile Work
Williams is proud of his employees, including Project Engineer Travis Tipton, who "is very amazing," Williams says. "[He brings] over 20 years of engineering experience to our team."
Excavating Superintendent Todd Bishop "puts me in mind of 'Cool Hand Luke' when handling work-related issues," Williams says. "[He] moves out jobs along [with] getting them done ahead of time and under budget."
Williams also praises Trucking Superintendent Joe Murphy. "He does a hell of a job," he says.
Another key member is Office Manager Megan Metz. "Without her, none of us could do a damn thing," Williams says. "She's awesome and handles the day-to-day books and business."
Williams takes pride in the fact that many who have worked for him have gone on to lead companies. "It makes you look back on it and [feel like] it's all worthwhile," he says. "Those guys, their families and their kids will experience a better class of living now."
Areas of Focus
Williams plans for his companies to continue focusing on state and federal work. "We know that the money's there and that it's solid," he says. "Oil and gas have really fallen off strongly."
But the companies will not try to undercut the competition in their pursuit of projects. "[We don't] try to horn in on someone else's work," Williams says. "At the end of the day, I'd just as soon focus my efforts elsewhere and that's a reason we don't do a lot of water transfer work."