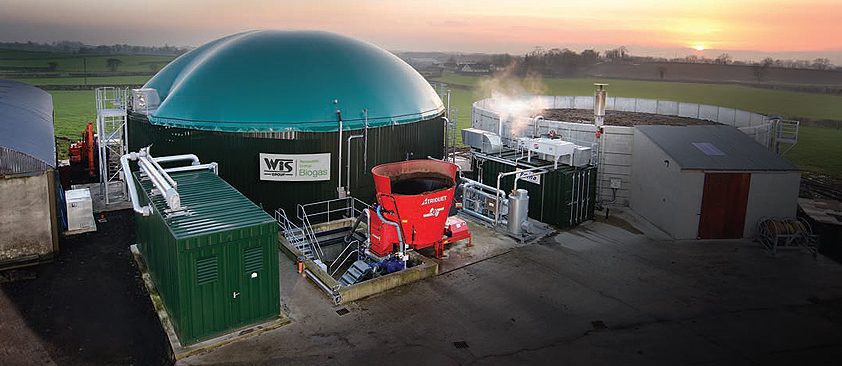 Williams Industrial Services (WIS Group)
Pride in innovation
Formed in 1983 as an industrial instrumentation business, WIS Limited has developed its product and service offering over the years into control panel manufacture, electrical and mechanical installation, calibration and technician hire. In 2008 WIS Limited procured TOT Technical (NI) Limited, enhancing its mechanical fabrication capability and creating WIS Group. Based in Northern Ireland, the company is still privately owned and has enjoyed significant growth, now employing over 150 people in three main business areas: Environmental Engineering, Renewable Energy and Industrial Automation, Aerospace and Composites.
On the Renewable Energy side, WIS Group provides agricultural, industrial and municipal organisations with strategic renewable energy solutions; these range from energy efficient technologies to large scale anaerobic digestion (AD) plants. Specialising in energy from waste (EfW) projects, WIS can help all kinds of organisations to lower their carbon footprint, become self-sufficient in energy production and enable them to generate income from selling power or gas back to the national grid. Anaerobic digestion plants convert organic matter such as agri or food waste into heat and power. The by-product is a highly effective, nutrient rich fertiliser that can be used or sold as a valuable revenue stream.
Building on WIS Group's partnerships with the best in combined heat and power (CHP) engine technology and organic material mixing and pumping equipment, the company offers expert knowledge across all aspects of the system. It also provides the benefits of a local design and build team with regional technical support, which can include plant operation and remote monitoring. Furthermore WIS' knowledge of grants, incentives and environmental responsibilities means it can also advise on funding, finance and the most appropriate solution for every customer.
The services and applications covered by WIS on the Renewable Energy side include:
Anaerobic digestion – Farm Scale CHP plants from 100kW to 500kW; scalable industrial plants to 10MW
Energy from Waste – Plants for incineration of residual waste to produce electrical and heat energy
Landfill gas – Gathering, treatment & processing of landfill gas to produce electricity and heat
Biogas upgrading – Upgrading to biomethane to allow injection to natural gas networks or pressurisation for road transport
Research & development – Energy plant optimisation; gas yield maximisation, emissions monitoring
As Gareth Caves, Group Business Development Director explained, the diversification into the Renewable Energy sector and the turnkey design and build of AD plants seemed a natural progression, thanks to WIS Group's existing expertise in the area of Environmental Engineering. "This was not a difficult transition to make as it was supported by many years of experience in delivering wastewater treatment plants," he explained. "WIS now has a proven track record of producing high performing AD plants with a significant number installed in Northern Ireland and a growing installed base in the Republic of Ireland, Scotland and England. As well as running combined heat and power (CHP) engines from the biogas, the company's experience also extends to biogas upgrading for gas to grid and virtual pipeline projects," he added.
In fact the renewables sector development has been extremely successful, and indeed, as Gareth noted, the Renewable Energy division has overtaken the Environmental Engineering department in terms of revenue generated: "It is now an extremely important part of the business," he stated. "However, with uncertainty and variances in the government incentives being offered in the UK and Ireland, its continued growth will be a challenge. Nevertheless, since we have tailored our AD process to be able to cope with a wide variety of locally available feedstocks and with gas to grid, virtual pipeline and carbon dioxide recovery experience, WIS is confident that it can continue to flourish in this sector."
WIS can also draw upon the experience it has gained from working on previous AD projects, including a 150kW small farm scale anaerobic digestion plant for D&A Taylor, the 500kW Greenville Energy AD Plant, and an industrial scale 3MW anaerobic digestion plant for B9 Organic Energy Ltd. Most recently the company has been working on the Glenmore Project in County Donegal, Republic of Ireland. This is a large-scale 4MW AD plant, which WIS Group is constructing for Glenmore Generation Limited. This is a significant project that has been supported by the Government and was welcomed by Northern Ireland's Enterprise, Trade and Investment Minister Jonathan Bell and Agriculture Minister Michelle O'Neill in March 2016 when the project was announced.
Gareth gave some more details: "The project includes cattle-sheds on-site so that animal slurry is easily contained to be diverted to the four large digesters. The site also has pasteurisation capability to handle a wide variety of waste streams and is also designed to handle significant quantities of poultry litter produced from this intensive agri-food industry within Ireland. The biogas produced on-site is also being upgraded to recover the carbon dioxide as an additional revenue stream and the upgraded biogas is being pressurised to 250 bar so that it can be economically road transported for consumption at other sites."
The total build cost of this project is expected to be about £23m, and the plant is scheduled to start taking waste from March 2017. When operational, it is expected to take up to 25,000t of poultry litter from Northern Ireland, and generate almost 4MW of renewable electricity
Thanks to the award of such a significant contract, it is clear that WIS Group has established an exemplary reputation in the Renewables sector – it now has a strong presence within the UK and Ireland in the water utility and AD sectors and intends to build on this as these larger projects are best managed closer to home. "However, as a knowledgebased business, WIS is keen to partner with like-minded companies in other parts of the world where it can design, project manage and commission AD plants if the partner can construct. The group is actively looking at biogas opportunities in North America as part of its growth strategy," Gareth noted.
Furthermore, as Gareth highlighted, this strength in Renewables is supported by expertise in a number of other industry segments, which can be drawn upon when required. "We feel our company is stronger as it operates in multiple sectors and so we are not totally dependent on a particular sector," he confirmed. "Spend within the water industry can be cyclical due to AMP periods and government budgets, so we have grown our customer base to counter this. The aerospace industry is booming globally so OEM's and their suppliers require an increasing amount of automation to meet demand for parts, which WIS is also well placed to provide."
As Gareth discussed the capabilities of WIS and its development and evolution over the years, it is clear that the company prides itself on innovation, development and investment and as you might expect, its performance has not gone unrecognised by the media and industry bodies. In addition to being awarded a Deloitte Best Managed Company Award for the second year running, the company has won a number of awards – most recently the UTV Business Eye Award for Fast Growth Business of the Year. These awards honour the high achievers of the Northern Ireland business community as well as the public sector.
With hundreds of entries across 18 different categories, the winners were chosen by a panel of top judges including UTV's Business Correspondent Jamie Delargy, Business Eye Editor Richard Buckley and the Business Editor of Northern Ireland's main morning newspaper Gary McDonald (Irish News). The category WIS Group scooped up was Fast Growth Business of the Year, which covered the Northern Ireland-based businesses of any size, which demonstrated a substantial growth in sales/ turnover and/or employment levels over the past 12-18 months.
WIS Group has enjoyed a period of sustained growth due to a massive 52 per cent increase in business outside of Northern Ireland, with the company providing Renewable Energy projects to customers across the UK, which has been a great springboard into wider worldwide markets. The 'fast' growth at WIS Group has rapidly increased from £26 million to £40 million in only one year, and with a current order book worth £53 million and visibility of another £130 million of business over the next two years, it is clear how the organisation became the winner of the top award.
In addition to this esteemed industry accolade, WIS also won two categories at the Newtownabbey Business Awards, which recognise the best of the best in Newtownabbey and showcases all that is good in the area; plus it was presented with The Northern Ireland Chamber of Commerce Sustainability award, which recognises environmentally friendly businesses and was designed for the company that demonstrates environmental and ethical best practice or sustainable development.
Winning awards such as these is very important to not only promote the services and expertise of WIS Group to a wider audience, but also recognise the teamwork that goes into any business competing in these challenging economic times. As Gareth concluded: "The WIS Group ethos is 'Knowledge, Partnership, Innovation,' and a key strength is the ability of our talented workforce to apply their knowledge, to work in partnership with customers, subcontractors and suppliers and to innovate in their day to day activities, resulting in high performing turn-key projects for customers." As the company enters 2017, it looks set to continue to build further success on these very solid and admirable principles.
Williams Industrial Services (WIS Group)
Products: Process control, automation, instrumentation and environmental engineering solutions