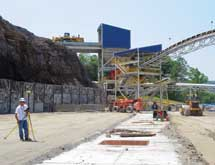 The team responsible for the Wilson Creek Preparation Plant in Pennsylvania worked like a well-oiled machine to bring the project to completion, explains Michael Svonavec, president of Wilson Creek Energy.
In preparation for a resurgence in demand for metallurgical coal for domestic and export use, Svonavec, formerly of Svonavec Inc., and Kerry Mears, vice president of business development and former owner of ICS Energy, merged their expertise and resources. Together, they were able to form "a stronger group and build a global metallurgical coal company," Svonavec says.
Today, Wilson Creek Energy consists of five surface mines and will expand to nine surface and four underground mines that total 18,065 acres in Maryland and Pennsylvania. Svonavec's previous company contributed a 250-tons-per-hour processing facility to the company portfolio.
However, the original plant was built in 1976, and if Wilson Creek wanted to achieve global status, the company needed to construct a new plant and raise the funding to do so. It received the financial backing from Corsa Coal Corp., which allowed construction to begin in July 2010. Corsa eventually acquired Wilson Creek Energy in December 2010.
Wilson Creek contracted Taggart Global to construct a modern 400-tons-per-hour processing plant. "Taggart did a wonderful job," Svonavec says. "They are a top-notch company. Corsa Coal was very instrumental in putting together the capital to be able to make this possible and we [at Wilson Creek Energy] are definitely the foot soldiers on the ground."
improved access
Svonavec says the new plant has not only increased the operation's capacity but efficiency, as well. "The thing that stands out the most to me is the way it's designed," Svonavec says. "A lot of bull work was involved to do the heavy maintenance on the old plant. The way this new plant is set up, it's more open and there is an overhead crane so you can access it so much easier."
Construction wrapped up in May, a month later than expected, but the project still remained within its $21 million construction budget.
The delays were caused by factors beyond Wilson Creek's control – what Svonavec calls the wettest spring he has ever seen.
"The team has done a terrific job to work around delays," Corsa President and CEO Donald Charter stresses. "The extended period of bad weather [over the course] of six weeks has made it impossible for them to make the initial time line.
"Given the obstacles, including a three-week delay in the local power authority providing power, the team has done a great job."
On Target for 2011
Despite the delay, Wilson Creek still expects to meet its 500,000-ton production target for 2011, since that goal represents much less than the plant's total capacity. On June 13, the plant began processing from a stockpile of raw coal mined from five of Wilson Creek's surface mines.
"We've actually been mining and stockpiling coal in anticipation of starting the plant," Svonavec says. "We have a substantial amount of raw coal stockpiled and because of the capacity of the plant, we'll be able to handle the extra tonnage for processing."
The company has a stockpile of approximately 55,000 tons ready for processing and expects to process 500,000 tons in 2011.
In March, Corsa announced "arrangements [were] in place for the sale of 500,000 tons of metallurgical coal from April 2011 to March 2012" at rates of $155 to $170 per ton.
The annual production number will increase as Corsa Coal brings on at least three deep pit mines from now to 2013. In May, Corsa announced the $15 million purchase of the Casselman Mine in Garret County, a result of acquiring the mine's previous owner, Maryland Energy Resources LLC. The mine consists of 16.2 million tons of low-volatile coking coal.
"We are very pleased with this acquisition as the Casselman mine provides us with a permitted long-life mine that is an immediate new source of metallurgical-quality coal for our plant and an increase in our expected production," Charter states.
The deep-mine coal will be processed by the Wilson Creek Plant approximately 30 miles away. Mining operations will commence in July while Corsa finalizes equipment purchases and brings in more staff to operate the mine.
"In the process of expanding our company's operations, our projections for 2011 are 500,000 clean tons of metallurgical coal," Svonavec explains. "But our estimated production for 2012 is 900,000 tons.
"Then we will have additional deep mines come online throughout the coming years, and we are projecting to eventually get to 2 million tons per year. We believe by 2013 or 2014 that we should have production up to that level."
Svonavec says the company will beef up staff in response. From the merger, Wilson built a core team of 25 members. Today, with the processing plant online and the expected increases in production associated with Casselman, Wilson Creek boasts more than 90 employees.
By 2013, with plans to process coal from two additional deep mines, Svonavec estimates Wilson Creek will grow to more than 200 employees.