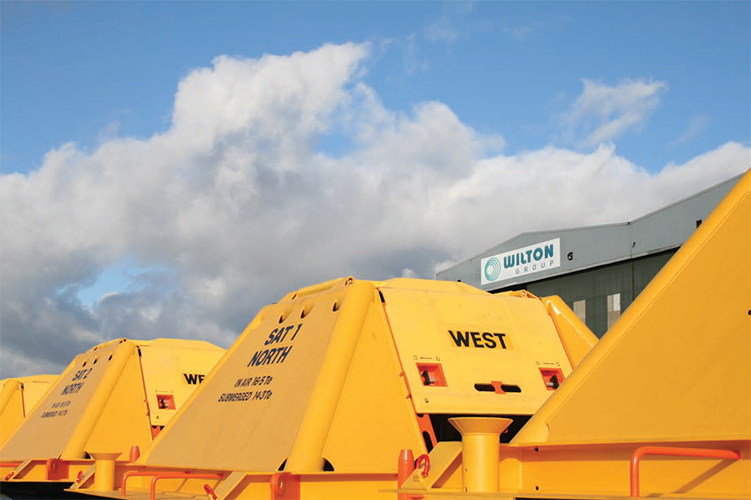 Wilton Engineering Services Limited
Expertise and co-operation
Operating from a 50-acre site at its Port Clarence Offshore Base by the River Tees in Middlesbrough, North-East England, Wilton Engineering Services Limited (WESL) specialises in complex fabrication and multi-discipline solutions serving the onshore and offshore energy industry.
WESL organises its portfolio into four specific business streams made up of subsea hardware; equipment; decommissioning and topsides,respectively delivering specialist scopes such as Subsea Structures, Manifolds, Towheads and Mid-water Arch Systems; Onshore and Offshore Umbilical and Pipe Handling Equipment; Decommissioning Heavy Lift and TransportationFrames and Topside equipment ranging from Modules, Deck Sub-assemblies, Flare Booms,Link Bridges, Helideck Structures, Module Extension Support Structures and Load Out Grillages, all of which are supported by its highly experienced Technical, Operational, Project Management and Quality Health Safety & Environmental (QHSE) teams.
Its quayside facilities incorporate an extensive fabrication capability consisting of four large2500 sqm construction halls fed by a cut profiling and preparation shop, dedicated and segregated clean pipework fabrication shops and storage facilities. The company's turnkey fabrication facilities are further enhanced by the presence of its sister company Universal Coatings and Services, which is based on the same site and includes a large blast pen and open plan painting shop of approximately 8000 sqm.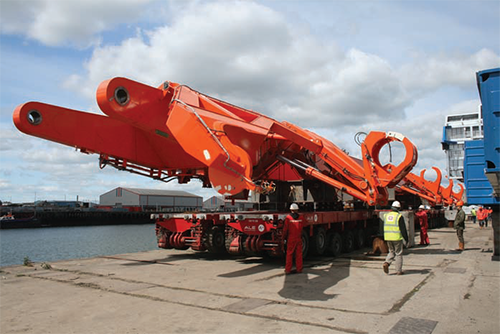 WESL has developed strong relationships with clients both in the UK and overseas. These relationships are further strengthened by the company's impressive portfolio of completed projects, including operations for clients such as Subsea 7, Saipem and ConocoPhillips. "Sincewe first established the business during 1994 we have targeted complex fabrications to give us an edge, by taking on projects that others wouldn't because they are such a challenge. We pride ourselves on being able to build some really quite large and complex structures, often under significant time constraints. That is what I think really sets us apart from most companies," reveals chief executive, Bill Scott.
"Another important strength for the company is our ability to very strongly integrate with our clients and work closely with them to get projects over the line," adds proposals director, Duncan Warriner. "Obviously the projects we target are very challenging and the more we can work with our clients, the better the result for everyone."
During 2013 WESL carried out a significant group reorganisation built around a robust business plan focused on longevity and sustainability. This saw a change in focus from higher-risk, one-off larger projects to greater volumes of smaller specialist and diverse scopes. As a result of this new strategy and more global visibility, the company is now stronger than ever and continues to progress well despite the current low price of oil. Bill elaborates: "Dependency on very large projects brings with it peaks and troughs which create additional challenges that can get in the way of WESL's core belief of building long term teams, relationships and providing unrivalled customer service."
Core to the group's success over the years has been its policy to inspire client confidence and ensure an excellent level of service through the development, documentation and maintenance of an effective quality management system to guarantee that all of its projects conform to the client's specified contractual requirements. WESL therefore operates a quality management system that is set up and certified by Lloyds Register in accordance with BSEN ISO 9001:2008. Furthermore WESL is dedicated to providing a safe working environment for all of its staff and visitors. To this end its safe working practices and procedures are documented and maintained within a QHSE manual and its fully documented health and safety management system. "One thing that is certain in our marketplace is that QHSE is an absolutely critical part of the business. The culture that we foster here is again fundamental to being able to achieve the necessary standard. One side of it is having all of the standards and procedures in place, which we do, but the other side is the continual growth and development of the strong QHSE culture in the business," Duncan says. "This also relatesto our decision to restructure the business, as it allows us to operate at a level where we are able to maintain a high level of activity while continuing to develop our people and nurture the right QHSE culture. There are a number of things that we do to grow this culture, for example we share information very openly, employing what we call a 'good spot system', where somebody might spot something that can be improved and we listen to and communicate that suggestion. We also reward our employees on QHSE performance by making donations to local charities."
Although market conditions have proven to be challenging in recent months, WESL has again proven that it is able to adapt and co-operate with industry partners to not only survive, but to also deliver the best possible service to its clients. "Certainly the main market that we have traditionally operated in UK, North Sea via Aberdeen, has been hit by the oil price reduction and I would say that the same applies in the Norwegian sector," Bill says. "We have focused on broadening our global horizons, which has helped to minimise the impact of this on our operations. We've broadened our approach in terms of the main contractors extending into Europe, who have a much more global footprint looking at projects in Canada, Africa and further afield. The Middle Eastern market is really quite buoyant presently and Dubai is an area that is using UK expertise to enhance its productivity and calibre of work and is a market in which we can continue to grow."
As the business seeks to expand, it will target new markets while retaining its traditional focus in the critical North Sea region and seek new partnerships to increase the scope of complex services available to clients, as Bill concludes: "We truly work with the client as one – we do not believe in 'us' and 'them' as we all have a common goal to deliver the project safely, on time and to budget. We are actively speaking to partners where we can offer better solutions to our clients and are in talks at present to formalise arrangements that will give clients a much stronger solution."
Wilton Engineering Services Limited
Services: Multi-discipline engineering services
Issue 121 June 2015