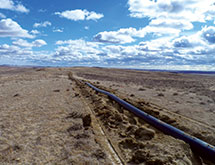 Oil prices are down today, but what will they be tomorrow? The volatile energy industry depends on forward-thinking companies like Windcreek Services, which offers innovative project solutions while cutting costs for its customers. "The one thing that will happen around here will be change because the world changes," Director of Sales and Marketing Kevin Wilen says. "We always have to be changing whether that is in markets or technology."
The company was founded in 1978 as a well drilling company that focused on shallow oil wells and domestic water wells. Over the years, Windcreek Services has diversified into oilfield service work, methane gas field construction, underground utility work, highway and road projects. "What we focus on is how we can provide a cost-savings to the energy and construction industries because now they have to watch their costs so much closer," Wilen notes. "Cost-savings comes through the innovation of finding a better solution to perform a task or a better solution to construct a project."
"We are recognized by the people we employ," COO Grady Williamson says. "Our people matter to us and we want to grow them in this company."
Windcreek differentiates itself by being accountable, exemplary and innovative. "That's who we are and how we do business every day," Sales Manager Jason Scallon says. "Innovation can make a company more profitable, require less steps and increase safety."
Quality Delivered
Windcreek Services deployed four of its divisions in November 2013 to the Powder River Basin to construct an oilfield hub for Oklahoma City, Okla.-based RKI Exploration & Production, an independent oil and natural gas exploration and production company. "We sell that we are a turnkey company because we have many departments," Williamson says. "This project has been real extensive and larger scale, which has allowed us to really grow that turnkey approach for other clients."
The company's pipeline division is installing hundreds of miles of pipe with launchers and futures. Windcreek Services' electrical and manufacturing departments are constructing oil site electrical work, electrical control panels and fabricating mobile skids that hold the panels and can move around the site.
Its fluid management solutions department brought the most innovative and cost-saving solution to the project with salt water disposal and mobile filtering. "We are working with the drill out company in the completion of the oil well and we are recycling and reusing the water on-site rather than trucking it off, disposing of it and bringing in new water," Williamson says. "Mobile filters clean it up on-site, which saves RKI a lot of money."
To further reduce cost for RKI, Windcreek Services provided material procurement services to ensure it was obtaining the best market prices. "This is just one more way we try to provide turnkey solutions," Williamson notes. "During this project, we continue to uncover better ways to cut costs for the customer. Our innovative ways are decreasing their upfront costs and increasing profits with little to no change in their process."
Windcreek Services anticipates its partnership with RKI to last well into the future. "It's a long-term relationship that is bigger than a one-time deal," Williamson notes. "We don't anticipate our work with RKI to continue as long as we can add value and the market stays there."
Well Built
Windcreek Services partnered with uranium mining companies that practice in-situ, well extraction; in this case, it involves injection wells and production wells. "In-situ is Latin for 'in place,'" Wilen explains. "The company pumps a water-solution mix into the ground and the production wells pull the water back up while the solution mix grabs the uranium properties to be processed. There is minimal excavation and it is a water-soluble mining process."
Windcreek Services is under contract with one uranium company at this time to build nine well fields by April 2015. It will perform the electrical work, control wire terminations, install the pipe, build the header house and set the header house, which is the gathering place for all of the well fields. The company's biggest challenge to overcome on this project so far has been the drilling schedule. "We will go in and construct the piping in an uranium field and then have a month between well fields because the process of drilling the injection and production wells takes longer than the piping and construction of the uranium well field," Wilen notes.
Another challenge for the company has been the terrain. Before this project, Windcreek Services' work was predominately in flat mines, but the terrain at this site is rougher and has a number of gorges. "This is where our innovation comes in," Wilen notes. "We invent different tools and pair them with our equipment to get the job done more efficiently."
Windcreek Services is working actively in other uranium mines in the Powder River Basin. The work consists of swabbing existing wells, installing underground electrical duct banks and mainline pipe construction. In 2013, Windcreek Services assisted Cameco Resources in the construction of its North Butte uranium processing plant.
In keeping with its promise to reduce costs to its clients, Windcreek Services is developing its proprietary DARC mesh software at these well fields. The wireless network manages data from the well fields in one place and eliminates the need for fiber optic cables throughout the site.
Asset Recovery
Windcreek Services converts one of the liabilities of building a gas or oil field into a benefit for itself and its customers with its asset recovery system. "Many dollars are spent putting pipeline into the ground and, at some point in time, companies may have to take it back out of the ground and restore the area to its preexisting conditions," Wilen says. "We have developed a department to transpose the liability to a usable asset through a viable process."
The department will remove the piping, steel structures, headers or any other equipment and sometimes even pay the landowner or the oil company to do so. Windcreek Services removes the equipment because it can find a market to resell the equipment.
The plug and abandonment department continues to innovate to create a much simpler and quicker plugging method that decreases the cost to plug methane gas wells. As it stands today, this process has approval by the State of Wyoming Oil & Gas Conservation Commission and the federal government. "We have plugged many hundreds of wells using this method and it has saved our clients thousands of dollars," Wilen says. "The process at which a gas well can go from idle to plugged is impressive."
Looking to the future, Windcreek Services plans to develop three new product lines in the next three years to add to its 19 lines that will benefit the energy, oil and gas industry by lowering their cost.
In the next three years, Windcreek Services also wants to be known in its five-state region as the company of choice and in 10 years, it wants to see its product in use across the country and in Canada.
"Windcreek Services began wanting to create solutions for industry problems and growing our people, and today, that journey transposes us into a widely diverse problem solving partner," Wilen says. "Our passion is value added solution through ingenuity. That's where we really shine with our clients is by asking them what their biggest problem is and then trying to figure out an innovative solution among all our departments. That's who we are."