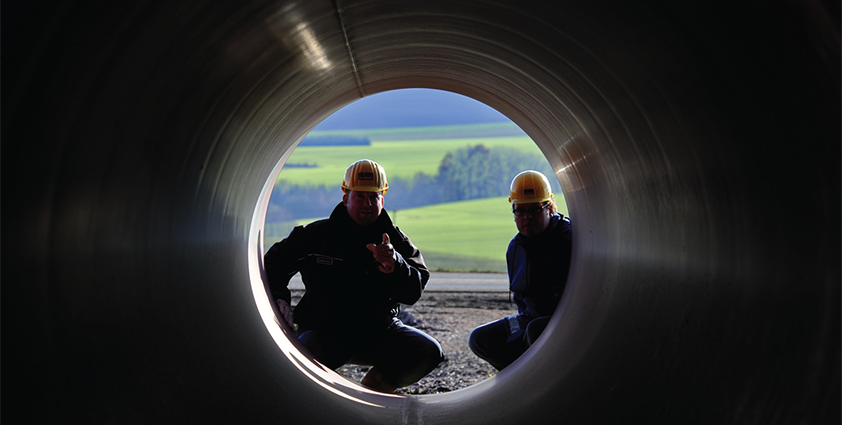 A growing reputation
Wintershall Noordzee BV is the Dutch subsidiary of the Wintershall group, which is itself part of the world's largest chemical company, BASF.
The Wintershall group has been involved in both the exploration and production of crude oil and natural gas for more than 75 years, and it has grown to operate across Europe, Russia, North Africa and South America.
The group's expansion into the Dutch sector in 1965 led to the formation of Wintershall Noordzee, which is today headquartered in the town of Rijswijk. Originally, Pennzoil founded the Netherlands-based subsidiary, and it acted as one of the first exploration companies of its kind in the region. Wintershall took over the operatorship in 1988 growing the business further and Wintershall Noordzee has continued to expand since, whilst still concentrating on its core region – the southern North Sea. Today, the company is one of the largest producers of natural gas in the Netherlands, with some late life oil production from Kotter and Logger, and it hosts some 25 offshore platforms and employs 420 personnel.
In a 2009 interview with European Oil and Gas, managing director of Wintershall Noordzee, Gilbert Van Den Brink, cited the company's exploration capabilities as one of its main assets. Sure enough, the company has made several key discoveries since then – one of which is a new oilfield in Denmark.
Highlighting the importance of this find, Gilbert reveals: "We have been operating in Denmark for five years now, and we have been scouting for oil throughout the region for the majority of that time. Whilst it is hard to accurately define the full prospects of this field, it does look very promising to us. We are very excited about the project, as it will represent the first oil development project for Wintershall Noordzee in more than 20 years."
The Danish sector is important to the company, although Gilbert concedes that it is a challenging market: "Danish chalks are difficult to operate but our find is located in the west of the Danish sector. In Denmark, Maersk's expertise lies mainly in producing oil through the more difficult chalk layers. However, because this is not a chalk layer field, it is closer to what we are used to dealing with."
Wintershall Noordzee is also heavily involved in tight gas projects at present, working as the operator. This natural gas, which is difficult to access due to the nature of the rock and sand surrounding the deposit, makes it difficult for operators to extract. The location of Wintershall's largest tight gas project makes it particularly challenging, according to Gilbert. He elaborates: "This is a subsea development in a military area of the North Sea. It is also surrounded by a large number of shipping lanes, has areas that are designated for sand harvesting, and there are a number of wind farm projects area, which makes it quite a busy region to operate in. In order to be successful in this sector, we have to ensure that we can co-exist with all these other stakeholders."
Highlighting the nature of the project, Gilbert continues: "This tight gas development will be comprised of two separate subsea wells, which tie back to the platforms in our joint development area. One of the strengths of our company is that we work closely alongside our partners, drawing on their experience and support. In the field of tight gas there is a lot of development taking place, and so the best way to progress at this stage is to work with others to uncover the best methods of production. We are operating more than 40 joint ventures at the moment, and we act as operator for many different partners. I am proud to say that all are pleased with the way we have conducted business, and that is something that really needs to be worked hard on – especially in such mature fields."
Taking such an approach is not the only vital attribute to the overall success of Wintershall Noordzee, according to Gilbert: "We have to be very innovative with our operations in order to stay ahead of the game and demonstrate our capability to be operator of choice and justify our license to operate. By staying fresh with our ideas, we are able to continually bring new and innovative measures to our operations in all aspects of our work. This is supported by our wide range of in-house skills and competences, and the fact that we provide the full value chain, which is crucial to our success today.
"Our activities range from exploration right through to platform abandonment – the latter of which is a growing area of importance due to the maturity of the fields in which we operate. With regards to this aspect of business, we need to handle our operations in the most efficient manner possible, with minimal environmental impact. If an operator were to simply abandon their rigs without much care then they run the risk of damaging their reputations after years of careful production. Abandonment is therefore an area that cannot be overlooked, and we are here to ensure companies are aware of that."
When he last spoke to European Oil and Gas, Gilbert also revealed the details behind the company's newly constructed centre for remote controlled operations (RCO) at Den Holder. Designated with the monitoring of production for more than 18 offshore platforms, this facility is designed to ensure that production from the Dutch offshore reserves will remain efficient for years to come.
Gilbert highlights the progress made with this facility since its opening last year: "The centre is now fully established and running efficiently. This new centre allows us to collect and hold a vast amount of data, and it will enable us to figure out the production profiles of the more mature fields. We can anticipate much earlier the changing performance of the mature fields and new fields of course, and take remedial action as and when required. Also because the data collection is real-time, we are in a position to quickly evaluate, and if needed, correct each remedial action taken. The learning curve in terms of 'problem' wells is therefore unique and provides us with a competitive advantage.
"This has been particularly useful in the past year, as we have noticed that there have been quite a few wells in the Dutch sector that have been suffering from salt precipitation, either in the reservoir or in the tubing. Because we have this new RCO, we have the feedback necessary to make the changes in the well before any major problems occur or further deteriorate the production. We have been working with a number of different production models, such as water injection, for instance."
Gilbert further explains: "Now that we have both the technology and the understanding, we are able to work with much more difficult fields. In the case of salt precipitation, for instance, we can get straight to work with companies who want to make the most of the field, rather than overlook it completely through fear of the unknown. Our next step will be to optimise the whole maintenance campaign by further monitoring these platforms, and this is where he hope to expand in the future."
Looking ahead, Gilbert concludes: "At a corporate level, the Wintershall group has been expanding significantly in recent times. It is always developing new strategies, and constantly looking at new potential areas for growth. The Netherlands will definitely play an important part of that overall strategy. Nevertheless, the Dutch market is very stable, with relatively low investments and high returns compared to other countries where harsher environment or deeper water ranges prevail.
"We have the full range of services as well and so will continue to play an increasingly important role within the group as a whole. Our aim for the future is to ensure that Wintershall Noordzee is the operator of choice for the Dutch market, as we hope to further contribute to the global advancement of our industry."
Wintershall Noordzee BV
Services: Gas and oilfield exploration and production