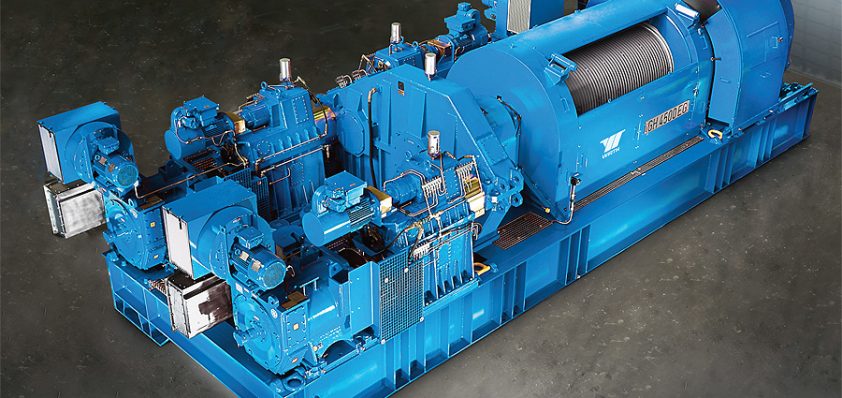 Wirth Maschinen und Bohrgeräte-Fabrik GmbH
The drill to succeed
Headquartered in Erkelenz, Germany and established over a century ago, Wirth is a truly multi national organisation, which through its 65 agencies located in 42 countries, ships 90 per cent of its products to markets across the globe. It presently employs approximately 500 people and generates revenues of around 200 million euros.
The company has a long-standing tradition of more than a century in developing, manufacturing and selling drilling and tunnelling systems, and providing technical solutions to a wide array of
industry sectors, including mining, various infrastructure, tunnelling, shaft boring, and oilfield operations.
Wirth is proud of providing its customers with oilfield systems and equipment that add real value, and contribute to the extraction activities of various on- and offshore organisations. Equipment is subject to rigorous testing and designed to perform at consistently high levels, even in the most harsh or remote conditions. It was and is Wirth's commitment to keep up the high standards for which its product portfolio is renowned worldwide, and, as a result, the utilisation of cutting edge technology is integral to the development and build of any given system or solution.
The high quality standard is apparent in the drawworks, mud pumps, rotary tables and rotary swivels, which are the key components of Wirth's drilling equipment portfolio. Customers are able to pick from a standardised range, known as the classic line, which is popular for onshore applications, or the premium line, which offers tailor-made products developed to exactly meet its customer's specifications. With its new main shareholder and long-time business partner Aker Solutions AS, Wirth has supplied complete offshore drilling packages for more than 20 years, and is currently establishing itself as a provider for complete land rigs in the onshore market together with its Houston based subsidiary Wirth International LP, also manufacturing its product portfolio in the imperial measure system.
Over the years, such solutions have increasingly enhanced the performance of drilling ships, which are used instead of platforms when drilling depths exceed 500 metres. Samsung Heavy Industries' Saipem 10,000 is one of the world's most advanced and largest drilling ships used in the exploration of oil and gas. Costing $270 million, the vessel utilises four highly sophisticated Wirth mud pumps, two drawworks and two hydraulically driven RTSS 60.1/2 inch turntables. Such were the specifications for the drawworks that Wirth was the only company with the necessary power and range between maximum load and speed to satisfy the demand; a true testimony to the know-how and visionary thinking of its personnel.
With its development of gear driven drawworks Wirth set an industry standard that is integral to the business. It is undoubtedly an innovative method of drilling, offering higher speed, safety and all round performance, as well as less weight, noise and vibration. The range is enhanced further through compact design and the option to attach an integrated autodriller, which is independent of the application. Similarly, the high-pressure mud pumps, of which there are six types, offer Wirth's clients a wide range of advantages compared to traditional alternatives. These include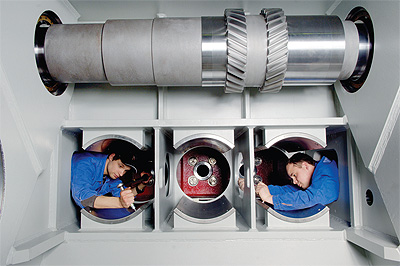 considerable reductions in weight and maintenance costs, full material traceability, optimal smoothness in operation, and with the option for stainless steel ends also provides for a maximising of the product's life expectancy.
Always aiming to achieve the ideal combination between operational safety and availability Wirth developed a redundant disc brake system controlled by two independent PLCs for its drawworks, which adopts the required brake torque in conjunction with the respective hook load and speed. This patent pending system enables the driller to decide about the best time for maintenance and other service operations and so considerably shortens downtimes of rigs while ensuring the operational safety.
The company's products were also used in one of the world's most advanced drilling projects, which was carried out on the Russian owned Sakhalin Island off the North coast of Japan. For years, this deposit was regarded to be the largest inaccessible deposit of oil and gas on the planet. However, due to technology that was developed in the 1990s, drilling in this environment became possible. Complementing an onshore platform, which uses the longest feeder lines in the world (at some eight to ten miles long), Wirth was awarded the contract to equip the offshore facility with a variety of machines. These included mud pumps with AC motors, gear driven drawworks and hydraulic rotary tables.
Wirth has proved that it is able to meet even the most complex of demands, and is continuing to attract major orders. The most recent announcement came in early September that, together with its main shareholder and business partner Aker Solutions, Wirth would provide drilling equipment for two further ultra-deepwater drilling platforms, named Sevan 2 and 3. The platforms, which will be used for the exploration of new oil and gas deposits, are designed for a depth of 3000 metres. The order includes the type TPK 2200 mud pump, and drawworks with a drive power of 4500 HP. The project is another example of Wirth being able to supply solutions and systems that others simply cannot, delivering on its promise and desire to add real value to its clients. The company's innovative approach to design and production has mastered many drilling challenges in the past, and will continue to do so in the future.
Wirth Maschinen und Bohrgeräte-Fabrik GmbH
Services Drilling equipment and machinery