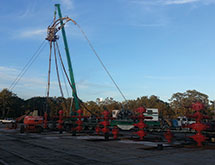 WISE Intervention Services Inc.
Becoming a leading oilfield services provider requires delivering superior results and improving well performance for clients. WISE Intervention Services has been doing just that for many oil and gas companies in North America.
The company's principal offices are located in Calgary and Red Deer, Alberta. Beyond that, WISE also has an office in Washington, Penn.
The company serves the North American oil and gas energy markets by providing solutions in the areas of deep/ultra-deep coiled tubing services, high-pressure stimulation services and multi-conveyance downhole services.
"We operate mainly in Western Canada and the Northeast U.S.," President Josh Thompson says.
"Well intervention services are common in the completion phase of well construction, but we are a bit unique in that we offer packaged bundles," he adds.
WISE's coiled tubing equipment services complex wellbore designs through high-capacity tubing capabilities, as well as conventional unit configuration for diverse operating functionality. With stimulation, WISE offers leading pumping equipment for remedial pumping needs. It offers twin 1,000 HP and 2,250 HP quints for low to high rate/high pressure pumping needs. In the downhole area, WISE provides intervention BHA equipment for coiled tubing or threaded pipe conveyance methods.
Deep Experience
The company looks to leverage its experience and engineering facilities in order to ensure quality operations. WISE is always striving to work to develop products, services and solutions that optimize customer performance in a safe and environmentally sound fashion.
"We are a specialized service company delivering a unique combination of product and services to customer well sites," Thompson says.
"We continue to grow the company and capitalize on client demand," he adds. "We are at 170 people now and expect to be up to around 230 people by the end of the year."
WISE is capable of working in a wide array of well intervention environments. These extend all the way from basic applications in the well to complex downhole challenges in need of close analysis and custom-designed solutions.
WISE engages in thorough job analysis, preparation and execution efforts on all of its work. The company does this with each and every one of its clients.
Taking this systematic approach allows the company to succeed on each project. This is important, as each project can vary greatly from one client and one job to the next.
"We offer highly specialized services that can plug and play into the active shale areas in North America," Thompson says. "The long horizontal well bores, which are very common in today's shale plays in various basins, need different equipment packages in order for them to be adequately serviced. We monitor all of the factors that are driving market, and we are always in contact with our clients so we can understand all of their challenges."
Market Focus
Among the trends that are having a significant influence on WISE's strategic thinking is the potential for growth in the LNG export market. Thompson says that is a hot topic right now.
In response, WISE is preparing for what it expects to be a surge of activity related to LNG production and exportation to international markets.
In addition, the continuing growth of horizontal well bores and hydraulic fracturing is an ongoing market trend that WISE is closely monitoring. Thompson says WISE's services can be extremely critical to activity in those areas because they can be used at many stages of a well's lifecycle.
"We don't just provide services on new well bores; we can provide services, products and applications to already producing wells," Thompson says.
"We can work within the market in whatever phase the client is in with their program and production cycles, from drilling to completion," he adds.
When all is said and done, WISE strives to create a strong spirit of partnership with all of its clients, employees and communities. Customer service and safety are among the company's top priorities, which is why WISE goes to great lengths to understand the risks of each job.
"We aim to be the company that can surpass the clients' challenges," Thompson says. "We pride ourselves on creating partnerships and building relationships."
As it proceeds into the future, WISE will develop look to develop more products, services and solutions that optimize customer performance. It will also continue to ensure use of the proper techniques required by each job, combining highly qualified personnel with top quality equipment to ensure the highest possible level of job performance is consistently achieved.
All of this activity ensures that the company can offer comprehensive well intervention service solutions designed to improve well intervention operations and optimize reservoir performance.
"Western Canada and the Northeast U.S. will continue to be key for us," Thompson says. "We will look for services and markets that complement our core without taking away from what our brand is all about. Customer service, equipment quality and personnel development and retention will be among our main challenges as we work to build off of our successes and find ways to capitalize on client and market demand."