With a strong history of industry innovation, Scientific Drilling is leading the field 
Originally founded in Houston, Texas, in 1969, as a measurements company, Scientific Drilling has spent over five decades establishing itself as one of the largest directional drilling contractors in the US, ultimately emerging as the largest independent drilling contractor in the world. Over time, it has matured its focus, while finely honing its skills with world-class equipment and personnel. 
Wes Shedd, CEO, begins: "For us, it's about well bore placement, which is really a merger of Scientific Drilling's two core areas of expertise: measurements and drilling technologies.  
"This works well for us as we see these segments merging, as highlighted in active and passive ranging offerings as well as integrated rotary steerable systems. This winning combination enables us to apply our services across the board in any application, which is our primary focus."  
Superior performance 
And winning it is – industry partners are keenly aware of the precision and quality of Scientific Drilling's tools.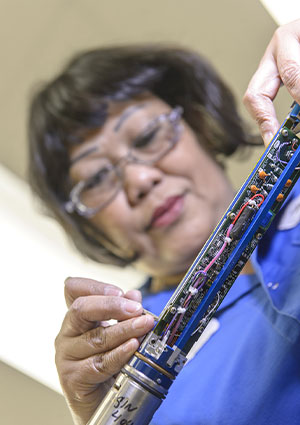 "Our product lines include Measurement While Drilling (MWD) and Logging While Drilling (LWD) tools, as well as high-precision and high-accuracy gyros," Bo Holland, Vice President of Business Development, explains. "In fact, we are one of the only gyroscopic measurement while drilling (GMWD) original manufacturers in the world. 
"Each of these product segments is available in a number of combinations to facilitate both offshore and onshore applications. On the drilling side, we have the TiTAN22 motor product line, as well as a smart motor, which gives you the advantage of having sensors at the bit.  
"Drilling motors has been a technology separating directional drilling companies in the past few years. Increasing operator and client confidence was a driving force behind the development of the TiTAN 22 motor, which has rebranded that side of our business."  
The TiTAN 22 motor has been designed with the industry's most extreme drilling environments in mind; it has been engineered to run with the sector's highest torque/HHP power sections and features a unique titanium flex shaft and bearing pack assembly.  
This ensures optimal performance in a wide range of different applications. Moreover, its enhanced weight-on-bit capacity supports increased and consistent rates of penetration for a superior drilling performance. 
Wes adds: "While drilling continues to be a part of our DNA, we are not solely focused on well construction; our case hole services are more concentrated on the overall life cycle of a well.  
"These technologies are geared specifically towards working with extremely high temperatures in geothermal operations, which is an industry we've been a part of for over 35 years.  
"We have built tools that can endure up to 650 degrees Fahrenheit. Our rotary steerable tools (HALO) are relatively new additions to our portfolio and reflect current market trends. As one of the most intelligent drilling tools on the market, it allows operators to precisely place wells in zones that will increase their production for years to come." 
Reputation for excellence 
As a business with a history of industry firsts, Scientific Drilling's culture of innovation is key to its success. Today, its California location is the organization's central hub of development, as well as being one of its largest manufacturing facilities.  
"Our self-sustained approach to research and development is one of the factors responsible for our market leading measurement tools. This internal reliance helps mitigate supply chain issue, but also to control our own destiny with reliability," Wes explains, with obvious pride.  
"Our founder, Don Van Steenwyk, was not only an entrepreneur, but a creative engineer at heart. He was always incredibly passionate about being a market leader, or the first to set a new benchmark, and this passion has been instilled at Scientific Drilling's core, and woven throughout the entirety of the company." 
"We have invested a lot of time and capital in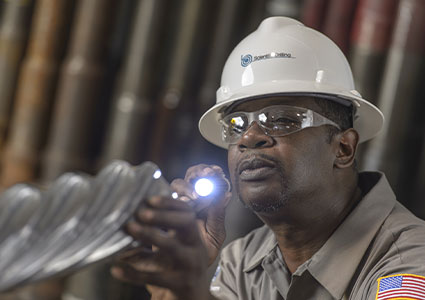 the development of all of our products," Bo adds. "Our clients have always had great confidence in our products, ever since our earlier measurement tools, and that confidence has directly transferred to our drilling tools. The same confidence extends to their people and operators in the field." 
"Our excellence has also enabled the retention of top talent," Wes continues. "People naturally want to be winners, so when we put the best products in their hands, it helps them perform, and it gives them a sense of pride in the company they work for. 
"No matter what challenges we have faced, season to season, we have always been known for having good people. In the service industry, that's the best reason to be known.  
"Our customers don't necessarily interact with our executives. They only know the men and women who are on location on that specific day. That's how they develop their opinion of the company." 
Dynamic drilling market 
A large portion of Scientific Drilling's revenue comes from US land operations. Its footprint, however, extends across every continent, except Antarctica, with locations in the Middle East, Argentina, Brazil, Mexico, Scotland, Norway, the Netherlands, and several operational bases across Asia. The Middle East is Scientific Drilling's largest overseas market, with half a dozen offices staged across the region.  
"Continuing forward," Wes concludes, "we are definitely looking to keep challenging the status quo in the measurement tools industry, where we will maintain our position as market leader. At the same time, we want to continue to lead and innovate on the drilling side."  
"The directional drilling market is very dynamic," Bo says. "The biggest factor with drilling tools, when it comes to innovating new ideas, is the way in which the market is constantly changing, especially when it comes to our rotary steerable systems. If you are not innovating between these cycles, you're going to get left behind." 
Scientific Drilling continues to leverage the core concepts on which it has capitalized to advance drilling technologies. It has the capabilities to produce new tools with higher levels of sophistication, implementing its vast understanding of electronics gained from manufacturing measurement tools. 
"Together," says Wes, rounding out our conversation, "we can bring these elements into the drilling landscape, and establish many more industry firsts."