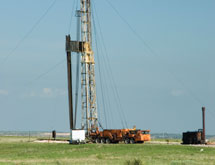 Oilfield services are indispensable in a booming oil exploration and production region like the Bakken Shale in the Williston Basin. Manpower and equipment are in short supply. Each day, the Amtrak train disgorges more workers into its Williston, N.D., station, but still there never seems to be enough. This is where oilfield service companies like Wolf Oil Field Services are necessary.
Even though the company is headquartered in West Des Moines, Iowa, it is able to provide all the oilfield services companies in the Bakken oil range region require. These include:
Oil trucking – Wolf Oil Field Services' fleet of trucks and trained drivers can deliver whatever cargo customers require to its destination safely and reliably with the high level of skill required.
Aggregate material and trucking – For this, Wolf Oil Field Services operates a diverse fleet of side-dump trucks, belly dump trucks and double-belly dump trucks to meet the unique needs any job may have.
Construction and maintenance services – For these, Wolf Oil Field Services is second to none, the company maintains. Whether an oil company needs minor repairs to its infrastructure or it intends to build new infrastructure and facilities, Wolf Oil Field Services says it has the experience to find a solution.
Safety and Dependability
"Wolf Oil Field Services brings expertise in the oil, transportation and construction industries to the booming Bakken oil range in North Dakota," the company says. "Our commitment to providing high-value services to our customers sets us apart from other area service providers."
Customers of Wolf Oil Field Services can count on the company for safe trucking services. It recognizes the high degrees of risk and expense that energy exploration and production can have. "That's why we're dedicated to hiring the best people and training them to operate and maintain quality equipment," the company says.
Wolf Oil Field Services prides itself on its dependability and its commitment to meeting its customers' exacting requirements and extensive needs all the time, no matter how high those requirements are. "In a region where service shortfalls are far too common, you can depend on us to keep our word," the company maintains.
Whether an oil exploration or development company has a high-volume well on flowback, needs multiple types of aggregate materials in coordinated delivery schedules, or has field maintenance needs for its lease automatic custody transfer (LACT) units, Wolf Oil Field Services can meet these needs.
Company Founding
Wolf Oil Field Services was founded by professionals with extensive experience in the oil, transportation and construction industries, the company says. Its executive and management teams are committed to making the company the top oil field service provider in North Dakota's Bakken oil range.
To meet that goal, the company is consolidating the inter-disciplinary expertise of its employees. Doing so brings together employees with differing educational backgrounds and work experience, but the goal of meeting the customers' needs unify their efforts.
Wolf Oil Field Services has a fleet of nearly 100 oil and aggregate trucks to serve a broad range of companies in the Bakken Shale's oil range. It hires qualified commercial drivers license (CDL) operators who have experience in the oil and/or construction industries. Because of the variety of trucks and trailers in the company's fleet, drivers are needed who are licensed for tandem trailers, hazardous materials and other types of CDL endorsements.
"We're focusing on exceeding our clients' expectations with safe, dependable, on-time service," the company says. "At Wolf Oil Field Services, we don't cut corners. We know that the only way to build successful, long-term relationships with our clients is by providing the outstanding service they expect. To earn our clients' trust – and to ensure the safety of our valued employees – we hire only experienced, quality drivers. And we focus on thorough, ongoing maintenance of our fleet."
The company only hires experienced drivers with high-quality safety records. "In return, we reward our drivers with the respect, fair treatment and quality equipment they deserve," the company says. "After all, we know that the key to the success of any company is the employees it hires."