Decommission possible
International energy services company Wood Group has evolved from a ship repair and engineering firm established 100 years ago to become one of the leaders in decommissioning.
It has three divisions, Wood Group Engineering, Wood Group PSN and Wood Group GTS, providing a versatile range of engineering, maintenance management, production support, as well as industrial gas turbine overhaul and repair services to the oil and gas and power generation industries worldwide. "I think our success stems from our commitment circa 16 years ago to invest in decommissioning with the establishment of a dedicated decommissioning department," says Ian Prince, decommissioning manager of Wood Group PSN. "We are also focusing on decommissioning being a key part of our late life strategy for aging offshore facilities."
Over a decade ago Wood Group played a key role in the decommissioning of Shell's Brent Spar oil storage tower, which created a global awareness of the decommissioning market and also the company's capability to successfully manage major decommissioning projects without environmental or safety incidents. Since then Wood Group PSN has been involved in circa 100 decommissioning studies and projects and is currently the Decommissioning Services Contractor for Brent decommissioning
"Our Shell Brent decommissioning services contract is for the provision of comprehensive decommissioning, engineering, modifications, project management, maintenance, inspection, fabric maintenance and offshore services that are designed to ensure we can meet the removal contract schedule," explains Ian. "Taking the asset from a production mode to removal has many technical and logistical challenges; however, we recognised that organisational changes are of equal importance. We have put various initiatives in place to ensure its offshore workforce remains safe and motivated by enhancing living and working facilities and implementing improvements to the safety culture on board."
A significant amount of Wood Group PSN's engineering study work for decommissioning is from returning clients, which the company believes is due to its culture of seven core values: safety and assurance, relationships, social responsibility, innovation, people, financial responsibility and integrity. "Our continued focus on these values at all levels within our organisation is our commitment to deliver on our various contracts/projects," says Ian.
As a member of Decommissioning North Sea (DNS), Wood Group benefits from using the forum, which facilitates close co-operation and encourages collaboration of innovative ideas between North Sea operators and the supply chain. DNS aims to build relationships between operators and contractors so challenges in the relatively new decommissioning industry can be faced together. On top of this it aims to minimise risks on decommissioning projects on North Sea oil and gas facilities, which are expected to cost between £30 billion to £35 billion between 2010 and 2040.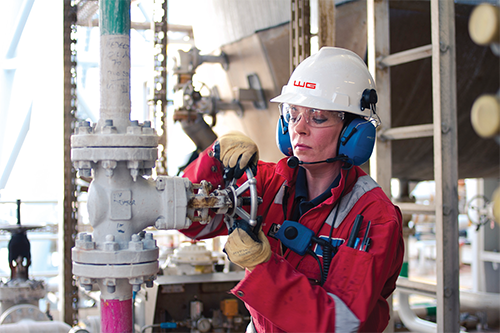 "DNS carries out excellent work with its initiatives within the industry to bring, amongst other activities, more realistic forecasting for decommissioning projects," highlights Ian. "The decommissioning market is very challenging as a business when you consider the continual 'shift' of projects to the right results in an unstable environment for investment. Notwithstanding this, we are a key member of DNS and see great value in using the forum as a means of identifying opportunities and potential solutions for some of the forthcoming decommissioning challenges."
Today, in addition to the power generation and oil and gas industries, Wood Group has established the renewable energy services group and expanded its scope of operations within the alternative energy industry. "We have been involved with over 65,000 MW of renewable energy developments to date on all five continents," enthuses Ian. "For example, The Wave Hub is a ground-breaking wave energy 'electrical socket' placed offshore on the seabed and is connected to the UK National Grid via a seven kilometre long hub-to-shore subsea cable. Wave energy devices can be connected into this hub offshore, which allows for the pre-commercial testing of wave energy devices on a scale that hasn't been seen before anywhere in the world. Wood Group provided engineering design and project management for the overall system, which included procurement and installation of all the onshore and offshore facilities."
Other projects include the Sheringham Shoal Offshore Wind Farm, an 88-turbine offshore wind farm with the potential to supply 220,000 homes; Wood Group provided the design and project management of the two offshore substations that will capture power from the turbines before being sent to shore. It is also responsible for all day-to-day operations and all maintenance of the Beatrice Wind Farm, which was designed to examine the possibility of creating a commercial wind farm in deep water that was a reasonable distance from the shore. For owners and operators of wind farms, the company offers flexible services in delivering integrated maintenance solutions; ranging from offshore design and project management, operations and maintenance support and asset management services for ancillary equipment and wind turbines.
"We have comprehensive skills and expertise to define, manage, witness and supervise all stages of manufacturing, installation and construction activities," highlights Ian. "With over 40 years of constructing offshore and onshore projects, the skills and processes available to manage costs, schedules, safety and environmental issues are invaluable in helping developers manage their projects." Wood Group aims to become the world's leading independent service provider within the renewables industry while meeting the highest standards of health, safety and environmental requirements.
Looking to the future, Wood Group sees considerable activity looming in the North Sea decommissioning market from 2016, with analysts predicting activity levels of £4.5 billion between now and 2017. The company's 16 years in the decommissioning sector and extensive experience in mature asset management has given it a competitive edge in managing decommissioning as part of the total field value. "From a decommissioning perspective we see significant opportunities arising over the next five years, and it is within our strategy to maintain our position as one of the major players in the offshore and onshore oil and gas field decommissioning market," Ian concludes.
Wood Group
Services: Decommissioning