Decom crew
Though its roots stretch back nearly a hundred years into the fishing industry, today Wood Group is an internationally minded business with activities throughout the onshore and offshore energy industries.
This change occurred quickly: in 1964 the family-owned business headed by William Wood possessed 80 employees and £500,000 in sales, but following the discovery of North Sea oil in 1969 it was quick to buy harbour facilities in Aberdeen and offer a variety of logistical support, offshore maintenance and workshop fabrication services to the flourishing local oil industry.
In 1979, Wood Group received its first major engineering support contract for work in Shell's Brent field and has remained a frequent presence in this region since. Through the 1980s and 1990s a string of contracts and the acquisition of J P Kenny established the group as one of the most important support companies for the industry, and by the Millennium it had grown to 9000 employees with an annual revenue of $1 billion. The recent acquisition of PSN and the disposal of the Well Support division has focused the business as:
A world leading engineering business with strong market positions in upstream, subsea and pipeline
The world's leading production facilities support provider
The world's leading independent industrial gas turbine aftermarket provider
Wood Group's involvement with decommissioning started toward the end of the 1990s with its involvement in the disposal of Shell's Brent Spar oil storage tower and since then, as director of decommissioning and business expansion Alex West illustrates, it has been a key contractor on such activity throughout the North Sea: "We've worked for a number of clients but perhaps the biggest was BP for the North West Hutton hook-down before it began the removal process; we also tendered as removal contractor for the project itself. Currently we are a main contractor carrying out FEED studies for the Shell Brent topsides removals, which should be due for removal in 2015. We are a company wanting to be a Tier 1 contractor, facing oil companies and taking on whatever it is they need doing particularly with regards to taking on the largest decommissioning projects."
Since Brent Spar, Wood Group has been involved with more than 50 decommissioning studies and projects – a figure unrivalled by its competitors. Its role in this area is not limited to contracting: it also offers support services including technical studies, financial estimate studies, decommissioning planning and the negotiation of security agreements. Some of its work has occurred further afield than the North Sea too, for example in Trinidad and Tobago, India and South East Asia, but all have been executed with the same high standards applied to its North Sea operations.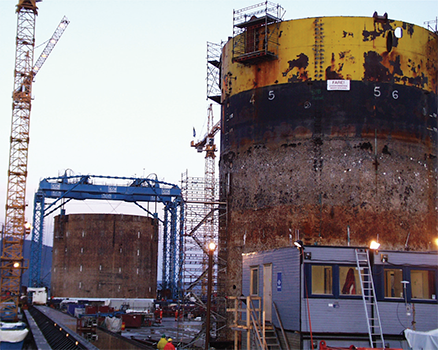 Delivering this consistently high quality has been helped by the long-term retention of specialists and engineers, some of whom have been involved with the company's decommissioning work since the beginning. This accumulation of knowledge has enabled Wood Group to meet and overcome the inevitable difficulties faced in deconstructing several thousand tonnes of metal in temperamental waters. "With the acquisition of PSN, we have added considerably to the strength and depth of our decommissioning experience both in the UK and internationally with current contracts for Shell, CNR and Heerema and an experience portfolio which saw us completing the NorthWest Hutton removal engineering with Heerema under a contract with Heerema," says Alex.
"It is the level of unknowns that presents the greatest challenges," Alex explains. "Whilst there is a lot of information for existing platforms, you can never be sure what you're going to find until you get there and start doing surveys. Even then there can still be surprises as you get into the details of a platform's construction and how it has been used over the last 20 years. We have found that even when two platforms are supposedly identical, because of the way they were built and modified throughout their lifetime, one platform can be very different to its supposed twin. In such situations you just have to get on with the engineering, expecting the unexpected. Surveys are important in this respect because it's not just a case of seeing if the structure matches the drawings but also understanding how its put together, as this influences how strong it will be when the time comes to remove it or take it apart."
The decommissioning market is an incredibly variable one, however, often consisting of long periods with little to no activity. Business has remained relatively steady for Wood Group but there have been instances in which its team of specialists have become involved with other projects so as to maintain a continuous workflow, yet this too has played to its strengths. Offering comprehensive services to every stage of the oil and gas process means brownfield modification projects, which often involve the removal of components from platforms, are a key element of its portfolio. This routine service, procedurally similar to decommissioning, enables the sharing and improvement of techniques even whilst its specialist service remains quiet.
With work over the last 12 months having been more continuous, the prospect of greater activity over the next decade is also on the cards and Wood Group has already begun expanding its capabilities to meet potentially increasing demand on its services. This year already has seen the hiring of experienced specialists to improve the group's expertise whilst development of new technology is under discussion. One idea currently on the drawing board is a single-lift vessel concept that will reduce offshore work considerably and shorten transfer times from offshore to onshore sites, thereby improving safety and reducing cost; this is being carried out in collaboration with Global Maritime, with a focus on activity in the Brent field.
Today, Wood Group worldwide employs 34,000 people globally and makes more than $5.5 billion in annual revenue, a far cry from its roots as a small and family-owned business in the fishing sector. It has become one of the most important names in North Sea decommissioning and with contracts from BP, Canadian Natural Resources (CNR) and Marathon expected to come to market over the next few years, Wood Group has the potential to expand this reputation worldwide. To this end, in late April 2011 a seminar will be held in China with the express purpose of aiding the Chinese market update on changing decommissioning legislation throughout the world; Wood Group will participate, sharing its experiences in leading workshops.
The next decade will therefore see Wood Group's strengths coming to the forefront. Recent projections have shown a growth in the UK decommissioning activity will begin the middle of this decade and peak around 2020, due to the large number of structures built throughout the end of the 1970s and beginning of the 1980s. "That is certainly what we are seeing," concludes Alex in agreement. "A number of operators are beginning to put together plans for decommissioning in the 2015 to 2018 seasons, so we see our study work increasing as those begin coming to the market."
Wood Group
Services: Comprehensive energy services