Safety is our number one priority
The acquisition of Amec Foster Wheeler by the multinational energy services company, Wood, in 2017 proved a match made in heaven for the former's storage tank services division. Blending the wealth of experience and expertise accumulated over many years under Amec's brand with Woods vision to inspire with ingenuity, partner with agility and create new possibilities, has enabled the tankage division (now operating under the name of Wood) to grow its capabilities and set itself even more ambitious tasks for the future.
"Wood's desire for excellence has been truly inspirational for us," says Operations Director, Nick Walters. "We have a Board that is very passionate and proactive about encouraging us to seek constant improvement in our work, create new possibilities, and design with ingenuity."
Having opened up on Wood's design capabilities, Nick adds that the availability of an experienced in-house team of tank designers, makes the division a lot more flexible, allowing it to provide technical advice to customers more quickly, be it with regards to solving a repair problem or discussing the various methods of construction that can be employed for a new build project. "Not all tank contractors can benefit from an in-house design team that works closely with our field construction and repair experts on a daily basis; and we believe that the agility that our designers working alongside our construction experts gives us, helps us to provide a much more differentiated offer to our clients."
Wood's quest for ongoing improvement has driven the company to create a number of innovative solutions to address some of the ongoing health and safety challenges in the industry. An illustration of this approach is the advancement of the otherwise commonplace storage tank jacking technique, which the company has developed further and now deployed in the new build projects it is currently working on across the UK.
"The primary reason for using the jacking technique is to reduce the risk associated with working at height during construction," Nick notes. "Jacking tanks has been used for many years by all UK tank contractors as a way of reducing the working at height risk that would otherwise occur if the tank were to be built conventionally. When deploying a conventional technique, some of the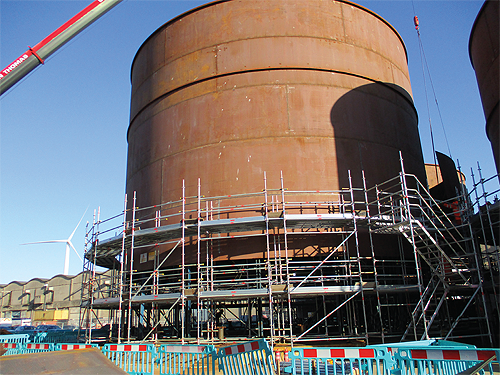 significant works related to the installation of the roof, for example, would take place at height, whereas when you jack a tank, you build the roof at a low level.
"Prior to the introduction of our system, contractors had to attach many temporary beams to the side of the tank, in order to attach the jacks and then jack the tank up. Thanks to our method, we are now able to jack the tank directly from the underneath of the shell plate, eliminating the need to put temporary attachments onto the side of the shell and with that, removing the need for a significant amount of welding, grinding, and manual handling. Resulting from this is a reduction of safety risk and of the time required to undertake the jacking procedure," he explains.
Since the beginning of 2019, Wood has been working with a UK Palm Oil company on a major project that involves the design and construction of 16 atmospheric tanks for the storage of palm oil. "Halfway through the 12-month programme, we are very pleased to say that the project is going extremely well and we are on track to meet our deadline," Nick points out. "Another key contract for us is the long-term maintenance agreement we have with a large England based refinery to repair their existing tank infrastructure. We have been their trusted partner since the 1990s and this longstanding relationship testifies to the quality of service we are capable of."
What Nick identifies as the biggest challenge during these and any other projects, is the safe delivery of the work. "There is a significant number of hazards that need to be managed," he maintains. "Within Wood, we have a set of 'Nine Life Saving Rules' that gives guidance on how critical risks should be managed. These are associated with things like working in confined spaces, working at height, hot works, working with suspended loads or working with plant & machinery. These hazards are all prevalent on our projects and need to be managed.
"The way we aim to resolve these issues, is through eliminating or reducing these hazards early on in the project," Nick sheds light on Wood's approach. "The planning stage is a crucial period for hazard reduction. Once we have looked to design out the construction risk or reduce it, then we can move into the construction phase of the project. Going into construction, we engage with our teams to ensure that everyone understands and is satisfied with the safety practices to be used."
In conclusion, Nick cites the three main areas where Woods storage tank services operations will be directing its attention to in the coming years. "First of all, we aim to have an ongoing portfolio of new builds in the UK. Our goal ideally is to have one or two contracts ongoing each year. Traditionally, there are a relatively small number of new build projects each year and we hope to secure a reasonable market share of these.
"Another part of the business that is central, is our ongoing long-term maintenance frameworks with our customers. The work we are doing in the English refining sector is a very good example of this. Refineries are looking for service providers who offer cost effective, safe and quality services along with ongoing continuous improvement. This fits with the Wood vision, and we want to be in this space for the long term in partnership with refineries throughout the UK, where both parties can benefit and improve through collaboration."
Last but not least, Nick emphasises Wood's ambition to advance its minor repair services offered through our Workshop Fabrication & installation service; in a way that reflects customers' current needs. "Smaller storage terminals of which there are many throughout the UK, are looking for companies who are agile and responsive to their needs; can carry out the necessary repairs, and be available again on a flexible basis in the future. In this sense, we shape a service where there is no need for the permanent presence of a workforce on-site. Complementary to this is our inspection service, with our team carrying out fitness for service assessments to determine whether a tank needs repairing or it is good to stay in service. Taken together, the growth of these three sides of the business I just discussed, will ensure continuous employment for our staff and will allow us to expand in a sustainable manner," he wraps up.
Wood
Services: Design, construction, inspection, and repair of storage tanks