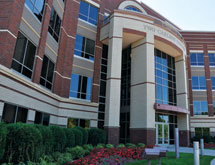 Woodbridge Financial Group
The recent boom in the oil and gas industries of North Dakota and Montana has brought rapid growth to companies across a variety of sectors. Many companies went from having just a handful of employees and $1 to $2 million in annual sales to revenues in excess of $20 million and a sudden need for additional employees. These financial and organizational changes have required some companies to seek outside guidance to capitalize on their potential growth and opportunities for greater profitability and liquidity.
Woodbridge Financial Group, founded and managed by Steven Goldfarb and Stephen Haas, has been at the forefront of investment banking services for companies in North Dakota for more than 10 years. Woodbridge focuses on meeting the needs of privately owned companies serving the oil and gas industry.
Services and Challenges
Goldfarb and Haas have more than 50 years of combined experience in investment banking services. The duo started doing business in North Dakota before the current Bakken boom, and developed an understanding that the imminent growth would require their knowledge and connections to the capital markets.
"The biggest problem companies in the Bakken are facing right now is they have outgrown their ability to finance their own growth, so they need access to institutional capital," Haas explains. "We represent a link to buyers of businesses, financial partners and institutional capital."
What Woodbridge brings to the table is knowledge and connections that people running an oilfield services business might not necessarily have. "We know who is interested in lending," Goldfarb says. "We can bring [oilfield service companies] credit facilities they wouldn't have found on their own to provide them with the financing they need to continue to grow."
Emma Miller, an associate at Woodbridge, notes that working closely with companies in the area gives Woodbridge a thorough understanding of the great economic potential. "The growth [in the Bakken] is going to continue for at least another 30 years," she says. "There is a lot to be achieved out there, so we can convince potential investors of the opportunities still available in the area."
The menu of business advisory services offered by Woodbridge is comprehensive and includes representing clients when they want to sell, recapitalize, or raise debt or equity capital for their businesses. The typical Woodbridge client is a growing company with revenues between $10 and $200 million. Woodbridge is currently seeing a trend of Williston Basin business owners seeking new sources of financing, either because they've outgrown their current bank, or because they need growth capital to finance one of the many regional infrastructure expansion projects.
Woodbridge is also able to assist individuals with mineral interests to obtain financing for authorizations for expenditure (AFEs) or liquidity. Woodbridge has extensive experience representing clients in the sale of mineral assets, such as leases, royalties and production.
When a client is ready to sell the business, Woodbridge helps to position the client in the most favorable financial situation. "We provide business owners with a strategy to build value prior to a sale and then help to position the business so that, when they're ready to sell the company, they've done the necessary things to maximize the value in a sale process," Goldfarb says. Woodbridge has extensive experience facilitating and structuring the sale of companies to both strategic acquirers and private equity groups.
Woodbridge's unique background in the Bakken shale and understanding of the industry's current direction is one of its strong points. The firm has developed an unparalleled offering of services to individuals owning oilfield assets and private oilfield service companies operating in the Williston Basin.
"We have invested a great amount of time and resources understanding this region," Goldfarb points out.
"We also have spent a great amount of time coming to understand what our clients need and advising them on the path to liquidity or financing, while being realistic about what they can accomplish," he continues.
Helping Businesses
Although development of the Bakken shale oil resource has taken off to a new level in the last five years as a result of improvements in hydraulic fracturing technology, the Williston Basin, where the Bakken is located, has been producing oil for the last 60 years.
This production has been serviced over the years by a number of established companies. Many of these Williston Basin companies have been operating for years and the owners are now at a stage where they are contemplating selling. However, before they can sell they need to update their financial systems and internal controls.
Woodbridge has the experience and relationships to help a business find the appropriate resources to prepare for a sale. These resources provide accounting and internal control systems, and other additions to the organizational structure.
Recently, Woodbridge had an oilfield services client with years of experience who wanted to sell the business. "The problem the company had getting liquid was that a new buyer would expect a certain level of financial controls in the business, which in this case did not exist," Goldfarb explains. "They did not have the ability to know with certainty what was going on in their business every day, which was OK a few years back when the business was smaller, but not in today's market."
The professionals at Woodbridge knew they couldn't sell the company in its current state, so they brought in a new accounting firm to audit the company's books, install a new accounting system and strengthen internal controls. In addition, Woodbridge recommended that the company hire a controller and a CFO. The company made these changes to its financial and organizational structure, and, with these changes in place, was subsequently sold at a high valuation. "It took us a year to get the business ready for sale, but we provided a tremendous amount of added value," Haas explains.
Reputation Fueled Growth
North Dakota is a unique financial market that, despite huge growth, has retained its small-town approach to the way it builds business relationships. Haas and Goldfarb understood this from the beginning and it has contributed to their success.
"In North Dakota, people do business based on trust," Goldfarb explains. "We have grown because our clients are satisfied and they tell other people. It's a close-knit community."
The professionals at Woodbridge have spent decades building trust and relationships in the world of finance. Their commitment to North Dakota and the Bakken has built the kind of trust that has long defined North Dakota business. It's a powerful combination that's yielding results for Woodbridge clients.
The company has a commitment to help oil and gas businesses in the Williston Basin achieve their financial goals. "In 2009, when oil prices dropped to $30 a barrel, a lot of rigs had to shut down because it wasn't financially viable to produce at that price," Goldfarb explains. "Investment bankers from New York and Houston that had come to the area to do business, left as soon as the prices went down.
"We stayed and increased our marketing efforts; we didn't leave, and people saw that," Goldfarb adds. Woodbridge Financial Group sees years of business ahead in the Bakken. The company plans to continue its focus on helping North Dakota and Montana clients reach their financial goals.