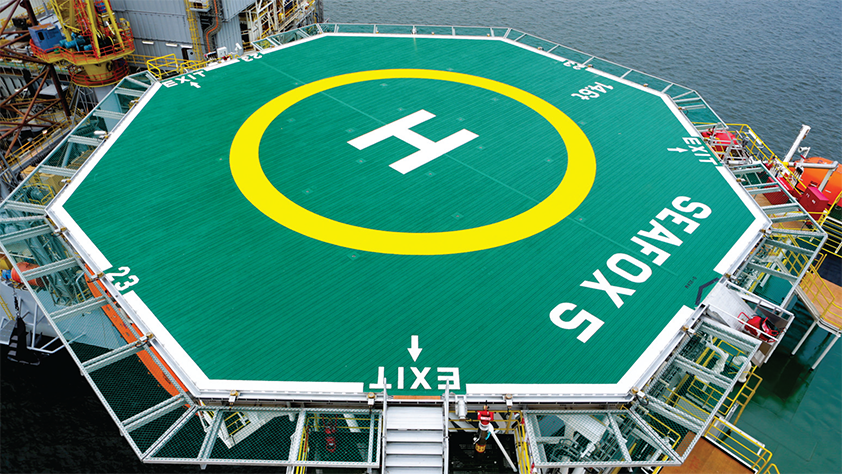 Ahead of the rest
Workfox BV, a leading service provider in the accommodation, construction, lifting and maintenance support segment of the global oil and gas industry, has been established as the exclusive manager of the Seafox fleet since 1991.
With over 20 years in the business, it operates and manages services jack-ups for oil majors in the North Sea. "Initially, the use of service jack-ups was predominantly a niche market, particularly in the North Sea sector. We started our company with only one or two operational jack-ups in the North Sea and, based on that niche expertise, we built up Workfox as the demand for these types of vessels became more noticeable and clients became more frequent in their requests for this type of unit," explains Keesjan Cordia, managing director/chief executive officer of Workfox.
Not only does Workfox manage and operate accommodation and multi-support units, the privately owned Dutch ship-management company also offers many other solutions to the oil and gas sector, such as platform breakdown repairs, electrical power supply, well testing and wind turbine installations. "We are always looking out for new developments in our market and how we can efficiently contribute our part of the equation," says Keesjan.
The company's main customers are major oil companies, including Shell, Total, GDF and Centrica, with the latter working with Workfox on a number of projects. "We worked with Centrica on two different units in the east Irish sea in the Dutch sector and in the UK sector in 2012. It was the first time we developed a longer-term campaign with this client using a support jack-up for its services. Centrica normally shuttles helicopters for IRM related scope. Using a service jack-up for IRM work enabled the client to optimise offshore manhours, and with the support equipment (cranes and deckspace) on our Seafox units more efficient and safe operations can be executed. We believe that Centrica will carry out more with us in the future."
Operating from offices in Hoofddorp, the Netherlands, Workfox has built up a professional and dedicated organisation with a strong focus on safety and operational excellence and supporting client activities. It has successfully managed the Seafox Fleet for over 20 years.
There was a fundamental change in the energy industry in 2006, with society expecting companies working in the industry to find a greener and more sustainable way of working. It was clear to Workfox that the renewable energy sector required a new kind of vessel, one that could service traditional activities in the oil and gas industry, such as decommissioning, well intervention and construction, but could also work in the many different conditions required for alternative wind turbine installations in the offshore wind industry.
The concept of Seafox 5 was created in 2009, leading to discussions with Keppel Fels, the offshore and marine division of Keppel Corporation. The unique partnership between these two industry leaders on the Seafox 5 wasbased on a mutual respect and interest from both sides on making a contribution to the sustainable market. "We wanted a good yard that could build the vessel in the right timeline and on a secure budget; to us that was critical from the start, and Keppel is the most experienced jack-up builder in the world. For Workfox, and also for Keppel, it was important to contribute to the renewable market," Keesjan explains.
Built as both a ship and a platform, the unique and flexible Seafox 5 will be helping to bring energy to homes in the next tenyears. The concept and design of the state-ofthe-art multi-support vessel was created by Workfox and built in Singapore by Keppel Fels. Compared to other jack-ups, Seafox 5 has a more operator friendly design and can cope with high demand with its ability to deployon a daily basis; it has a 7000 tonne deckload carrying capacity, meaning it can carry ten 3.6 megawatt wind turbines or four heavy foundations weighing in at over 1000 tonnes.
The Seafox 5 includes a heavy-lift pedestal crane, the biggest of its kind that is capable ofhoisting 1200 metric tonnes; the 150 metre longby 50 metre wide vessel also boasts two forward retractable thrusters that give it the ability to sail in shallow waters. Permanent accommodation on board the vessel is of a high standard and includes leisure facilities for up to 150 persons on board (POB). It was christened in August 2012 and is now situated in the DanTysk Wind Park, where it is working on installing monopiles and transition pieces. Seafox 5 will install 80 monopiles in total, the first of which were installed on the 28th of February for the owners of the offshore wind farm Vattenfall and, Stadtwerke München.
The Seafox 5 is a new direction for Workfox, as Keesjan explains: "With the interjection of this new vessel we are going outside our usual boundaries, but having looked into the market demands for the next ten to 20 years we decided to get involved with bringing the Seafox 5 to the market in late 2012. In the last 20 years we have kept a leading position in our sector and that is due to our operational excellence and dedication to being open to market demands or requirements."
The economy has been difficult for a majority of markets, including those in the oil and gas industry. Aware of this, Workfox has retained its innovative edge and is keen to continue developing and delivering services safely and efficiently to its clients. "There are always challenges, but with challenges there is always opportunity," says Keesjan. "We have been lucky because we have continued to be successful in making sure our piece of the equation was affected the least during this difficult period. We have been very successful, both financially and operationally, and over the next few years we aim to carefully examine how we can further help our clients deliver their products or services. The North Sea is a mature market so we need to make sure we are working with our clients to ensure that production continues in the region."
Looking to the future, Workfox is keen to keep its market leading position, while looking for potential opportunities on an international scale. The company also aims to invest and renew its fleet further in 2013 and, having sold jack-up units Seafox 3 and Seafox 6 to Coastal Energy in 2012, is seeing potential in the mobile offshore production units (MOPU) market. "In these times it is important you do something new, or contribute towards something innovative, something that defines you from the rest. You must also be able to deliver a service at the highest level, and these are things that we have done and will continue to do," Keesjan concludes.
Workfox BV
Services: Manage and operate accommodation and multi-support units