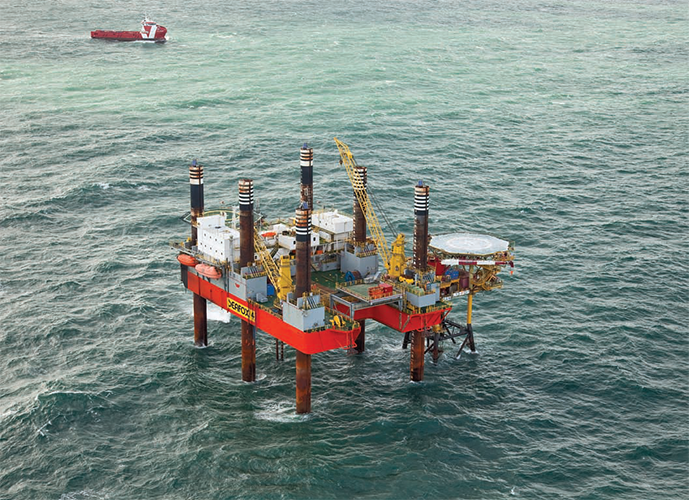 Game changing designs
With more than 20 years experience as the exclusive manager of the Seafox fleet, globally renowned Dutch firm Workfox BV has evolved into a leading service provider in the accommodation and crane support, well testing and workover construction, and decommissioning support sectors of the wind and oil and gas industry.
Established in 1991, the Hoofddorp based company began operating and managing self-elevating accommodation and maintenance support units in the North Sea; viewed at the time as a niche market, Workfox BV was in an advantageous position when the demand for these vessel types grew steadily over the years. All specifically designed and constructed for operations in harsh offshore environmental conditions, particularly the Southern North Sea area, the Seafox fleet offers versatility and efficiency when providing solutions to customers with a diverse range of requirements.
As more stringent regulations were enforced in the oil and gas industry in 2006, companies were pressured into finding a more green and sustainable way to operate. During this time of change, oil majors also began embarking into deeper waters and more challenging climates, which resulted in personnel spending increased periods of time offshore and higher demands for improved quality in regards to accommodation standards. Dedicated to quality and safety in all operations, Workfox invested in major upgrades and refurbishments to ensure its Seafox units were completely compliant with the standards and legislation enforced onto the North Sea. Since then, the company has retained an ongoing high standard of hygiene and comfort for its accommodation units through a continuous improvement programme, which is developed and closely monitored with the assistance of clients.
Capable of year-round operation in water depths up to 70 metres, the Seafox fleet offers ample deck space and multiple cranes on board, while its accommodation capacity reaches up to 235 crew in both single and double cabins that all meet the latest stringent high standards of comfort and hygiene. However, comfort and hygiene are just two key requirements for employees in the oil and gas industry of today; to deliver a pleasant, enjoyable and entertaining life on board the units, the company has added high quality leisure facilities such as a cinema, a gymnasium with cutting-edge work-out equipment, internet and e-mail facilities, a satellite entertainment system and client meeting rooms and offices.
The company's ability to find solutions to the changing needs of an evolving industry through researching and anticipating future market demand over the next two decades is a key reason behind its long-term success and retained market position. For example, upon realising a new kind of vessel was required in the renewable energy sector, Workfox came up with a game-changing concept in 2009 with the Seafox 5, which was developed to service traditional activities such as well intervention and construction and decommissioning while also being capable of operations in a broad variety of different conditions as required for wind turbine installations.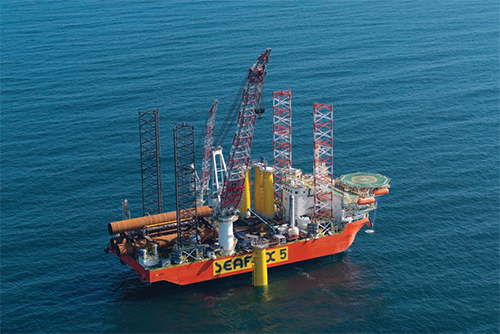 Once the concept of the ultra-modern, new build self-propelled installation jack-up vessel was created, Workfox developed a close partnership with Keppel Fels, the offshore and marine division of Keppel Corporation and the most experienced jack-up builder in the world. Built as both a ship and a platform in Keppel Fels shipyard in Singapore, the highly versatile Seafox 5 boasts a range of unique features to help it bring energy to homes over the next ten years. With a more operator friendly design, the vessel is able to meet all installation and support requirements in water depths up to 65-70 metres in the Southern and Central North Sea for customers in the oil and gas and offshore wind industry.
Capable of performing turbine foundation installations, turbine installations, well services, platform services and turbine hook-up and maintenance services, the Seafox 5 can handle high demand with its ability to deploy on a daily basis; it also boasts a 7000 tonne deckload carrying capacity, enabling it to carry ten 3.6 megawatt wind turbines or four heavy foundations that weigh in at more than 1000 tonnes. Other features include the biggest heavy-lift pedestal of its kind, which is capable of hoisting 1200 metric tonnes, two forward retractable thrusters for shallow water sailing, and high standard permanent accommodation and leisure facilities for up to 150 persons on board (POB).
Christened in August 2012, the Seafox 5 has since completed its first wind installation project at the DanTysk Offshore wind park, based in the German North Sea; ending on the 13th December 2013, the project involved the installation of 80 monopiles and transition pieces for the main contractor Aarsleff Billfinger Berger Joint Venture (ABJV) and owner DanTysk Offshore Wind GmbH (DTOW). Following this, the vessel arrived back in Esbjerg, Denmark, for demobilisation and mobilisation for her next project with Maersk Oil in Danish waters. Providing accommodation and construction services alongside platform Tyra SE-A, Seafox 5's second project is a step away from the offshore wind industry and a move into the oil and gas industry.
Reflecting a decrease in the offshore wind construction market, the contract offers full operation for the vessel before she heads to the Hejre field, Denmark, to service the operations of Dong Energy E&P. Announced in February 2014, the contract with Dong Energy E&P is the latest of a multitude of contract awards for the firm, which includes an extended contract with Siemens AG for the Seafox 7 and hook-up support at the Juliet and Cygnus fields in the Southern North Sea. Meanwhile, existing clients have added Seafox units to their upcoming programme period for the provision of asset integrity and frequent O&M services.
Workfox's decision to focus on innovation and the continuous improvement of its operations, while remaining open to market demands in an at times turbulent economy has held it in good stead. Not afraid to step out of its usual boundaries to deliver groundbreaking solutions, Workfox used its expertise and capabilities to provide a solid foundation for future success in a turbulent industry.
Workfox BV
Services: Operate and manage accommodation and support units