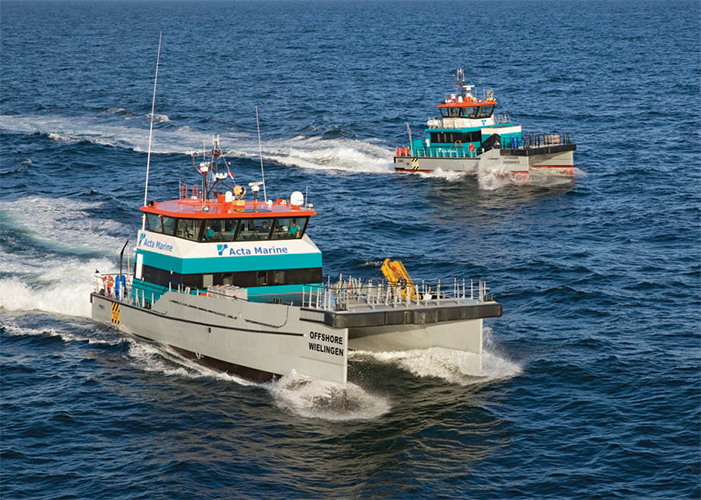 Investing in the future
A leading asset manager with a strong global presence and 25 years experience in the management of drilling and service platforms, vessels, crewing, procurement, vessel audits, logistics and concept development, Workships Contractors BV is well reputed for its ability to provide reliable and competent services to the offshore oil and gas and renewables sectors. Today the organisation boasts 11 high quality vessels within its wind as well as oil and gas business segment, all of which receive regular investment to ensure customer satisfaction through the optimum delivery of services.
Proud of its diverse portfolio, the company has developed expertise in all aspects of the offshore industry since its foundation in 1988; a strength that has naturally led to the provision of services to the offshore wind industry via its subsidiary Offshore Wind Services BV (OWS). Having cemented its reputation through the provision of over 400,000 safe transfers since 2006, Workships Contractors was keen to continue growing OWS into a complete vessel solution provider. To do this, the company focused on enhancing safety activities within OWS' operations and increasing its fleet of dedicated crew transfer vessels (CTVs) from one to ten over a period of two years. Moreover, OWS further boosted its presence within the offshore wind market through the acquisition of Offshore Wind Power Marine Services (OWPMS) in 2012; a pioneer in safe crew transfers to the UK based offshore wind farms.
In March 2015 OWS was acquired by Acta Marine and in line with this change, renamed to Acta Marine Wind Services. Despite the change in ownership, Acta Marine Wind Services is still managed by Workships Contractors and is today able to offer clients a range of ten high quality wind farm services vessels and the wellknown diving support vessel Offshore Beaver. As part of the acquisition, Offshore Wind Power Marine Services Ltd (OWPMS), one of the most well reputed, in the UK based operators in the offshore wind crew transfer industry, also became part of Acta Marine Wind Services. Based in Den Helder, The Netherlands, Acta Marine boasts a fleet of 50 vessels that operate across the globe and its acquisition of OWS is part of a strategy to increase growth in the offshore wind market. The deal will result in a combined network and a merging of strengths that will generate synergies in the future, while also benefiting clients who receive an expansion in fleet options and services.
In May 2014 Workships acquired the multipurpose/diving support vessel, Offshore Beaver, which has 32-pax accommodation capacity, a 25 tonne crane, salvage winches and a four-point mooring system, which makes her a truly multipurpose vessel. The ship is capable of laying her own anchor pattern, acting as mother ship and can provide oil spill response solutions. She is a known vessel in the offshore industry and has been doing various works, including anchor recovery, oil spill support, diving support and mattress laying in the North Sea.
The ISM code and ISO9001:2008 accredited Workships Contractors, has already adapted a conscious Health & Safety approach in its operations and is now also in the process of being OHSAS18001 certified.
In addition to the above associations, Workships Contractors has also developed a positive working relationship with BMOOffshore, a designer, developer, constructor and operator of integrated measurement solutions for the offshore (wind) industry. Used in all stages of offshore wind projects, the company's integrated measurement solutions include the VesselBlackBox, a flexible, integrated and robust vessel motion monitoring system for CTVs. In addition to motions the measurement equipment also measures and records positions and speed, combined with video footage. Through utilising innovative sensor solutions from the aerospace industry, the VesselBlackBox offers superior performance and a significant cost reduction in comparison to other conventional sensors in the offshore industry. Installed as a stand-alone unit by BMO, the system is directly operational and easily transferrable. Attracted to the Vessel BlackBox's ability to deliver automated daily reporting on vessel movements and automatic video recording of accidents and near misses, most vessels have been equipped with the Black Box. Depending on customers' requirements and business processes BMO's technology can also be beneficial on various other vessels in the offshore industry. BMO's services enables clients to increase its reporting accuracy and customer services. Next to their sophisticated echnology, BMO also delivers consultancy services based on data analysis of any kind.
Through mutually advantageous co-operation with its associates as well as continued investment in its ships, staff and safety, the future looks positive for Workships Contractors as it maintains its strong reputation for optimum reliability.
Workships Contractors BV
Services: Marine asset manager and vessel operators
Issue 122 July 2015