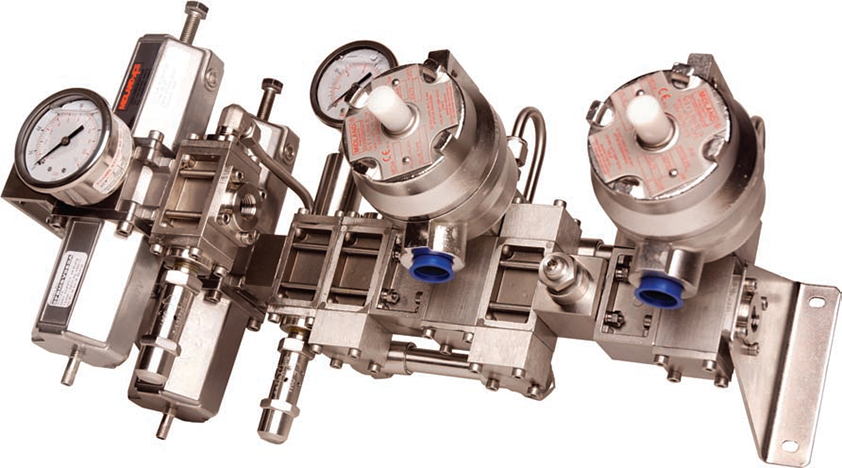 Full control
In October 2011, Xylem completed its spinoff from ITT Corporation, and began a new chapter as a leading global water technology company with operations in more than 150 countries.
The business has a strong history in providing pumping and water transportation solutions across residential and commercial building services, industrial and agricultural settings.
Xylem is comprised of four business units: Water Solutions, Flow Control, Analytics, and Residential and Commercial Water. Each division is interconnected to anticipate and reflect evolving market needs and shares its knowledge to cover every stage of the water cycle. This model enables customers to transport, treat, test and efficiently use water in public utility.
Through a number of market-leading product brands, its people offer broad applications expertise, focused on finding local solutions to the world's most challenging water and wastewater problems.
European Oil and Gas magazine spoke to Paul Aston, an expert in gas valves at Xylem Flow Control about the industry and potential for growth: "Since our inception, we have been recognised in the oil and gas industry as premier designers and manufacturers of 316L stainless steel equipment. The ability to address problems and provide solutions for control of hydraulic and pneumatic actuated process valves, both on and offshore, has set us apart from our competitors, setting a strong foundation within the industry as we continually help to deliver sources of energy.
"The company's purpose is to provide technical support and solutions to the engineering community whilst offering well designed, reliable pneumatic and hydraulic equipment for severe service environments."
Xylem Flow Control designs bespoke systems for hazardous areas, and explosion proof severe service control systems. Under the main brands – Midland ACS and Alcon Gas Valves – Flow Control offers pneumatic valves, modular pneumatic controls and electro-pneumatic valve actuation systems.
"There is a wide variety of products available within each category, designed for different applications. As an example, local control panels for hydraulic and pneumatic actuators can be supplied to meet project requirements and manufactured in 316L stainless steel with IP66/67 ingress protection, the panels can cope in demanding, hazardous and corrosive environments. Our tailor-made hydraulic and pneumatic valve control systems can be produced as manifold designs to eliminate costly pipework and fittings, resulting in weight and space savings which are crucial considerations in the oil and gas industry," explains Paul.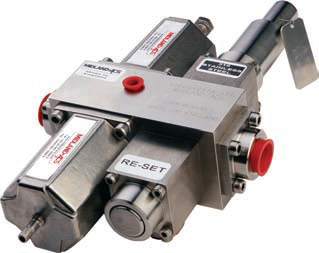 Xylem Flow Control's main customers are tier one suppliers into the oil and gas sector. It also recognises the key importance of designers and manufacturers of electric, pneumatic and hydraulic valve actuators and gearboxes, including major process valve manufacturers. With a strong presence around the world in the US, Australia, Africa, Brazil, Korea, UAE, Saudi Arabia, Russia and the North Sea sector, its specialty relates to fixed or floating on and offshore platforms and Floating Production Storage Offloading (FPSO) vessels.
Its global reach enables the company to understand the market conditions in general, as Paul describes: "Overall the sector is strong, and it has been continuing to grow over the past few years. I'm expecting to see more growth in FPSO conversions and new commissions, with more opportunities emerging due to the flexibility and mobility of this type of platform, opposed to a fixed approach.
"The oil and gas industry is facing the pressures of extracting from smaller fields, and from this comes the need to drill much deeper than was previously required, and at times at subsea levels. In these situations, it is vital that every platform is designed to be as energy efficient and productive as possible."
In the UK, under Midland ACS, the company has recently launched a new compact filter regulator to complement the existing range of air service preparation equipment. The stainless steel compact can be used across many industries, including oil and gas, both severe on and offshore, refinery, power generation, pulp and paper process plants. Paul sheds light on this design: "It has been constructed with a moulded reinforced diaphragm and fine adjustment dual springs to ensure accurate regulation for high efficiency instrument air, sweet and natural gas processes. The regulator incorporates a 5cc removable condensate manual drain bowl containing a 25μm filter, providing clean moisture free gas filtration to expensive downstream critical equipment, while still maintaining a high flow capability.
"The product copes with temperatures ranging from -20°C to 80°C, with a 1bar differential flow rate of 550 litres per minute and can withstand pressures of up to 20bar as standard. Additionally, the design of the regulator means the inlet and outlet connections are on the same plane, and not only offers filter and control gas regulation, but is also simple to install and maintain. It is the ideal solution for demanding environments such as oil platforms. A 1/8" NPT gauge port is provided to facilitate the setting and maintaining indication of regulation control either visually or electrically via a transducer."
Flow Control puts emphasis and focus on the demands of the industry so that it is able to deliver tailored, bespoke solutions. This involves adapting to a range of customer requirements and requests with a clear understanding of the needs within its target sector.
"We keep an eye on the oil and gas industry to work out how we can improve certain processes. An example is our approach to aid users of regulators and filter regulators. We noticed the consequences of the failure in service of such equipment, including potential for damage to pressure sensitive instruments, actuators and process valves. These difficulties commonly result in unscheduled production shutdowns and expensive repairs so to combat this problem, we extended our air pressure equipment range to provide solutions for a wider variety of applications," adds Paul. The development of The Over Pressurisation Device (OPD), designed specifically for severe offshore environments, demonstrates Flow Control's commitment to industry improvements and bespoke solutions.
Moving into the new year, Paul concludes: "Signs of growth are clear within the subsea sector. In recent years the possible depths of extraction for oil and gas have become gradually deeper. Worldwide expansion is also a key trend, and enquiries are expected from areas that have not previously been big players on the map of oil and gas. Over the next three to five years we expect further growth and penetration into the oil and gas industries along with more new and innovative products aimed at supporting the market needs."
Xylem Flow Control Ltd
Services: Global water technology company