A watertight solution
With over 50 years' experience, Midland-ACS has developed an outstanding reputation as a global designer, manufacturer and supplier of 316 stainless steel valves and actuator control systems.
Working primarily in the oil and gas industry, the company has continually evolved and expanded its capabilities of hydraulic and pneumatic valve solutions.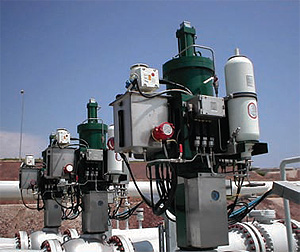 As legislation introduced a Safety Integrity Level (SIL) on various products, Midland-ACS has had a wide range of its actuator control valve products assessed and certified to support SIL capability. All products that have been certified are now supplied to clients complete with copies of the SIRA certification, which gives all the necessary information needed by engineers and designers to calculate the safety integrity level of the systems. "The components that we use have to be certified to a certain level within the SIL specification and the SIL standard, which is an ISO or European norm standard that all companies should be working towards in the oil and gas industry," says Steve Mullen, sales manager for Midland-ACS & Alcon Valves, EMEA at Xylem Flow Control Ltd.
Founded in 1956, Midland-ACS has developed a reputation as a premier designer of high quality, innovative products in the oil and gas industry. Many of its brands are used on emergency shutdown valves and main process valves, which are required to be used on any equipment placed on offshore and onshore installations as a prevention to any potential catastrophic events. To ensure safety for its clients and to keep up with the specific demands of the oil and gas industry, the division works very closely with its major OEMs as well as the EPCs. The groups recently collaborated to design a system that will allow the emergency shutdown valves to open or close to a strictly specified time scale. Innovation is important to the business, which prides itself on its ability to create ingenious solutions to any challenge. With stringent quality control and strong attention to detail, the division is at the forefront of design and manufacturing.
Being part of Xylem, a leading global water technology company and recent stock exchange spinoff from ITT Corporation, is a considerable benefit to Midland-ACS. Xylem has operations in over 150 countries, a workforce of more than 12,500, and had revenues of $3.8 billion in 2011. It is proud of its successes and aims to solve the most challenging water problems for its customers through its three comprised business units – water solutions, analytics and applied water systems. "At an oil and gas facility they will also need pumps, filtration equipment and analytics. We have different divisions within the Xylem Corporation to supply all of those things and as we move forward we are trying to generate a package offering from the corporation to solve problems in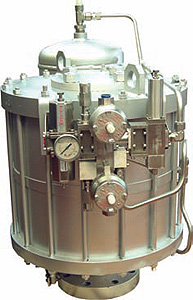 specific areas," explains Steve.
With various products and services on offer, the division dominates the marketplace with its International Modular Pneumatic Actuator Control Technology (IMPACT 2000), a high integrity modular pneumatic actuator control assembly that was introduced to the market just over a decade ago. Taking a lot of the individual components, it manifolds them together to create a modular offering that saves clients with FSPOs and offshore installations critical amounts of space, weight and installation time. "There are a lot of savings that can be made from using IMPACT instead of individual components that need to be piped together. Not only do you save on space and installation costs, you also prevent potential accidents because you aren't screwing together fittings with pieces of tube in," says Steve. It is believed that 35 per cent of incidents registered to the offshore establishment are caused by leakages in the small onboard tubing installations.
Although under the Xylem umbrella since October 2011, the company is well known in the oil and gas industry as Midland-ACS. With aspecific area of expertise in the energy sector, the division has achieved great success on projects, including a recent major venture with Total and DSME in Korea. The CLOV FPSO will be a huge, self-contained floating production vessel that will measure 305 metres in length, 61 metres in width and will weigh 110,000 tonnes. Built in South Korea, CLOV FPSO will be able to produce 160,000 barrels of crude oil per day and treat 6.5 million cubic metres of natural gas per day. For the project, Midland-ACS is working on the hydraulic valves and also secured the actuator control systems for the emergency shutdown valves.
Despite the recent downturn, the current market looks positive for Midland-ACS, which is working on various projects including one for Brazil and has also worked in the Middle East, Russia, Africa, the Caspian and other main oil and gas areas throughout the world. The company is keeping a close eye on changes in its industry and aims to continue evolving to meet the demands of clients worldwide. "The projects are there and we are certainly looking to work more on having products suitable for FPSOs and for deepwater drilling. FPSOs are certainly becoming a big part of the oil and gas industry as the price of oil rises and customers are venturing into deeper waters, and the business is making sure our products are suitable for these ventures," adds Steve. Well established in the industry, and constantly striving to provide the best solutions and products to its customers, Midland-ACS is sure to be prepared for any potential leaks ahead.
Xylem – Midland-ACS
Services: Stainless steel valves and actuator control systems