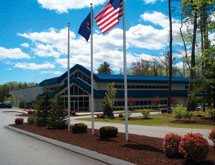 Yale Cordage has been proving just how much rope is capable of since it was founded in 1950. A custom and specialty rope manufacturer, Yale Cordage designs application-specific ropes that use synthetic materials and high-quality braiding techniques to make rope and related products for an array of applications.
"Our salespeople have a lot of technical experience, and we listen to what our customers tell us," President Bill Putnam says. "We know a lot about fibers and machinery, and we can come up with ways to fix problems. We continuously ask questions about what our customers are doing and what their problems and safety issues are so we can think of solutions using synthetic fibers."
The company's products include winchlines, stringing lines and blocklines for utilities; fiber-optic pulling lines for telephone construction; bull ropes and climbing lines for arborists; safety lanyards and lifting slings for industrial applications; and ropes for marine applications. Many Yale Cordage products are eight times lighter and more than two times stronger than steel cable of the same diameter, Putnam notes.
"As a producer of synthetic ropes, we try to replace wire, steel and chain in tension systems used for lifting," Putnam says. "We can make a rope that is double the strength of wire rope in the same diameter while still weighing less. We know that is an advantage in terms of ergonomics, safety, handling and the size of equipment."
Diverse Use
Yale Cordage manufactures product and provides engineering and application support for many industries. Industries supported by Yale Cordage include power utilities, arborist and timber harvesting, marine, government, military and mining.
In the mining industry, Yale Cordage has been able to address a variety of problems faced in underground operations. Traditionally, the mining industry relied on wire, which is prone to rust and can develop fishhooks and kinks. Yale Cordage developed its Ultrex line of synthetic mining ropes that are designed to be stronger, safer and lighter.
Additionally, the company developed the Cat's Eye Ultrex product for underground mining. Not only does it maintain the strength of Ultrex, it includes a reflective component so it can be better seen underground.
"The visibility issue was also huge for mining companies, and we came up with a solution that no one else had been able to provide," Putnam says. "Because we are smaller, we can customize products for specific applications."
Always Improving
From its facilities in Maine and North Carolina, Yale Cordage continues to develop machinery to process fibers. It regularly invests in new fiber technologies so it can be the first to incorporate them into rope and cable products.
Acquisitions have been another focus. In 2001, Yale Cordage was part of a group of investors that acquired the former Crowe Rope Co. in central Maine, returning it to financial stability as Orion Ropeworks LLC. In 2006, the company acquired the assets of the former Wall Rope in North Carolina.
In the years ahead, Yale Cordage plans to explore opportunities domestically and abroad. Putnam recently attended MINExpo 2012 in Las Vegas and went on a networking trip to China. He believes Yale Cordage can take its expertise around the world by staying nimble and expanding on its core competency.
"We are in many diverse markets, and we help our markets understand that there are synthetic solutions in tension and lifting, rather than using steel or chain," Putnam says. "Ours are highly engineered products, and we always look to be first to demonstrate how synthetics can solve problems."