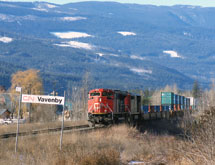 A once-dormant copper-gold-silver development in British Columbia is seeing new life. Vancouver-based Yellowhead Mining Inc. in March 2012 completed a feasibility study on the Harper Creek project, which was initially explored in the late 1960s/early 1970s.
Yellowhead formed in 2005 specifically to acquire, explore and eventually develop the project, which was formerly drilled by U.S. Steel and Noranda Exploration as a joint venture before exploration was discontinued in 1974, with the venture later dissolved in 1981, leaving the site in two major portions owned by each respective company. Since taking over the site, Yellowhead has drilled 318 holes totaling 78,164 meters.
With mineral prices higher than they were during the 1970s, a more favorable political atmosphere toward mining exploration and development, along with advanced technology available that didn't exist 40 years ago, Yellowhead is poised to succeed where its predecessors were unable. The feasibility report indicates the mine will have an estimated production of 3.63 billion pounds of copper, 372,000 ounces of gold and 14 million ounces of silver in concentrate over a 28-year lifespan. Harper Creek is estimated to have a milling rate of 70,000 tonnes a day. "We operate on the 'Walmart principle' of high volumes and low margins," President and CEO Ian Smith says of the project's expected yield.
With the feasibility study complete, Yellowhead Mining is now focusing on completing its application for an environmental assessment certificate and permitting before construction can begin. Permitting is anticipated to take place in summer 2013, Smith says.
The company owns 100 percent of the project, having purchased both halves from the former owners. A U.S. Steel subsidiary will be paid royalties capped at $2.5 million, adjusted for inflation, and Xstrata – who purchased Falconbridge which in turn had purchased Noranda – will be paid royalties on the project beginning in the 16th year of mining production. Thus far, Yellowhead has raised more than $45 million from investors to pursue the project, and has been publicly traded on the TSX-Venture Exchange (TSX-V) since November 2010 and the Toronto Stock Exchange since June 2012.
Yellowhead's senior management, led by Smith and Chairman Greg Hawkins, each have extensive experience within mining and geology. Hawkins has been involved in identifying 10 mineral deposits in Canada, the United States, South America and Africa, while Smith has more than 40 years of experience in the international mining field, most recently serving as president and CEO of bcMetals Corp.
An Attractive Location
Harper Creek is located roughly a six-hour drive north of the company's headquarters in Vancouver. "The property has several attributes that make it attractive," Smith says. "In addition to the location, there are two access roads leading directly to the site, so the amount of money we have to spend on supporting infrastructure is very small."
The site is eight kilometers south of Yellowhead Highway and the Canadian National Railway, giving it easy access to shipping modes. The access roads on the site were cleared by forestry activity. "We're in a very, very favorable location from the perspective that we don't have environmental issues with regard to the property itself," he adds.
The nearest town to the site is Vavenby, British Columbia, which is located within Simpcw First Nation territory. Yellowhead Mining is working closely with the Simpcw as well as the Adams Lake Indian Band, and has signed general services agreements for involvement in the baseline studies on the site with each.
Yellowhead is also negotiating a Benefits Agreement with the Simpcw regarding employment, training, contracting and educational opportunities. "We've told the community at large our preference is to hire locally first before we go outside of the area," Smith says. EMI