Floating new solutions
With a presence in eleven countries, Yinson Holdings is a world-leading energy solutions provider shaping the global landscape through the provision of modern, purpose-built assets for the energy industry. Established in 1983 by current Chairman Lim Han Weng, Yinson began life as a humble logistics company, but before long, the firm had launched itself into a trajectory of rapid growth.
By 2010, Yinson had become one of Malaysia's biggest transport firms, supplying customers with over 550 trucks and operating its own fleet of around 365. Soon after, the business expanded into marine transport and, after partnering with PTSC Vietnam, secured its first offshore contract with FSO Bien Dong. A few years later, Yinson had, among various other successes, acquired Fred.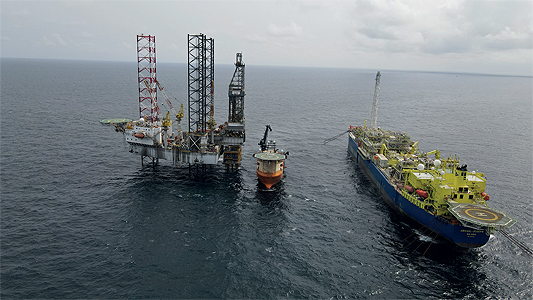 Olsen Production, won contracts in Malaysia and Nigeria, as well as locking down a major 15-year deal with ENI in Ghana for an FPSO handling 58,000 barrels of oil and exporting 210 million standard cubic feet a day. Jahn Atle Høgberg, Yinson's Senior Vice President of Business Development, discusses the company's current position following 37 years of irrepressible progress.
"Today, we have three business divisions at Yinson," he explains. "The first is Offshore Production, which at the moment is the biggest area. We specialize in the provision of integrated services for Floating, Production, Storage, Offloading, (FPSO) and Floating, Storage, and Offloading (FSO) units for the oil and gas industry. In this area, we control the full value chain – we sign the contract, build the FPSO, own it, lease it to the client and operate it for the long-term. The second division is Renewables, where the business model is also to build and operate our own assets, focusing mainly on wind and solar power. Finally, we have the Offshore Marine division which was our first focus and covers the ownership, operation, and chartering of offshore support vessels to service the energy industry. As you can see, it is pretty much the same business model in each division."
In terms of the Offshore Production Divison's latest activity, Yinson was recently awarded its first contract in Brazil. Widely regarded as an important step forwards for the business, the company is currently constructing a new FPSO for the Brazilian venture, which is due to begin operations in 2023.
Upgrade capabilities
"We've been following Brazil for many years and waiting for these projects to come to the market, so this kind of development was a target for a long time. When it finally came to market, we managed to secure one of the FPSOs inquired by Petrobras," Jahn reports. "Once constructed, FPSO Anna Nery is slated for continuous production for 25 years in the Marlim oil field in the Campos Basin, Brazil. The FPSO is a rather large unit, with a storage capacity of 1.6 million barrels, production capacity of 250,000 barrels of liquid per day whereof 70,000 barrels a day of oil and gas compression volume of 142 million standard cubic feet. The unit marks our entrance into Brazil which is without a doubt the biggest market in the world for FPSOs and will continue to be so in the years to come."
When completed, FPSO Anna Nery will be the newest addition to Yinson's growing fleet of modern FPSOs and FSOs at work around the globe. Alongside FPSOs in operation in Ghana, Nigeria, and Malaysia, the firm has joint venture ownership in one FSO and one FPSO in Vietnam. Earlier this year, the company's FPSO Abigail-Joseph (ex Allan) was subject to refurbishment and redeployment work that will allow the FPSO to operate in Nigeria for another 15 years as part of the first greenfield project by an indigenous Nigerian company, FIRST E&P.
"We hooked up this FPSO in August and we will be going forward with commissioning and start-up over the next months. The upgrade in the shipyard took about nine months, which is rather quick for an FPSO project. It underlines our Offshore Production Division's capabilities," Jahn says. "We're not really a technology-based company when it comes to equipment and so forth, but we focus on continuous improvement, meaning that we capture lessons learned throughout the whole FPSO lifecycle, from design to decommissioning, and then we deal with all these lessons in a systematic way that ensures we never make the same mistake twice and instead, repeat everything that has been successful.
"We ensure to draw a lot from the experienced people we have in the company which differentiates us from a new business. Even though the Offshore Production Division is not that old, we have probably as many experienced people as any of our competitors. They are the foundation of our success and we care about their skills, happiness, and engagement. As examples, we have launched several programs this year in support of personal development and performance recognition."
Business strategy
Throughout a challenging year for the industry, Yinson has bucked global trends and continued to hire new team members to bolster the company's workforce in support of its many ongoing projects. Despite the difficulties of working in various locations worldwide, the company reacted swiftly to the Covid-19 outbreak and has been able to operate efficiently and with a minimum of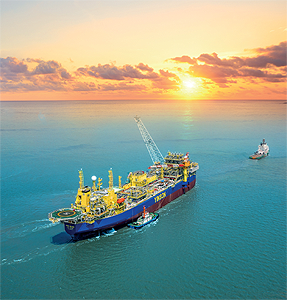 interruption across the board. The company's progress in 2020 under such difficult circumstances has endowed Yinson with a solid foundation on which it can continue working towards its mission of 'passionately delivering powerful solutions' across the energy sector, as a reliable, open, adaptable, decisive, and sustainable partner.
"I think our business strategy has helped us succeed," Jahn emphasizes, when asked about what he believes are Yinson's key differentiators in the market. "Along with value chain management and a quest for continuous improvement, we are also very good in the area of cost control and solutions. Adding on to that, we have successfully built several strong partnerships with international corporations, which allows us to tap into their expertise and network as well. We further try to be innovative when it comes to solutions and we've got an excellent track record in operations, including a five-year fleet uptime record of 99.8 per cent. Perhaps more than anything, what really makes us stand out is our project execution strategy. We subcontract topside modules and detail engineering, whilst all the project, engineering and construction management as well as conceptual engineering and the interface management is performed by Yinson. We focus on quality rather than quantity in our workforce. We hardly ever have to lay anybody off due to market fluctuations because of the long-term lease contracts we pursue and our smaller, more capable organization."
Within the next three to five years, Yinson expects its Offshore Production Division to lead the company to become one of the top three FPSO firms in the world. As for Yinson's Renewables Division, Jahn hopes the firm will be able to both acquire further operating assets and develop and construct its own greenfield assets, transforming the renewables arm of the business into a major revenue stream for the business.
"We currently have one solar plant in India with a generation capacity of 140 MW (AC) and depending on the weather, the estimated annual electricity production is 298,000 MWh. For this site, we have a 25-year power purchase agreement in place that runs into 2042, but we are looking at a lot of new prospects too," Jahn declares. "We plan to eventually build our own plants and operate a selection of renewable generating assets. Our primary focus is onshore wind and solar, but we might also look into offshore wind and hydro opportunities. Of course, we'll still do oil and gas production – predictions suggest that, in 30 years' time, oil will be produced in similar amounts to today – but renewable energy will surely be more important in the global energy mix going forward and will help us expand our company and grow our legacy."
In early August, Yinson was, for the second year running, recognised as a 'Most Honoured Company' in the 2020 All-Asia Executive Team Ranking organized by leading international financial publication Institutional Investor. Additionally, Group Chief Executive Officer Lim Chern Yuan ranked third in the Best CEO category for the Oil & Gas sector by buy-side analysts. The awards act as confirmation that Yinson is a company moving in the right direction, and with big plans for the future, as well as some exciting projects just around the corner, the firm is sure to play a vital role in the industry for decades to come.
Yinson Holdings Berhad
www.yinson.com
Services: Energy solutions provider