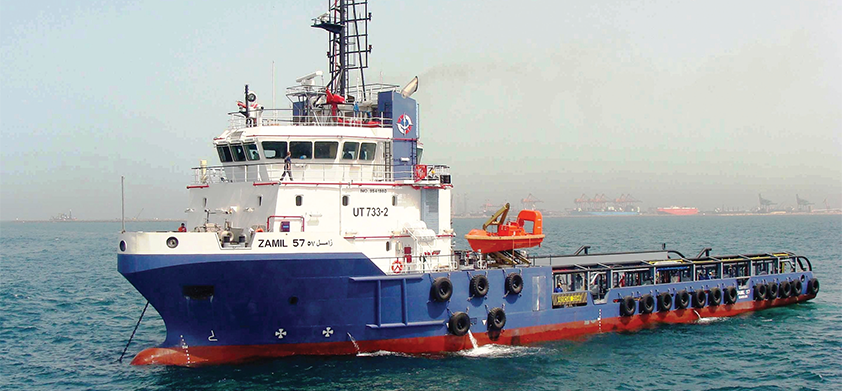 Premier performance
Founded by the Zamil brothers in 1977 as a Saudi company affiliated to Zamil Group Holdings to work in the offshore and marine business sectors, Zamil Offshore Services began its offshore operations with the purchase of a second hand, offshore anchor handling tug supply vessel (AHTS), which it succeeded in chartering to Saudi Aramco.
"Over the course of 35 years Zamil has managed to expand its offshore fleet by acquiring more support vessels, which in turn have been chartered to Saudi Aramco," explains company president, Sufyan Al Zamil. "In addition to marine fleet chartering the company has also expanded into diversified offshore support businesses and has succeeded in providing a wide range of comprehensive solutions to the offshore marine business. Today Zamil Offshore Services offers all-inclusive state-of-the-art solutions that meet the vast majority of its customers marine needs."
Among the numerous services and support mechanisms the company provides customers operating in the oil and gas sector one will find offshore vessel chartering, shipbuilding, ship conversions, renovations, repairs and several different offshore and onshore engineering and construction services. Further to the company's capabilities in this area, Zamil's Marine PremierOperations Division owns and operates the largest offshore support fleet in the Middle East.
"In 2002, the company ventured into shipbuilding and in the time since has become the premier shipbuilder in the kingdom," Sufyan continues. "With its facilities spread out over 121,400 square metres, Zamil's Shipbuilding, Ship and Rig Repair division has, to date, built and delivered 30 vessels in eight years, including five harbor tugs, one pilot boat, nine state-of-the-art diesel-electric anchor handling tugs, two diving support vessel, seven Rolls Royce UT 733-2 AHTS and two DP2 MPV vessels."
With a number of vessels, of various classifications and sizes, under construction the company expects its fleet to reach 69 vessels by the end of the second quarter of 2013. The current average age of the fleet is 6.7 years, however this will be reduced further with the addition of more new vessels, and when it comes to its fleets utilisation rate, Zamil's is considered to be one of the world's leading players, with a rate of 98.5 per cent recorded in the first quarter of 2012.
"There are a number of special characteristics and individual strengths that have helped set Zamil Offshore Services apart from its competition throughout the years, strengths that go beyond simply having the largest, youngest and most diversified offshore support fleet anywhere in the Middle East," states Marine Offshore Division general manager, Captain Fathi Suleiman. "With its in-house, end-to-end operational structure, the company has overseen such initiatives as the installation of the latest technical ship management software in its offices and on board the majority of its vessels to ensure that they and their equipment are monitored continuously. What this does is ensure the highest level of operational efficiency is maintained at all times.
"Where the company has another big advantage over its competitors is the fact that it is operating across almost all segments of the offshore sector. In addition to having its own shipyard for building new vessels for its fleet and repairing its existing fleet in the house, the company also has its Engineering & Construction Services arm, which complements its services integration."
In the Middle East, a very rapid expansion in oil and gas production in the Arabian Gulf is being led by Saudi Arabia and Qatar. The Arabian Gulf is already a leading producer of offshore oil, but by the end of 2013 this region is expected to become one of the leading suppliers of offshore gas. As demand moves further offshore into more complex environments a greater number of vessels will be required, and these will need to be larger and with higher specifications.
"Zamil's strategy is to invest in innovative, high productivity vessels, specially built and tailored with an increasing focus on safe, advanced and efficient equipment that meets its main clients' specific operating conditions, whilealso providing it with a full range of services," says Hassan Abouraya, consultant engineer in charge of corporate business development, international marketing and risk management. "Zamil's newly built modern DP-2 multi-purpose vessels, Zamil 63 and Zamil 64, are prime examples of vessels that have been specially designed to be easily configured to support a broad range of specialised marine applications, functioning as all-purpose vessels supporting diving operations, offshore structure maintenance and general assistance."
New charter agreements concluded recently with energy major Saudi Aramco are providing the foundation for rapid fleet expansion at Zamil Offshore Services. The deals are expected to propel the company into eighth place in the world's offshore rankings, once the vessels are delivered over the next 14 months or so: "This next stage of growth will be followed by further fleet expansion," Hassan enthuses. "Saudi Aramco is itself undergoing a dramatic offshore development programme and has already indicated its requirement for some 33 more offshore units. Even more vessels will be required in due course, notably as the energy major's move into the Red Sea gathers pace."
One of the company's last acts of 2011 was to begin implementing a local, regional and global expansion strategy: "One of things Zamil Offshore Services is doing is investing almost $250 million in building a new, specialised, 200,000 square meter shipyard," highlights Hassan. "This shipyard is designed to build and repair all kinds and sizes of offshore and naval vessels up to 110 meters in length and 9000 tonnes in weight. Furthermore, it is investing many more millions of Dollars in additional vessels that it hopes will ride the wave of growing oilfield activity in core regions including the Arabian Gulf, the Middle East, South East Asia, West Africa and the Brazilian market."
With an equity programme in place to ensure that the proceeds generated by its newest fleet additions are used to fund its own maritime expansion plans, Sufyan concludes by reemphasising the significant growth prospects that lie ahead for Zamil Offshore Services: "As Saudi Aramco grows its own offshore activities to the tune of $200 billion in the Middle East, the Arabian Gulf and the Red Sea, there will no doubt be plenty of new opportunities headed Zamil's way that will enable it to retain its position at the head of the marketplace for many years to come."
Zamil Offshore Services
Services: Offshore and marine services provider