Trapped underground
Zechstein Energy Storage is developing an underground gas storage project in the northwest of Germany, near the town of Epe.
The Epe Project is mainland Europe's first independent gas storage venture. Work began on it more than five years ago and is currently funded by Haddington Ventures, a midstream venture capital firm that has a portfolio of similar independent gas storage projects located in the US. Zechstein Energy Storage, sponsored by Haddington Ventures, owns and is responsible for the development of the German initiative but is headquartered in the Netherlands.
Epe Project is currently in Phase I, a pre-construction start-up stage during which Zechstein Energy Storage is acquiring the required licenses and permits to begin converting old salt caverns into gas storage facilities. Chief financial officer Bertan Atalay talks in more detail about this aspect of the project: "The German market is very well defined in terms of what is needed to execute an industrial plan such as this. Most important is the environmental permit. We have been through all the environmental and local community approvals as well as gained permits from the appropriate mining, building, and other authorities as they relate to the environmental approval of the project. We now are working towards obtaining the necessary customary permits to begin construction."
Once permits are in place and other commercial development is finished, the first cavern is expected to be completed and online by third quarter 2013 with a working gas volume of 35 million cubic metres. The first cavern will establish Epe Project as an up-and-coming storage facility to watch, with plans to develop a further ten caverns in the network over the next ten years aiming to establish Zechstein Energy Storage as a pre-eminent storage partner for gas and utility companies throughout Germany and mainland Europe. Innovation will be key to this. Though the technology used for the storage facilities itself will be akin to many others throughout the world, Zechstein Energy Storage's independent business model makes it unique within Europe.
Bertan outlines the advantages of this approach, which has been utilised by other Haddington Venture-funded companies in the US with success: "The main benefit is that we are not competing with our customers. For example, if a shipper comes to us and buys capacity we won't price it to compete with them, like we would if we were part of a larger shipping company.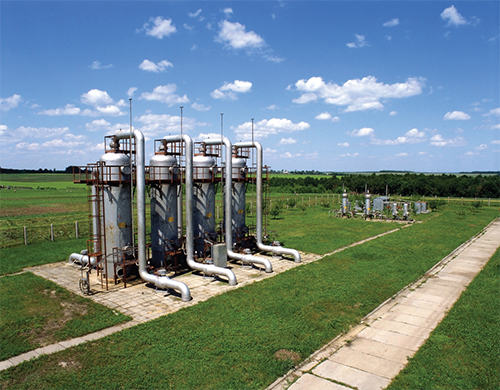 Zechstein Energy Storage's infrastructure provides it the incentive to serve as wide a customer base as possible, to continue the example, if we were also part of a shipping company then it may be necessary to avoid direct business with other similar companies in order to be competitive. We are independent and do not compete with our customers, and therefore benefit from the widest potential client base available."
Epe Project has faced several challenges during its lifetime. The biggest of these has been the market crises beginning in 2008 that started with the financial sector but quickly permeated into the energy markets. This meant the financial foundation on which the gas storage project was built became highly unpredictable. It was at this point that Haddington Ventures became involved, purchasing the owner company in December 2010 and providing it with the money necessary to secure the long-term development strategy. Today the worst of these troubles have passed and, though Epe Project continues to face the same challenges any major gas storage businesses would, its future is looking incredibly positive.
Phase I is expected to be complete by third quarter 2013, after which Zechstein Energy Storage will be responsible for the management of a functioning facility as well as the network development project. It is already in discussion and negotiations with operators that are interested in acquiring storage capacity in the region. Once Phase II begins, its strategy will see capacity added until 2022, expanding the company's market to the entire German market. Furthermore, the company plans to construct a new plant and make it commercially available in 2017, which will significantly increase the capacity of Epe Project. The support already received by Zechstein Energy Storage from partners and the local community gives the company firm belief in the long-term success of Epe Project.
Bertan concludes with reaffirmation in Zechstein Energy Storage's commitments and also the potential outside of Epe Project for the company: "I wouldn't rule out looking at other projects in other regions and markets but our focus right now is on this one initiative, particularly because it is still in its start-up stages. Let's not forget than Haddington Ventures is a hugely successful midstream equity firm and Epe Project is just one of a dozen others they have built. As pioneers of independent gas storage in the US, it is very likely they will be looking at other opportunities in Europe; Zechstein Energy Storage, meanwhile, would of course have a high interest in adding to our portfolio. For now, however, our attention is entirely on Epe Project and nurturing it into a fully functioning storage network."
Zechstein Energy Storage
Services: Independent gas storage